NEW YORK, December 31 – When the throngs of New Year's Eve revelers make their way to Time Square in New York City for the best New Year's celebration in the world tonight, they will be joined by Felix Trinidad and Roy Jones Jr., who larger than life images are displayed on a huge billboard hung on the corner of 42 nd and Broadway in the heart of the action. The billboard with the fight moniker "Bring on the Titans" will help remind thousands of New Yorkers and those visiting the area for the New Year's Eve celebration and the early weeks of January that Trinidad and Jones will meet at Madison Square Garden January 19 ..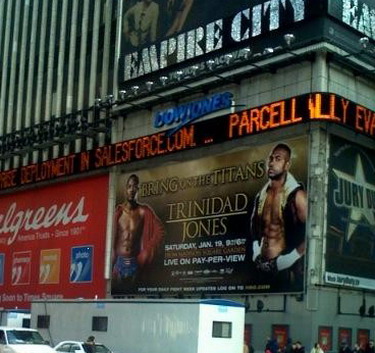 Two of the greatest boxers in history, Felix "Tito" Trinidad and Roy Jones Jr., will face each other in a battle that boxing fans have been waiting for years to see at New York's famed Madison Square Garden on Saturday, Jan. 19, 2008.
Jones is an eight-time world champion; winning belts in the middleweight, super middleweight, light heavyweight and heavyweight divisions, becoming the first former middleweight champion to win a world heavyweight crown in 100 years.
Trinidad is a five-time world champion with a stunning career knockout ratio of 80 percent that has won titles in the welterweight, junior middleweight and middleweight classes. He also holds the distinction of having defeated three Olympic Games gold medalists: Pernell "Sweet Pea" Whitaker, "The Golden Boy" Oscar De La Hoya and David Reid .
Tickets for Trinidad vs. Jones "Bring on the Titans" are still available at all Ticketmaster outlets.
The domestic pay-per-view telecast will begin at 9 pm ET/6 pm PT and is being produced and distributed by HBO Pay-Per-View, available in more than 61 million pay-per-view homes. This domestic telecast will be available in HDTV for those viewers who can receive HD. HBO Pay-Per-View is the leading supplier of event programming to the pay-per-view industry. For your Trinidad vs. Jones fight week updates, log on to www.hbo.com.