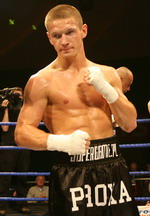 29.11.07 – Marek Rugowski: Your next fight is scheduled for the middle of December. Do you know your opponent?
Grzegorz Proksa: The opponent will be announced in a couple of days. The bout is scheduled for six rounds.
M.R. This time you are moving down to light middleweight, does it mean the training was harder?
G.P. Well, it was harder that usual, but mainly because the preparation time was short. Laszlo (Veres – Proksa's trainer, ed.) pushed me to the limit, to be sure I'll be in shape, even thought it's only a six-rounder.
M.R. So, how about the future, then? Are you going to compete at 154 lbs?
G.P. I can't tell it now, I guess I should know more in a few weeks, maybe in January.
M.R. The next bout will be your debut in Germany, does it mean some sort of change?
G.P. I don't really think so. Of course, it's closer to Poland. I fight in Dessau because Gyorgy Hidvegi fights on the same event, so there's interesting opportunity to show us both on RTL in Hungary and on Sport Klub in Poland
M.R. In the UK, where you had most of your fights, there are many solid boxers at light middleweight, Bradley Pryce, Marcus Portman or Jamie Moore. Do you target any of these guys?
G.P. I'd like to fight them all. I'm just waiting for my turn. I was to get an interesting matchup this year, but it looks like it will be in 2008.
M.R. You hold WBC and IBF youth champion belts, yet you're not ranked by the sanctioning bodies. Recently you were dropped out of the WBC ranking. Will you jump back in?
G.P. I hope it will happen soon. Not everyone is ranked just for a smile, but I don't really care about it now. All those rankings do not reflect the real situation, either.
M.R. Let's look back for a while. In October you fought experienced, but over-the-hill Gotthard Hinteregger. You finished the fight quickly… what did you gain?
G.P. It was another experience in my career, though not necessarily regarding the fight itself. As for Hinteregger, I fought him exactly that way I wanted to, and I wanted to crush him. When I landed a few punches, I knew it would be like execution. With all respect, but I cannot lie. That's how it was.
M.R. Earlier you defended WBC and IBF youth championship against Vitali Banivur. He was a little smaller than you, but quite challenging. He caught you a few times, but you weren't hurt, were you? Does it mean "Super G" has a "granite" chin?
G.P. Banivur looked good because I went down to his level. Fortunately I strengthened up quickly and knocked him out, but in the first three rounds I was doing weird things, just like I couldn't handle emotions. After the fight I was so mad at myself that I didn't even want to talk to anybody. Anyway, it was another new experience for me. As for my chin, well, I have never been knocked down.
M.R. I heard that training camps with Laszlo Veres are very hard. What do you say?
G.P. In the gym we call Laszlo "The Bomb", because you never know when he will "explode" with new stuff. But the most important thing is that it's great to work with him. During three years of my career we went through it all. We trust each other and believe in each other. It's great to have him in my corner.
M.R. Who do you spar with?
G.P. Before the Hinteregger fight I was sparring with Albert Rybacki and Mirek Nowosada, a Polish amateur. I am very grateful to them for helping me in my preparations. Now I'm not exactly sure about the sparring partner, I think it will be Rybacki again.
M.R. Earlier you had troubles with your hands, you underwent a surgery. Is it everything OK. now?
G.P. I'm not satisfied entirely.
M.R. You spend much more time in Hungary than in your home. How do you and you family cope with that?
G.P. I'm sorry, but long ago I've decided not to speak about my personal life. I am a boxer, an athlete. I'd like fans and journalist to address only that part.
M.R. When will you be back in Wêgierska Górka
G.P. Shortly after the fight. I'm going to stay at home till the New Year and then I'm off to another training camp. I need work, work, and more work.
M.R. The Christmas is approaching, what should I wish you?
G.P. Health for my family!
M.R. Well, so I wish you and your family health, and thank you for the interview.
G.P. And I would like to thank all my fans for the great support they gave me this year. Thank you!
Looking for more Polish boxing news? Visit www.boxing.pl