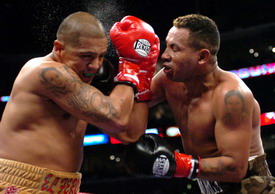 24.11.07 – By Bill Calogero, TheDailySports. com: Ricardo Mayorga won a majority decision over Fernando Vargas to capture the WBC Continental Americas Super Middleweight Title on Friday night from the Staples Center in Los Angeles, California. The bout was promoted by Don King and Main Events and was broadcast live on PPV.
"The Brawl" as it was billed, was yet another good fight for this very resurgent year in Professional Boxing. Both fighters showed a real dislike for each other for the very long promotional period. One of the reasons for the delay was that the fight was at a "catch-weight" of 166lbs. Ricardo Mayorga had to gain over twenty pounds. Fernando Vargas had to lose almost one hundred..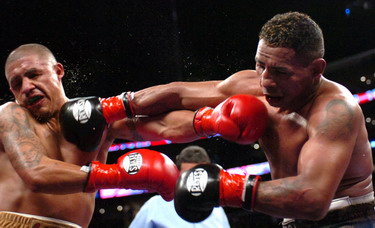 In a fight that promised a brawl, and one that most experts would agree to have expected a brawl, it turned out to be an exciting and action-packed contest. There were times it was a brawl and there were times when it was championship caliber Pro Boxing, even though having the bout for the vacant WBC Continental Americas Super Middleweight Title (what title?) was a stretch, it all in all was a entertaining fight to watch.
The first round began exactly how it was billed and what most expected; Mayorga came out like the Tasmanian Devil, throwing bunches of punches from all over the place in an all out wild manner. Vargas didn't do much for that first minute except cover up. When there was a lull in the action, Ricardo landed an uppercut to the body that sent Vargas down. He was up quickly and held on. Fernando looked very slow to me.
Vargas came out continuing to look slow and despite looking like he was in good shape, was acting like he was not as the time ticked away during the second round. He was able to land several jabs and a few harder punches, but Ricardo Mayorga continued to work Vargas' body, keeping Fernando retreating. Mayorga followed his body attack with several over-hand rights that kept Vargas from doing much. I scored the round for Mayorga.
Mayorga came out like a wild man to start the third. During one of his assaults to the body and head of Vargas, a solid punch opened up a cut over Fernando's left eye. As the round was nearing its end, it was Fernando who came on, landing several right-left-right combinations. Although it was a close round, on my scorecard, I gave the edge to Ricardo Mayorga.
The fourth, fifth and sixth rounds, on my scorecard, all belonged to Fernando Vargas. During these three rounds both fighters landed punches. Both fighters were stunned by the other's right hand and both fighters landed well to the body. Vargas was boxing better. He was on his toes a little more and seemed to be much more relaxed than he was for the first three rounds. All three of these rounds were action-packed and for the most part were toe-to-toe in the center of the ring for good lengths of time during each. Fernando's superior boxing skill was beginning to come through giving him the edge on each of these rounds, in my opinion.
However, also happening at the same time during the fourth, fifth and sixth rounds, was something I was not used to seeing. A controlled Ricardo Mayorga. A Ricardo Mayorga that seemed to actually be thinking and following a game plan. Although I gave the edge to Vargas during these three rounds, it was Ricardo Mayorga that was beginning to take control of this fight.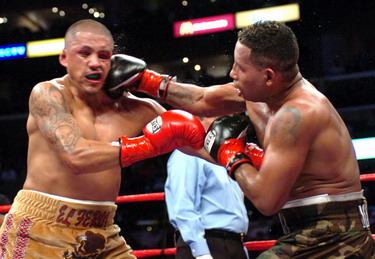 During the seventh round, Ricardo Mayorga was able to consistently land his over-hand right, which was landing flush on the head of Fernando Vargas. These shots clearly stunned him several times during the round. Ricardo Mayorga was able to mix in devastating body shots and his powerful right hand to control this round in a very big way.
The eighth round picked up where the seventh left off. Mayorga controlled the fight and seemed to still have plenty of fuel left in his tank, while Vargas seemed to be looking for a gas station. It was clearly Maryorga's round but when nearing the closing bell, Vargas came back to land a crushing right that sent Mayorga backwards for the first time during the fight. He was clearly stunned as the bell sounded to end the round.
Vargas came back strong in the ninth round. He threw several flurries of punches, all with power to slow down Mayorga's attack. This round in my opinion was a combination of a very aggressive Fernando Vargas and a resting Ricardo Mayorga. This round on my scorecard went to Vargas.
The tenth round was the first round that both fighters clenched each other. They also both landed punches, both jabs and solid punches, to the head and body of each other. It was a close round, but one thing was clear; both fighters needed a rest. On my card, I gave the edge to Vargas.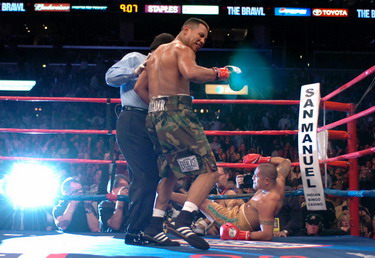 The eleventh round had Mayorga continuing to exhibit control and was able to have his way with Fernando Vargas. He landed body shots and his over-hand right kept landing very flush on the head of Vargas. Vargas continued to fight back, landing hard rights and throwing punches in three and four punch combinations. As the round drew to a close, Mayorga landed a right hand on the chin of Vargas, sending him down to the canvas for the second time during the fight. He was up quickly, but was very wobbly as the bell sounded to end the round.
The twelfth round belonged to Vargas. He was the aggressor, following Mayorga around, while Ricardo stayed cool and fought like he did not want to make any mistakes. Vargas was clearly the busier fighter, thus giving him the round on my card.
One judge scored the fight even at 113-113, while the second had it 114-112 and the third saw it at 115-111, all in favor of Ricardo Mayorga. TheDailySports.com scored the fight 114-112 also in favor of Ricardo Mayorga.
It was a good fight. It showcased two fighters that wanted to have a memorable performance. This fight actually meant something to both fighters and it showed. One wanted to go out on top, while the other wants to make a run at a world title one more time. It was a very entertaining fight. It was much better than just a brawl.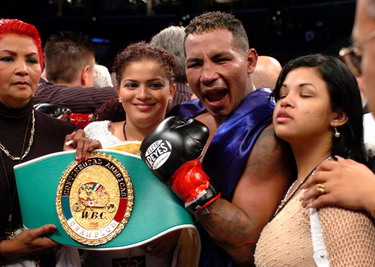 Ricardo Mayorga improves to 28-6-1-1 NC (22 KOs). He proved to me, and I hope everyone else who saw this fight, that if he can continue to operate in this more controlled version of Ricardo Mayorga, he very well may be able to make another run.
Fernando Vargas, despite being the younger fighter, looked like the older one. Don't get me wrong, he did very well and performed like the Warrior he always is. He has been one of my favorite fighters for a long time, but I for one, am glad and confident that we saw the last of Fernando Vargas in the ring. He drops to 26-5 (22 KOs) and has nothing to hang his head about. He had a great career and went out fighting to the final bell. He now, at a very young age, has the opportunity to spend quality time with his family.
Both fighters gave it their all and the end result was another above average fight. I personally didn't think it should have been a PPV, but it was a good one. I think I would have liked to see it on a premium network, rather than as a PPV.
The co-feature was also a very entertaining fight. Kermit Cintron retained his IBF Welterweight Title with a 10th round TKO over the game Jesse Feliciano in the scheduled twelve round title fight.
This fight saw non-stop action from the opening bell until the fight was halted at 1:53 of the tenth round by referee Jon Schorle.
Cintron had the power, but it did not seem to affect Feliciano for much of the contest. Jesse Feliciano was actually dominating the fight with his non-stop assault of punches, right in the face of the Champion. No matter what Cintron did to try and box and utilize his much longer arm reach, Jesse was right there in his chest throwing and landing punches.
A stunning left-right combination, landing flush on the chin of Feliciano in the tenth, sent the challenger back towards the ropes, with his hands low. Kermit Cintron came on strong, throwing punches from every angle, landing most with no return fire from Jesse, resulting in the stoppage.
Kermit Cintron improves to 29-1 (27 KOs), but appeared to seriously injure his right hand during his barrage of punches that led to the stoppage. This injury may prolong the road to the unification of the Welterweight Titles.
There aren't enough words to describe the "bottom" as Pierce Eagan would have put it, that Jesse Feliciano exhibited during this fight. He is one tough character and I am sure his value went up, despite coming out with the L in this fight. He drops to 15-6-3 (9 KOs) but will surely be back. He has certainly become a fan favorite.
In other under card action, Roman Karmazin used a devastating four-punch combination (a left hook to the body, right to the head, left hook to the body and right cross to the head) to drop Alejandro Garcia down and out at 1:24 of the third round to win the vacant WBA Intercontinental Super Welterweight Title.
The fight was scheduled for twelve rounds and was a comeback fight for both fighters. Karmazin looked like he was much bigger and stronger and the outcome proved it to be true. Karmazin improves to 36-2-1-1 ND (23 KOs) while Garcia drops to 25-3 (24 KOs).
Another good night of action for Professional Boxing in this resurgent 2007.
###
For full discussions on these fights and all the other top pro boxing news, don't miss this week's "Talkin Boxing With Billy C" radio program. Tune into TPSRADIO.net on Wednesdays from 6-8pm EST to listen live, or go to www.TalkinBoxing.com for all information on downloading the podcast of ALL previous shows.
Also, for everyone in the Rochester, NY area, tune into WHTK, 1280 AM on Saturday Mornings from 6:00-7:00 to hear a one-hour version of Wednesday's show.
Go to www.TalkinBoxing.com for all information on the "Talkin Boxing With Billy C" Radio Program.
PHOTO CREDIT: NAOKI FUKUDA