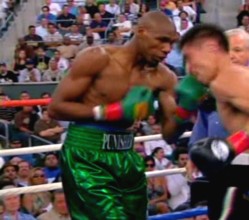 24.11.07 – by James Slater: They are scheduled to meet next February, but due to Kermit Cintron's (allegedly) badly damaged right hand, that date looks tentative at best right now. But if and when reigning WBO welterweight champion Paul Williams and IBF boss Cintron do meet, who among fight fans and experts will be expecting a win for the Puerto Rican? Not too many after Friday's fight in L.A, where Kermit, who improved to 29-1(27) struggled badly with the underestimated Jesse Feliciano. Let's face it, Cintron looked bad. In fact, he looked beatable and bad.
Expected beforehand to blow Feliciano, 15-5-3 going in, clean away, Cintron instead had a hell of a time keeping from losing in a huge upset. Ok, Kermit got the job done in the end, scoring a TKO win in round 10 that made the judges' and their scorecards redundant, but in getting such a hard and toughly earned win his stock almost certainly fell some. Indeed, though a Williams-Cintron showdown is still a very interesting prospect, it can no longer be referred to as anything like a "pick 'em" contest.
Both men have two world class common opponents – Antonio Margarito and Walter Matthysse. Cintron KO'd the latter in a much quicker and impressive fashion than did Williams, but what about both guy's fights with the dangerous Margarito? Williams boxed a quite beautiful fight on the way to a close, but well deserved points victory, while Cintron was utterly destroyed when he met the Mexican. This surely is very relevant to what will transpire when the two welterweight hotshots clash. In short, we know Williams can take the heat, we are just as convinced that Cintron cannot.
And, yes, Kermit's loss to "Tony" was quite some time ago, and "The Killer" has since improved under the tutelage of Emanuel Steward ( or he has done no such thing, depending on your opinion). However, any improvements the 28-year-old may have added to his game sure weren't on display as he was struggling with Feliciano.
Kermit has undeniable punch power, but this remains his only 100% proven world class asset. Kermit's chin, durability and resolve still have massive question marks next to them. Paul Williams', on the other hand, do not. Williams can take a punch and dig deep when necessary, he proved as much in the later rounds of his fine win over Margarito. Factor in "The Punisher's" long reach (82″ to 72″ for Cintron) southpaw stance and brilliant boxing skills, and you have an extremely winnable fight for the unbeaten 26-year-old.
Before last night's battle with Feliciano, Cintron's chances of beating Williams looked good to very good, at least in the eyes of some. Now, however, Cintron finds himself very much back in the role of champion for the taking. He's not gone as far back as where he was in the days following his drubbing at the hands of Margarito, but Kermit's formidability has certainly regressed. With his definite punch-power, a KO win over Williams remains a possibility, but I wouldn't bet on it happening. To my mind, Williams, 33-0(24) looks too classy, too strong willed and too damn good for the shaky looking Cintron.
The pairing of Williams and Cintron remains a good attraction, but no longer is it one of the very best fights possible at welterweight – itself currently the sport's best weight division.