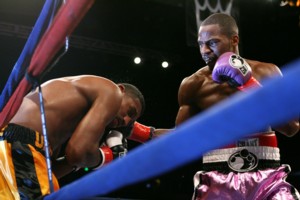 SACRAMENTO, Calif. (Sept. 29, 2007) Boxing fans were treated to two thrilling and memorable fights on Saturday night as Chad "Bad" Dawson retained his World Boxing Council (WBC) light heavyweight belt with a flawless dismantling of Epifanio "Diamante" Mendoza Saturday, Sept. 29 on SHOWTIME CHAMPIONSHIP BOXING from the ARCO Arena.
Referee Jon Schorle stopped the fight at 2:30 of the fourth round (KO).
In the co-feature, Joseph "King Kong" Agbeko became boxing's newest champion capturing the International Boxing Federation (IBF) 118-pound crown with a one-sided victory over Luis "El Demoledor" Perez.
Referee Dan Stell stopped the fight on the recommendation of ringside physician Smith Ketchum immediately after the seventh round.
Don King presented Saturday's world title doubleheader in association with Maloof Sports and Entertainment and Gary Shaw Productions.
Dawson, a speedy and powerful young southpaw, controlled the fight from the beginning, setting the pace with his rabbit-quick right hand jab.
"I did what I had to do," said Dawson, who improved to 25-0, 17 KOs. "I got him out of here fast. I know he came in on 12 days notice, but he didn't make any excuses. I was supposed to execute and I did."
Mendoza looked confused and overmatched by Dawson's hand speed and superior footwork, both of which made Dawson practically untouchable and reduced Mendoza to a sitting duck.
"I feel fine right now," said Mendoza, who fell to 28-5-1, 24 KOs. "I am not hurt, just a little overwhelmed with how fast he was."
SHOWTIME color analyst Al Bernstein mentioned on the broadcast that Dawson may have the best double right hook in all of boxing.
"It is an honor and a pleasure," said Dawson, who looked unbeatable in his second title defense. "I put the work in at the gym. We worked very hard on my body punches. We knew that against Mendoza, against anybody, body punches will wear you down."
The end looked near for Mendoza after the end of the third round when Dawson connected with powerful combinations to Mendoza's body.
Dawson unleashed a torrent of punches to finish the round and it seemed like Mendoza was certain to fall in the ensuing round.
"I didn't look for the knockout," said Dawson, who said his dream fight is against Antonio Tarver. "I was patient. I let it come to me. We talked about this fight not going past five rounds, but I didn't force it."
In the fourth, Dawson continued to stalk the slower Mendoza. Dawson trapped him against the ropes and unloaded a series of right hooks and jabs to the head forcing referee Jon Schorle to step in and halt the contest at the 2:30 mark.
The undercard provided plenty of fireworks as both fighters settled on a blistering pace. Agbeko, however, controlled the fight with straight rights and left hooks. He seemingly landed at will as Perez could not keep the Ghanaian off of him.
"I thank God for my talent and allowing me to get to this point and I thank my opponent for giving me this world title shot," said Agbeko, who improved to 25-1, 22 KOs. "I am presenting this win to my motherland Ghana for her 50th Anniversary."
Agbeko, who looked in better shape than Perez, punished the former champion with a torrent of bunches. Perez tired as the fight wore on and Agbeko grew stronger with each passing round.
"I was destined to be a world champion," said Agbeko, who joins Azumah Nelson and Ike Quartey on the list of Ghanaians who have won world title. "I knew he was going to fight his best tonight, but there was no way he was going to stop me from achieving my dream."
Kendrick Garcia, Perez's manager, said that Perez didn't agree with the doctor's decision to stop the fight.
"Perez was willing to continue," Garcia said. "He is very upset with the doctor's decision. Agbeko is a strong puncher, but Perez was doing a great job of absorbing the hits. He doesn't agree with the doctor's decision to stop the fight. Like I said, he is very upset because he felt he could continue."
Perez fell to 25-2, 21 KOs.
Several Sacramento Kings were in attendance. Among them, All-Star forward Ron Artest, swingman Kevin Martin and forward Kenny Thomas. Gavin Maloof, proud owner of the Kings, also was in attendance.
Saturday's SHOWTIME CHAMPIONSHIP BOXING telecast will re-air at the following times: Saturday, Sept. 29 Showtime Too 1:15 AM
Monday, Oct. 1 Showtime Extreme 8:00 PM
Tuesday, Oct. 2 Showtime Too 10:00 PM
Wednesday, Oct. 3 Showtime Midnight
All times ET/PT
From Friday, Sept. 28 through Monday, Oct. 1, SHOWTIME is available in approximately 54 million homes nationwide, providing an opportunity for many non-subscribers to experience all of the hard-hitting sports and acclaimed original programming on SHOWTIME.
SHOWTIME delivers more action-packed boxing next week when the talented, unbeaten Yonnhy Perez (13-0, 10 KOs) clashes against fellow bantamweight Alexander Fedorov (17-4-1, 10 KOs) in the 10-round main event on ShoBox: The New Generation, Friday, Oct. 5 (SHOWTIME, live at 11 p.m. ET/PT, delayed on the west coast).
The following day heavyweight contender Jameel "Big Time" McCline (38-7-3, 23 KOs) will face newly crowned World Boxing Council Interim Heavyweight Champion Samuel "The Nigerian Nightmare" Peter (28-1, 22 KOs) at Madison Square Garden (Saturday, Oct. 6, SHOWTIME CHAMPIONSHIP BOXING live at 10 p.m. ET/PT, delayed on the West Coast).
About Showtime Championship Boxing
In March 1986, SHOWTIME CHAMPIONSHIP BOXING was born when "Marvelous" Marvin Hagler defeated John "The Beast" Mugabi in a spectacular and unforgettable 11th-round knockout in Las Vegas. Since that time, the network has aired some of the most historic and significant events in the sport including both Evander Holyfield-Mike Tyson bouts.
Always at the forefront of boxing, SHOWTIME has set itself apart by telecasting the most meaningful and compelling match-ups in boxing on the first Saturday of every month. SHOWTIME is the first network to regularly deliver live boxing in High Definition. In addition, SHOWTIME continues to be a pioneer in sports television with a number of interactive features across multiple platforms making SHOWTIME CHAMPIONSHIP BOXING telecasts the most enjoyable, immersive viewing experience for the boxing audience.
For more information on SHOWTIME Sports Programming, including exclusive video, photos and more, please visit the SHOWTIME website at http://www.sho.com/sports.