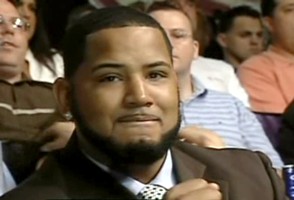 PROVIDENCE (July 25, 2007) – "Takin' It To The River," featuring WBC No. 2 rated cruiserweight Matt "Too Smooth" Godfrey, continues the "The Budweiser Night at the Fights" series, promoted by Jimmy Burchfield's Classic Entertainment & Sports, Inc., on August 10 at Twin River Event Center in Lincoln, Rhode Island.
Godfrey (15-0, 9 KOs), who is also ranked No. 4 by the IBF and No. 6 by the WBA, risks his ratings as well as a world title shot within a year by fighting tough Derrick "D-Train" Brown (13-2-3, 11 KOs) in the main event. The unbeaten Providence cruiserweight puts his NABF title belt on the line. Matt also holds the NABA, USNBC and WBC Continental Americas crowns.
Coming off of a scintillating second-round TKO of Felix Cora, Jr. on national television, Godfrey has to remain focused on Brown and wait for the results of the September 28 WBC cruiserweight championship bout between defending champion Jean-Marc Mormeck and No. 1 contender David Haye.
Brown, fighting out of New York City, is trained by arguably the greatest women boxer of all-time, Christy Martin. Prior to Derrick's last two fights, draws against Alfredo Escalera and Gary Gomez in his opponents' backyards, were his first as a cruiserweight having campaigned in his first 11 fights at heavyweight.
"Matt Godfrey's a real fighter," promoter Jimmy Burchfield explained. "He could have stayed at No. 2 waiting to move up and get a WBC mandatory title fight. But he wants to fight and he didn't want a walkover opponent. That's why he's defending his NABF title belt against Brown in a very risky fight for Matt."
Nine-time U.S. national amateur champion Aaron Williams (13-0-1, 9 KOs), of Las Vegas, made an awesome CES debut in his last fight, registering the knockout of the night on national television against DeLeon Tingsley. Hot prospect Williams will fight in the co-feature on Aug. 10 at Twin River.
On the undercard is popular Providence light heavyweight Jarrod Tillinghast (9-0, 3 KOs), Providence crowd favorite Richard "Bobo" Starnino (8-2-1, 1 KO) faces New Bedford (MA) super middleweight Eric Pinarreta, Massachusetts light heavyweights Manuel Antonio Lopes (2-0, 1 KO), fighting out of Brockton, and Whitman's (MA) Mark "The Italian Bazooka" DeLuca (2-0, 2 KOs), and Russian middleweight Andrey Nevsky, now living near Worcester in Clinton (MA).
"We're exciting to be back at what I think is becoming the new Mecca of boxing in New England, beautiful Twin River," Burchfield continued. "This is a tremendous card from top to bottom with some of New England's top young fighters like DeLuca, Lopes and Nevsky. We also have an old fashioned boxing match between Providence's 'Bobo' Starnino and nearby New Bedford's Eric Pinarreta. They didn't have to fight each other and could have asked for easier opponents. But they're both like boxers from the old days when they didn't pick and choose opponents. I applaud them and their camps for making this fight that should be a real beauty. And Jarrod Tillinghast is is more focused on boxing than he's ever been. He brings intensity, excitement and charisma like other Providence fighters like Vinny Paz, Peter Manfredo, Jr. and Joey Spina."
"Takin' To The River" will be taped live and air Saturday night, Aug. 11 at 7:00 PM/ET on CN8, The Comcast Network and Cox Sports Television.
Tickets for "Takin' It To The River" are priced at $35.00 (SOLD OUT), $45.00, (Bronze), $65.00 (Silver), $100.00 (Gold) and $150.00 (Jimmy's Platinum Club) and may be purchased by calling CES (401.724.2253/2254), going on line at www.cesboxing.com or www.twinriver.com, at the Twin River Event Center (100 Twin River Road, Lincoln), RI), or any TicketMaster location. Contact CES (401.724.2253/2254/www.cesboxing.com) or Twin River Event Center (877.82.RIVER/ www.twinriver.com) for more information. Doors open at 6 PM/ET, first bout at 7 PM/ET.
Godfrey signs 3 year contract extension with CES, named Team CES Captain
World cruiserweight contender Matt "Too Smooth" Godfrey has signed a 3-year promotional contract extension with Jimmy Burchfield's Classic Entertainment & Sports, Inc. and was named Captain of Team CES, Burchfield announced at today's press conference in Rhode Island.
"CES has had only one captain in all of the years I've been doing this – Vinny Paz," Burchfield commented. "There's hasn't been another captain but today I'm announcing that we have a new captain of Team CES, Matt "Too Smooth" Godfrey. He's earned it not only for what he's done in the ring, but also out of the ring. He's a true leader. Matt has signed a 3-year extension. He's going to be a world champion and be our captain for a long time."
PRESS CONFERENCE QUOTES
Matt Godfrey: "I'm No. 2 in the WBC. I could be sitting at home or be here watching somebody else talking today. I guess I'm a little crazy. I didn't want to fight a guy who has lost five in a row by knockout or a bad record. I have a very difficult fight against a guy who's coming down from heavyweight. He (Derrick Brown) has very fast hands and a lot of power. He's a dangerous fighter. He may be faster and have more power than me, but I have something he doesn't – the will to win. I'm undefeated. I don't know how to lose. Everybody will see it August 10. I'm going to keep my No. 2 WBA rating, go to 16-0, and defend my NABF title with my 10th knockout. Godfrey's back in Rhode Island fighting in front of his hometown fans again."
Jarrod Tillinghast: "Here we go again. This will be my third fight since coming back. If I would have told you I'd be here six months ago…..it was a dream. I must have talked to myself 700 times into coming back. I've put my best foot forward. I'm back."
"Bobo" Starnino: "August 10th I'm going to put on a good fight. It's a big fight for me. Eric, you've got to fight me with your hands. I've had a lot of sparring. We're going to get busy."
Eric Pinarreta: "It should be an interesting fight, New Bedford against Rhode Island. There are a lot of good fighters on the card. It's going to be a good show."
Manuel Antonio Lopes: "I'm thankful for this opportunity. I'm real excited to be on this card. Training has been going well and I'm looking forward to giving everyone a good fight."
Mark DeLuca: "This is my first fight for CES. I'm very excited. I've been training hard."
Andrey Nevsky: "I am going to do my best. I'm happy to be on this show. I'm an MMA fighter and boxer."