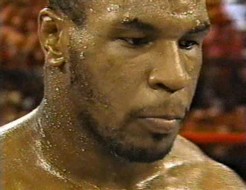 25.07.07 – By James Slater: There was a time when the heavyweight boxing champion of the world, the man seen as the most all-conquering and powerful of athletes, gave fans the spectacle of a ruthlessly quick and dominant one round annihilation of his challenger.
Legends like Joe Louis, Sonny Liston and, later, Mike Tyson, excelled in doing away with their rivals in ultra-quick and impressive fashion. Sending the message that they were simply the best and therefore their boxing challengers had no business daring to have the effrontery of even thinking they could possibly have a prayer of beating them, these former heavyweight kings were loved and idolised as result of their thrilling one round KO spectacles – "The Brown Bomber" in particular.
To many, that was how it should be with the heavyweight champ – he should go out and destroy his opponent as quickly and efficiently as possible. This proved, to many minds, how truly strong and Herculean the reigning boxing king was. In more recent years, however, since the demise of "Iron" Mike Tyson to be exact, first round KO's scored by a reigning heavyweight champion have become rarer and rarer.
Stop and think for a moment, what is the last first round KO win by a defending heavyweight boss that you can recall? The answer may surprise you. If one includes only the three more recognisable versions of heavyweight honours (WBC, WBA, IBF) then the last one round win scored by a reigning big man was almost ten full years ago. Lennox Lewis, in defence of his WBC belt, scorched Andrew Golota for his one and only first round-as-champ triumph, in late 1997. Since then, there has not been a single less than three minute win by a recognised heavyweight champ. Not one. To find one since Lewis', we have to look to the WBO's champions. Lamon Brewster won in this fashion in 2005, KO'ing the same man as Lennox had in quick time, in "The foul Pole."
So what has happened to today's heavyweight kings? Are they not as ruthless as heavyweights of years gone by? Do they not start as fast? Do they simply not look to score one round wins as some of their predecessors did? Of course, the fact that today's big men are showing less and less propensity to knock their rivals out in less than three minutes does not necessarily make them lesser fighters. But wouldn't an all-conquering first round destruction job from a Klitschko, a Maskaev or a Chagaev be something to see these days? Joe Louis, as stated above, was absolutely deified due to his authoritative ability at removing his challenger from his senses in less than a round. Indeed, Joe holds the record for most one round wins in title fights by a heavyweight champion.
Mike Tyson comes second in such a list, with three one rounds blast-outs. Tommy Burns and Sonny Liston come next, with two each, and then Bob Fitzsimmons, James J. Jeffries, Rocky Marciano, Muhammad Ali, Joe Frazier, George Foreman, Larry Holmes, Michael Dokes, James Smith, Riddick Bowe and, of course, Lewis, come up the rear with a single first round win each. With the six times he destroyed his challenger while the sound of the first bell was barely an echo, "The Brown Bomber" clearly stands at the very top in terms of quick wins scored by a heavyweight ruler. At one point, Joe starched three rivals in succession in less than one-hundred-and-eighty-seconds. That's impressive, Louis' "bum a month club" notwithstanding.
Amazingly, some big guys that could really punch never registered a single first round KO win in championship bouts. Jack Dempsey, Max Baer and Floyd Patterson, to name three hard punchers, never actually won a single heavyweight title fight via the first round KO between them. Quite amazing. There was a time when there was never a shortage of dominant and quick victories by our world heavyweight champion, though. One era had the superb Joe Louis, another had the terrifying Mike Tyson. Today's era, however, hasn't yet revealed to us a heavyweight king capable of scoring such a smashing spectacle.
Will we ever see a first round KO win from a heavyweight champion again? And if so, when?