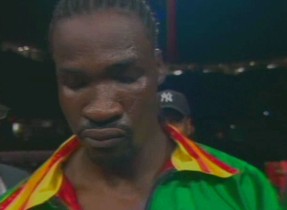 20.07.07 – By James Slater: This Saturday, in Cardiff, Wales, big punching WBO cruiserweight king Enzo Maccarinelli defends against Ghanaian-born Brooklyn native Wayne "Big Truck" Braithwaite. Topping the bill in front of his passionate fans, twenty-six year old Welshman Maccarinelli will be looking to score yet another quick and spectacular KO win.
Coming off two first rounds wins in a row, the 6'4" Maccarinelli might have to put in a spot of overtime in derailing the man known as "Big Truck," however. Then again, as Enzo once KO'd a man who took the colossal Nikolay Valuev the distance, another quick blast-out cannot be ruled out for the man with such awesome punching power.
Thirty-one year old Braithwaite, the former WBC champ at cruiser, has only been stopped once, though. Guillermo Jones beat him in four rounds back in September of 2005. Wayne's only other loss came on points in a unification bout with WBA champion, Jean Marc Mormeck of France. Before these two setbacks Braithwaite looked a very strong champion. He won the WBC belt in Italian Vincenzo Cantatore's home country with a stoppage in the tenth round. Three successful defences followed, before the defeat at the hands of Mormeck. His top-notch world class is proven then. Indeed, Wayne has faced better men than has Enzo. But can he take the reigning WBO champ's power on Saturday?
The match, though it comes at a time when Braithwaite is something past his very best, presents Enzo, 26-1(20) with something of a step up in class. Even after the bad defeat to Jones nearly two years ago, Wayne is no Bobby Gunn, that's for sure. Still, as I've said, another first round KO triumph could be on the cards for the man who shares trainers with Joe Calzaghe. Quite simply, Enzo punches with frightening authority. Blessed with raw power, heavy hands and above average speed, Maccarinelli will also hold a fair height and reach advantage (6'4" versus 6'even) over the 22-2(18) southpaw.
Actually, it could be this last statistic, that of being a lefty, that allows "The Big Truck" to travel a few miles with the champion at the weekend. His stance may well pose the five years younger man with a few problems. Hunger could well work against him, though. The Brooklyn man has been a world champion before – and a champion of a more accepted organisation than the one who's belt Enzo wears at that – therefore will he be as determined as Maccarinelli, a man who still has massive ambition? Wayne has been there and done it, whereas Enzo, though he holds the WBO version of the title, craves the big belts still. Should the fight boil down to a 'who wants it more' type of war, I feel Maccarinelli's youth and ambition will see him through. IF the fight gets that far, that is.
With all due respect, if Guillermo Jones could stop Braithwaite, Maccarinelli can do likewise. It might not be another one round destruction, but look for Enzo to retain his championship somewhere around the half way point of the action. "Big Truck" will give it a go, but he'll run into serious trouble before too long.
I expect Wayne to hit a major speed bump around the fifth or sixth round, as Maccarinelli scores the most important KO of his career to date.