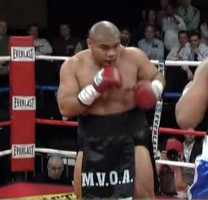 17.07.07 – By James Slater: On August 18th, in Utah, David "The Terminator" Tua steps into the ring for the second time this year. Making slow progress in his latest comeback, it must be said, Tua, now thirty-four, takes on Mexico's thirty-six year old Saul Montana – 48-14(42). Last time out, in February of this year, David out pointed Robert Hawkins over ten rounds in New York. The New Zealand-based puncher probably won't have to go as many rounds as that in this upcoming bout.
Not to disrespect Montana, but his best days came down at cruiserweight and light-heavyweight, and quite a few years ago at that. Some fans may remember Montana's fights with the likes of Virgil Hill, Vassiliy Jirov and James Toney. Saul lost to all three guys – all three times by stoppage. Not having a single noteworthy heavyweight victory to speak of, Montana will really have to go some to stick around against the big punching Tua.
The 5'11" Montana turned pro way back in 1988 at 168 pounds. Disaster struck, however, as the just turned eighteen year old was stopped in a single round by one Troy Weaver. Saul regrouped and soon moved up to light-heavyweight. After totting up twenty-one wins (twenty by KO) and losing another two bouts in between, Saul was given a shot at long reigning WBA light-heavyweight champ Virgil Hill in "Quicksilver's" second tenure as world champion. Saul was stopped in the tenth round. He made the move up to cruiserweight and had mixed fortunes at the weight thereafter. Both losing to and then beating Uriah Grant (both times in inside the distance fights) Saul also managed a win over the then 40-2 Kenny Keene.
These fights came in the years '97and '98 and were probably the Mexican's finest achievements. Eventually, in 2000, he was rewarded with one more shot at a world title. Facing the unbeaten Vassiliy Jirov for the IBF champ's belt, Saul was stopped in the ninth. It seemed his dreams of becoming a world champion
would always remain unfulfilled.
Since then, Montana has lost fights to Jason Robinson( L12) and James Toney (KO by 2). Shortly after Toney put his lights out he moved up yet again, this time to heavyweight where he now campaigns. As a heavy, Saul has gone 14-4. Not too bad a record, until one learns that he was stopped in three rounds by the big-but-limited Tye Fields in July of last year. This is a bad omen for what he will likely be subject to when he squares up with "The Tua-Man" in Utah next month. Saul will at least enter the bout coming off a win, though. In December last, he scored a first round KO over Mario Maciel in a bout that contested the Mexican heavyweight title. Now he takes a huge step up in class against Mr. Tua.
As we know, whenever Saul has stepped up to face a world class fighter of the highest order in the past, he has lost – usually by KO. What chance then does he have against "The Terminator?" As the saying goes, he has two chances, slim and none; and Slim's just left town! Expect to see Tua win for the forty-eighth time on August 18th, more than likely by scoring his forty-first KO. Anything less will likely spell the end for one of the heavyweight division's biggest power punchers of recent years. A loss for Tua is extremely unlikely, however.
What we need to see, though, is David moving back up into world class himself – after he has scorched Mr. Montana in one or two rounds.