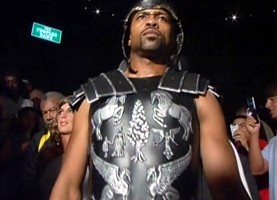 17.07.07 – By Geoffrey Ciani: I was baffled when I discovered the latest Roy Jones Jr. fight (from last Saturday) was going to be aired on a pay-per-view basis. After all, HBO was airing a free card that very same night featuring some pretty big names, including Arturo Gatti, Kermit Cintron, Antonio Margarito, and Paul Williams. Why would they have a Roy Jones Jr. PPV fight the same night HBO aired a superior card for free? More importantly, who would buy it?
Roy Jones Jr. hasn't won a significant fight in about four years. During that stretch, he had lost three consecutive bouts, two of which were brutal knockouts. He also looked mediocre (at best) in beating a sub-par opponent in his only victory.
Clearly, Jones's best days are behind him, and so, too, is his marketability (which was never anything special to begin with). That anyone would buy this bout seemed beyond the realm of reason.
East Side Boxing's message board is a good place to gauge the thoughts of die-hard boxing fans. Like any on-line forum, it has its fair share of trolls, know-nothings, and imbeciles. On the flip-side, there are some very insightful posters who know a great deal about the sport and its vast history, and overall, most of the posters are knowledgeable enough to know a thing or two about boxing. This mixture enables observers to get a good read for the collective minds of die-hard fans.
My interest was tweaked when I came across a poll penned by a poster using the "Rumsfeld" moniker which read: "Did you buy the RJJ fight?"
As of the moment I am typing this article, 54 posters have replied to the poll. Of those, 47 (or a whopping 87%) indicated they did not purchase the Roy Jones pay-per-view event. Of the seven people who said they did buy the fight, six of them noted their reason for purchasing the bout was because they were Roy Jones fans—only one person purchased the bout who indicated he wasn't a big fan of Jones, but rather, a big fan of boxing.
Of course, this isn't a scientific poll, but it still helps illustrate one important point: The only people purchasing this fight were essentially die-hard Roy Jones fans. Compare this with Oscar De La Hoya's bout against Floyd Mayweather Junior—a bout that broke the all-time pay-per-view records for any boxing event ever. De La Hoya versus Mayweather had 2.15 million US buys, surpassing the previous record (1.99 million) set in the Evander Holyfield versus Mike Tyson rematch of 1997. At a $55 price tag, it also generated more money than Lennox Lewis's 2002 match-up against Tyson.
The point I am making, is when Roy Jones fights, nobody outside of Jones fans seems to get too excited; when De La Hoya fights, not only do his fans get excited, but so, too, do his detractors, and more importantly, the casual fan who isn't apt to watch too much boxing during the course of any given year. Perhaps it is unfair to compare Jones's marketability to boxing's Golden Goose, De La Hoya. Perhaps Jones was just trying to ride the success of that bout. After all, it does seem there have been an awful lot of pay-per-view events in recent months. In any case, I won't be the least bit surprised to discover Jones's latest bout had a low number of purchases when the final results are tallied—time will tell.
Of the fans who said they watched the bout, I think their opinions can probably best be expressed by the poster known as "jimmie":
"I'm a huge RJJ fan, so 30 bucks to see him beat up a solid fighter trained by Floyd Mayweather Sr. was worth the money."
Aside from die-hard Jones fans like "jimmie", I'm still hard-pressed to see why anyone would have bothered purchasing this fight. It's unfortunate, but I think this fight symbolized a recent trend that may prompt more casual fans to tune out. The culprit I'm referring to, of course, is too many pay-per-view events that aren't worth "the price of admission".
To contact Ciani:
geoff@eatthemushroom.com
To read more by Ciani, please visit The Mushroom Mag:
http://www.eatthemushroom.com/mag