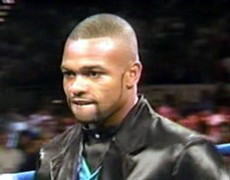 23.05.07 – Boxing legend Roy Jones Jr. (50-4, 38 KOs) will get into the International Boxing Hall Of Fame by acclamation. But the greatest super middleweight fighter of all time is not ready to be enshrined just yet. Jones is fighting onward and no boxer is admitted into the hallowed halls in Canastota, N.Y., until he has been retired for five years.
"The Hall Of Fame…well, that will be nice. But I am not ready for that and I am not ready for any rocking chair, either," Jones said. "I am ready, willing and able to prove that I still have what it takes to be a world champion once more. That is why I am fighting a young, tough strong, undefeated guy like Anthony Hanshaw on Saturday, July 14 on PPV TV.
"There is plenty of boxing life left in me yet," Jones said. "I guess Joe Calzaghe knows that because he does not want any part of me. I am taking this fight to measure myself. No one can hold me to a greater standard than I hold myself. I will use Hanshaw as my measuring stick. I coming not only to win but to win big and to shine from start to finish. Age is just a number, I promise you, because you will see more than flashes of the Roy Jones Jr. that made all that boxing history."
Jones-Hanshaw is promoted by Murad Productions and Square Ring in association with IP Casino-Resort Spa. The name of the event is "He's Baack! Witness The Return Of A King." The scheduled 12-round bout, to be fought at the light heavyweight limit of 175 pounds, will be beamed across the country and around the world direct from the Mississippi Coast Coliseum and Convention Center in Biloxi.
"You name the honor or accolade and Roy Jones Jr. has won it," Murad Muhammad said. "I call him the the Muhammad Ali of his generation and, at age 38, he is far from finished making ring history. This is a super talent who has won world titles at 160 pounds, dominated at 168 pounds, won at 175 pounds and even won the WBA heavyweight title when he defeated John Ruiz. Roy Jones Jr. takes the "i" and the "m" out of the word impossible and creates wonders."
Jones-Hanshaw, which will include a highly-competitive undercard, will mark the 15th time that promoter Muhammad and Jones have worked together.
"It is humbling to work with a talent as awesome as Roy Jones Jr.," Muhammad said. "And he is also a man of character. He's not coming back against any easy opponent, any cream puff, but against Hanshaw, age 29 and with a 21-0-1, 14 KOs record. Roy Jones Jr. doesn't just talk the talk, he walks the walk."
Hanshaw and his team have great respect for Jones but Hanshaw trainer John Russell sees an upset occurring on July 14 and this is a boxing man who knows from upsets. Russell trained a underdog heavyweight named James "Buster" Douglas when Douglas shocked the world by knocking out the seemingly unbeatable Mike Tyson in Tokyo.
"Anthony Hanshaw is a tough kid and has genuine talent," Russell said. "It's a privilege for Anthony to match his skills with a Hall Of Famer like Roy but Anthony is in awe of Roy. Anthony is coming to defeat Roy Jones Jr. not to merely share the ring. Anthony wants to be able to tell his kids and his grand kids not that 'I fought Roy Jones' but to be able to say 'I beat the great Roy Jones.'"
Hanshaw is promoted by Gary Shaw of Gary Shaw Productions.
The price for the PPV telecast is $29.95, as Muhammad calls it "an affordable pleasure." The show will be distributed by In Demand. Ticket prices will range from 500 to $300, $100, $75 and $30. Tickets will go on sale through Ticketmaster and other outlets on June 1.
Promoter Muhammad noted that the opening press conference is being held at boxing's "Temple," Madison Square Garden for more than one reason.
"What better place than the historic Garden to launch the final phases of the awesome career of the legendary Roy Jones Jr? Muhammad asked. "And also I want to thank the Dolan family, especially Jim Dolan, for getting involved with us and with this great event. Roy Jones Jr., is a big part of boxing history and so is the Garden. They don't call it the World's Greatest Area for nothing."