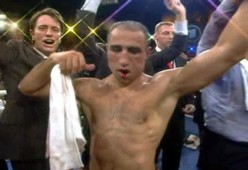 22.05.07 – By Matt Stein: IBF middleweight champion Arthur Abraham (22-0, 17 KO's) in his first fight since having his jaw broken in two separate places against the hard-punching Edison Miranda, defends his IBF middleweight crown against Canadian Sebastien Demers (20-0, 9 KO's) at the Jako arena, in Bamberg, Germany. Abraham, 27, has been out of action since beating Edison Miranda on September 23, 2006, a fight that was marked with controversy and one which Abraham took a terrific amount of punishment in the process of winning.
Now, eight months later and with his broken jaw apparently healed and deemed ready to go by doctors in Germany, Abraham will be setting foot back in the ring, albeit against Demers, ranked # 15 by the IBF and not noted for having much power in his fists.
Obviously, Demers was selected for the very reason that he doesn't have knockout power, a strategy used to give Abraham's jaw more time to properly heal before taking on a more power punching middleweight, such as Miranda or Kelly Pavlik. Demers, who has never fought out of Quebec, is a fighter whose primary weapon is his jab and fights similarly to other Canadian fighters Lucian Bute and Eric Lucas, for example. However, Abraham generally does well against fighters of Demer's type, attacking them fiercely and getting past their jab with ease.
Using an in and out style of attack, Abraham is able to pick his moments to get inside and punish his opponents that rely on jabbing as their primary weapon. It remains to be seen, however, whether Demers will be able to cope with Abraham's slashing attacks to keep him at a distance.
Since winning the vacant IBF middleweight title in December 2005, in a 5th round knockout of Kingsley Ikeke, Abraham has won two easy 12-round decisions over Shannon Taylor and Kofi Jantuah, before facing Edison Miranda in a fight that quickly turned into a war and a fight of the year candidate.
If Abraham wins his bout with Demers, one intriguing possibility is a rematch with Miranda, even though he is coming off a disappointing loss to Pavlik. Due to the competitive nature of their previous fight, this would likely be a huge attraction in Germany while at the same time garner a lot of interest world wide. Miranda is still a hot attraction despite losing due to his all-action fighting style and his huge knockout power.