31.03.07 – By Alden "The Kid" Chodash: Coming off a decisive, star-making boxing performance last year against Jeff Lacy, we expected great things from Joe Calzaghe in the future. Instead, what we got was an somewhat unimpressive hometown showing against Sakio Bika in place of an anticipated Glen Johnson affair which was delayed. For some, his upcoming bout may be a let down as well, after all, Manfredo's biggest victories and defeats have come to fighters significantly less than world-class. However, if you look into the career of Manfredo closely, you will figure that he is indeed probably the best "Contender" of both seasons of that show. The boxing lessons learned from Freddy Roach combined with the unique experience of "The Contender" might make this bout an interesting affair, and of course, Manfredo's determination isn't a knock either. If Calzaghe is viewing this as just another hometown showing (as he probably was against Bika), he's in for a shock.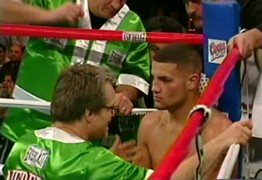 Not only is Manfredo a completely different fighter from the Jeff Lacy he dispatched in March, but Manfredo can counter-punch effectively.
As shown against Spina, Pemberton, as well as Mora (in their rematch), Manfredo's counterpunches are not only point providing, but they can cause some havoc. Calzaghe has also been downed in the past while he attacked his opponent recklessly. Byron Mitchell, and even Kabary Salem were able to accomplish this relatively recently, which may suggest that Calzaghe's 35 year old legs, in combat since '93, may be slightly vulnerable. And Manfredo's entering this bout at the peak of his career.
Another interesting factor heading into this fight is the elimination of Freddy Roach and the addition of Ray Leonard. Will Sugar Ray create a more elusive and defensive minded Manfredo? I personally doubt that an onrushing Manfredo would fare any different from Lacy. The obvious reason to choose Leonard was because of the fact that he is the most popular mastermind of "The Contender" series. However, if they want to intimidate the Calzaghe camp by choosing Leonard it won't work, especially when you consider that Calzaghe is backed by his trustworthy father as well as a pro crowd in Wales.
Manfredo may not handle the boxing pressure of the event as well as the crowd in his first title shot to pull off the stunner. And while Calzaghe should be able to effectively cooperate with the tricky and determined style of the American, I believe in the end it will be apparent that Peter Manfredo was a worthy "Contender".
————————————————————————————————————————
Alden "The Kid" Chodash is a member of the Boxing Writers Association of America as well as operator of AldenBoxing.com.