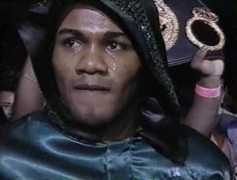 31.03.07 – By Gabriel DeCrease: Some fighters leave the game too soon. Of course, only a fighter knows when there is nothing left in the tank, when it is time to hang up the gloves and stop punching. But there are those guys that seem undeniably to have walked away from the game with unfinished business that they were hale-and-hardy enough to go ahead and finish. The first part of this list will, I hope, stand as an open invitation to consider the possibility that certain fighters should return to the ring, if not for one more night under the lights.
Conversely, there are—probably a lot more often—those warriors fighting bravely, or foolishly, on who should, by all rights, quit while their legacies, and perhaps their central nervous systems intact. I believe a fighter should, if they so desire, be permitted to fight on as long as they are fully and rationally able to make that choice without taking unusual health risks, or creating them for other fighters. However, I hope to generate here a second list that will be one of fighters who ought to at least ponder the suggestion that the time is right for retirement.
But, I do bear in mind, how I was nervously certain that George Foreman would be killed or done serious harm in the comeback that peaked symphonically with his mythic knockout of Michael Moorer.
Come back…You Ain't Finished Yet:
Felix Trinidad—Though I believe "Tito" is often grossly overrated in terms of his all-time great status by his massive die-hard fan-base, I was sorry to see him leave the ring on such a sour note. It seemed clear to everyone but Trinidad, and his trainer father, that a dominant win over Ricardo Mayorga did not serve as an indication that he would put hard leather on a patient, awkward, defensively-minded chess-player like "Winky" Wright.
Yes, Wright foolishly pulled a Mayorga, as it were, against Shane Mosley, hanging his chin in the open air and inviting "Sugar" Shane to pound away. What can you say, Wright felt like an average guy who was thrust onto the big stage. He had his Erin Brockovich-moment of self-indulgent famousness, and he got over it. Beyond that unadvisable move, no comparison can be made between Wright and Mayorga.
Subsequently, "Tito" got shellacked and terrifically jabbed into frustration and a lopsided loss because he was foolish enough to think "Winky" would get sloppy and maybe bang a little with a dangerous puncher. That was just one fight, his last fight, and it leaves a nasty residue on his impressive legacy. Tito's wins over Campas, Whittaker, De la hoya, Vargas, Joppy, and Cherifi were great performances, and great fun to watch. And, I will be the first to say, Trinidad does not get enough credit for hanging-tough with Bernard Hopkins throughout B-Hop's greatest ever performance. That loss does not stick out, ugly and sore, as the domination by Wright.
That said, "Tito" is still—though not for long—young enough that his body could tolerate a comeback. He could get back in the gym, work out around the middleweight limit. He might stage one fight against no-name opposition without hope or expectation. Assuming he wins on experience and remaining athleticism alone, he could retire with a mark in the right column on the top of the totem pole he built with vanquished opponents.
If he likes the way he feels, and wants to go out again against better opposition, he should try it. His unfinished business should end on a high note, not by biting off a mouthful he cannot chew. I do not think that Trinidad has the fire inside to win another fight over world class opposition, or a fighter that is ravenously looking to prove himself. But I am confident he has the desire and the responsibility to his legacy to see how far a comeback that starts at the bottom might lead.
I see the projection like this: Beat up on some no-name journeyman in Puerto Rico to shake off the rust, do not go for the knockout, put some rounds back on those deflated wheels, cleanly outbox a passable fighter like Raymond Joval, take him the distance, then finish on a sweet note by letting trumpets blare and having fun looking for a highlight, career-capping knockout over someone respectable, but ripe-for-a-fall, like Howard Eastman or Raul Marquez. Come on Tito. It could be fun.
Paulie Ayala—I know I may be a member of a shrinking minority in thinking Ayala could possibly have anything left to bring back to the prize ring. He is now 37. But hey, B-Hop is 42—though an unusual case, I know. But I remember being fairly shocked and massively disappointed when he announced his retirement in 2004 shortly after he threw his gloves into the featherweight division and was thrice dropped and TKO'd in ten by Marco Antonio Barrera. The media spent most their time talking to Barrera about his dominant performance.
And it went quietly out of conversation that Paulie Ayala, a great fighter in his time, was lost to boxing after a fight that surely did not properly reflect the amount of steam the old battler had, and perhaps has, left. In the fight immediately before Barrera KO'd him, Paulie looked fresh and energetic in roundly out-boxing Edel Ruiz. Ruiz was no a world-class fighter, but the point was Ayala looked to be tuned up and ready to go on far past one fight, even if it was the first knockout loss of his career.
It is my understanding that Ayala is no longer in apt fighting condition, and it would take time to get back to within a stone's throw of the featherweight limit. But, I think back to his phenomenal pair of fights with Johnny Tapia, and his hard-fought nail-biter over Johnny Bredahl, and I, much as I would in the case of Felix Trinidad, hate to see Ayala have his career ended by a loss. Trinidad withdrew after a high-profile embarrassment.
Ayala's exit was almost opposite; he left amidst the announcements and divisional feuding between Barrera and Morales, and his loss was both quiet and ignominious. He deserved better. He deserves better. He might only squeak out a handful of decisions against Fort Worth club fighters. But I would like to see it. I would like to see that Paulie Ayala has won again.
After all, he was one of the nicest, ethically bound, and most socially responsible guys ever to lace up a pair of gloves. He was never in trouble. He was never caught talking all that stuff that has given the sport a permanent black eye. do not ever remember seeing him raising his arms in triumph without having first knelt and prayed in thanks for the opportunity to fight on the world's stage. Whether you are religious or not, you probably see the merits of that type of humility. Coming back, even for a small, local, un-sensational flash, seems like the right thing to do. I could live with that.
Francisco Bojado—Where did this guy go? I followed his career from its outset. He had the raw talent to be a great boxer, a slick ring-general. He was quick, well-trained, and seemed to amass fighting-pose at an inhuman rate. His management clearly saw the speed with which Bojado was approaching maturity as a world-class fighter, and so they decided, moronically, to throw him in with Juan Carlos Rubio in his tenth professional fight. Yes, he had just beaten a battle-tested veteran in Mauro Lucero by way of first-round knockout.
That was a great win. But if he had not gotten by Lucero in the first round, disaster might have struck as it did against Rubio. Experience is the hardest thing for a young prospect to face, especially when he is fully aware of the expectations he carries into the ring with him so early in his career. Bojado failed to put Rubio down early, and Rubio's cultivated instincts, his experience-driven cool got over on Bojado. The kid was floored, albeit questionably, in the eighth, and he left utterly beaten. The Ring Magazine ordained the fight Upset of the Year. I still cannot understand why anyone was so shocked.
Despite the setback—one that might have been easily avoided if not for over-eager management and an easily stirred public—Bojado bravely came storming back—after an eight-month layoff— and posted a streak of wins that included victories over Lemuel Nelson, Emmanuel Clottey, and Rubio, the spoiler, in a rematch for the vacant WBC Continental Americas light-welterweight title and the vacant IBA Continental light-welterweight title. Then he moved up in class and took a risk named Jesse James Leija. This risk seemed more reasonable. Bojado finally had enough fights under his belt to consider such ventures.
And when Bojado floored the veteran in the second, I thought the kid was a lock to trample Leija and go on to greener pastures—and title shots. However, as it often happens with hard, old vets when they fight young, highly-touted prospects, Leija coolly climbed off the canvas and got up to soundly outbox Bojado and take a well earned split decision. Leija seemed propelled by the sentiment that the kid was good, he would be a world champion, just not yet. Both men should have been proud. Both made positive statements about their presence in the rankings.
After that night in summer 2004, Bojado never fought again. He was there, defeated, but winning a larger battle to prove himself as a man on the road to becoming an elite fighter. He had power that he knew how to place, he was clever and fairly well knew how not to get hit, he was a sneaky boxer who punched at irregular intervals that threw off opponents defensive moves. He had the skills, and Bojado seemed clearly enough to possess the intangibles that make a fighter great. So, this one doesn't take much explaining, even after his three-year layoff, the kid is only 23. He has a career behind him already, one that was full of promise and potential. And, if he so chooses, he could have another full career ahead of him at the very top of the game. Unless Francisco Bojado is laying somewhere in Los Angeles 200-pounds with a needle in his arm, he should make a comeback.
Go home…Brother Your Fighting Days Are Done!
These will be even shorter takes, as they are apparently more obvious—and more self-evident.
William Joppy—I don't believe there has been an official announcement yet, but Joppy has not fought in almost a year since his KO victory over unknown light-heavy Jonathan Corn. I hope he stays inactive, and that inactivity becomes retirement. Joppy was a great fighter and a deserving world champion. But my calls for his retirement began immediately after the beating he took from Bernard Hopkins in 2003. Hopkins put a terrible hurt on poor William for twelve excruciating rounds, and there Joppy sat at the press-conference woozy and swollen from the scores of punches he absorbed flush to the face and head.
Even Hopkins was protesting, and warning that Joppy should be taken immediately to a hospital. That was a career-ending beating, one that came after significant thrashings he took in both winning and losing against Felix Trinidad, Julio Cesar Green, and Howard Eastman. Instead of retiring, Joppy went on to take subsequent punishment in his next fight from Jermain Taylor. He looked like a broken-man being further tormented in that fight against "Bad Intentions", and though he has only fought sub-par opposition—like Corn—since then as he moved toward competing as a light-heavyweight, I fear for his safety if, in his decrepit state he takes on a formidable 175-pound puncher.
Vince Phillips—He was a never-count-him-out upset artist in his day, and a fearsome puncher. He posted underdog wins over Kostya Tsyzu and Micky Ward. He even won a surprising technical decision over up-and-coming Kelson Pinto in 2005.Vince managed, always, to hang in there with guys who were bigger, quicker, more technically sound, and who had more raw talent. He stayed in there, as it were, and made better fighters fight him until the end. He went the distance with then-highly-regarded Romalis Ellis, Vernon Forrest, "Sucre" Ray Oliveira, Sharmba Mitchell, and recently with Alex Bunema. But then, after holding on in a losing-effort against Bunema, something was lost.
Vince, now 43-years-old had long-since gotten old overnight, as they say, but something kept him going anyway, kept him in the fight, each fight, specifically, and in the larger more symbolic sense. In his last two fights, a decision loss to Jesse Feliciano and then a TKO loss to Jesus Soto Karass, Vince looked vacant, hollowed of whatever made him a threat in a title fight despite his record and his lack of natural athleticism. These two fighters he faced last are not even at the level of the guys he used to knock out and tally up as minor upsets. These are the guys he flat out beat. And now, he is being routinely handled by them. Vince "Cool" Phillips could always promise an opponent he would be a hand-full, and he was. He should quit while the memories of that inexplicable toughness and those unpredictable moments of transcendence are still fresh and undiluted by pathos.
Evander Holyfield—You know the "Real Deal." You know the deal regarding this late extension of his career. He wants to be a world champion again. Yes, the heavyweight crop is rotten and full of goofballs, glass-jaws, and football players. Holyfield might be able to get over on most of them. Who cares? Yes, Holyfield rebounded from a long dismal streak by kicking the butt of an insurance salesman, an inert Fres Oquendo, and then a one-dimensional blockhead named Vinny Maddelone. But his career, all those hellish, bloodied rounds with world-class killers, they have taken their toll. Clearly, and measurably. Slurred speech and glassy eyes do not seem unrelated to his unnaturally-prolonged career in the ring.
And even if he can jump through the appropriate medical hoops to get sanctioned, and win a world title, he shouldn't. He has done it all already. And if, and when, he wins another world title, my reaction will not be to congratulate him on doing the miraculous and impossible. It will be to let out a sigh of relief and say, Okay, Evander, you already did the miraculous and impossible before you did this, now it must really be enough. Just stop already. I know this debate has been pushed ad nauseum by every major boxing news source, but it is important to take every opportunity to re-solidify the call to retirement.
Evander is one of our greatest living champions. He deserves to fight if he wants. But I, as a longtime admirer of the fighter, and of the man, do not want to see him live out the rest of his life a victim of that unceasing, un-extinguishable voice in every fighter that refuses the suggestion that it, the big show, might be over.
Tommy Hearns—"The Hitman" announced recently that he may well fight again and press on in the ring, still searching for a weak spot in the ranks to burst back into title contention. I thought the nightmare of Hearns ravaging himself, pushing 50-years-old, campaigning as a cruiserweight, was over after his last fight in early 2006. Take every grievous truth that you fear applies to Evander Holyfield and multiply it exponentially, and it would barely be a dire enough appraisal of Hearns' ability to continue fighting in any reasonable or appropriate capacity. It would barely be a dire enough appraisal of the undeniable, significant neurological and physical damage that "The Motor City Cobra" has heaped on himself in the ten-or-so years he has been fighting beyond reason and safety.
Questions, comments…email me…blindthought@yahoo.com