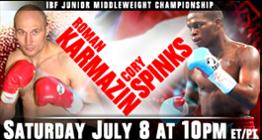 30.06.06 – With a nickname like "Made In Hell," one might expect Roman Karmazin to be a foul-mouthed, motorcycle-driving, heavily tattooed, long-haired ex-con with a rap sheet from here to Alcatraz. Conversely, Karmazin, who will risk his International Boxing Federation (IBF) junior middleweight title against former undisputed 147-pound boss Cory Spinks in a special edition of SHOWTIME CHAMPIONSHIP BOXING Saturday, July 8 (10 p.m. ET/PT), says he is anything but confrontational.
"I will fight you and never back down," Karmazin said through an interpreter. "But, I have never started a fight in my life. It is not my nature."
Karmazin has an unusual background for a prizefighter, especially one known for a tough and rugged, no-nonsense style. "I started with gymnastics when I was eight and I enjoyed it a lot," he said. "At 14, I decided to try boxing just to be able to protect myself better. I quickly realized I liked it, too."
Due to the demands of each sport, Karmazin was faced with a choice. He opted for boxing.
"It really was not much of a decision," Karmazin said. "(But) I definitely believe gymnastics has helped me a lot in boxing. Everybody says I am well coordinated. I think that results from my gymnastics background. It does not take me long to learn a new combo or a move. I owe that to my gymnastics, too."
In a near-flawless performance in his last start, Karmazin spoiled the much-ballyhooed coming out party of Kassim Ouma. Karmazin won a shockingly easy 12-round decision (118-109, 117-109 and 116-110) on July 14, 2005, in Las Vegas to take Ouma's IBF title going away.
Karmazin simply outclassed Ouma, who barely got off a punch in the initial two rounds. Ouma, a superstar-in-the-making, got knocked off his feet twice in the third round. He hit the canvas from a wicked kidney punch early in the round and was up quickly. But he was soon headed for more punishment. After a series of punches put the Ugandan near the ropes, Karmazin landed a crisp right lead to the head that dropped Ouma again.
"I told everyone that Ouma was a good fighter, but not a superstar," said Karmazin, who used his superior reach and a sharp right hand to keep Ouma off-balance.
Karmazin may have tired a bit in the middle rounds as a result of the many power punches he threw earlier and Ouma rallied. However, Karmazin finished strongly in the final three rounds to regain control and leave no doubt.
"My prior fight with Keith Holmes was much tougher," Karmazin said of a 12-round majority decision over the former two-time world middleweight champion on April 2, 2005, in Worcester, Mass. "Ouma was a tough fighter, but he was not as good as me.
"Everything turned out as I expected. Ouma has a lot of good qualities. He has great endurance and keeps up the punch. But as a former soldier, everything is very straight with him. He is predictable and easy to get around. I hit him very hard, but it was as though I was hitting a soccer ball. I cannot even imagine how he made it to the end of the match."
Karmazin always was tough enough growing up, but he never initiated fights. Nor did he back down. "In the Russian army, I had to fight a couple times," he said, "but that turned out to be enough."
One of his first scuffles came in "uchebka," a six-month exercise that compares to an army boot camp. It is where Russian boys begin their military service.
"The guy offended me badly and I broke his jaw in two places," Karmazin said. "The second fight happened in the company where I went after 'uchebka.' In the middle of the night, a guy everybody was afraid of felt like fighting somebody and he choose me. He was not going to fight me actually. He was going to beat me up. I was a young guy in my first year of service. He was a soldier nearing the end of his time.
"In the Russian army, there is an unwritten rule where a guy in my position has no right to touch a superior, much less retaliate, but I could not just let him beat me up. So, I hit him. I threw and landed only one punch, but it hurt him really badly. I thought I would go to prison, but I did not because it was his fault. After that, I lived a rather quiet life in the army."
Karmazin also had his share of pavement punchouts before and after military service. "I had to fight a few times in the streets, but they never lasted long," he said. "They were all one-punch fights. I did not start any of those fights. I have never been a bully."
A native of Kuztniesk, Russia, Karmazin turned pro at age 23 on Aug. 17, 1996, in Moscow. He won his first four outings by knockout before boxing to an eight-round draw with Javier Martinez on Dec. 20, 1996. Karmazin then bounced back to win 25 in a row. One of his toughest fights during the winning streak came against Robert Frazier, whom he defeated June 9, 1998, on an eight-round decision.
"The Frazier fight was my 15th in 22 months since turning pro," Karmazin said. "I was physically and mentally exhausted. I had not had a proper rest for three years. I was winning, but not like I wanted. It started messing with my head. I began to train like a maniac. I could not sleep and was constantly thinking what I did wrong in past fights. I would wake up in the middle of the night and start training and go to bed only when I was totally exhausted. There was no end to it. I even started having problems with my family. I do not blame them at all. Who would want to live with such a character?
"By the Frazier fight," he continued, "just the sight of gloves made me sick. I was not myself that night and boxed him like a robot, which is not me."
Karmazin did not fight for three-and-one-half months following the Frazier bout. The respite did as much good for him emotionally as physically.
"I worked on cars and forgot all about boxing," Karmazin said. "I learned some perspective, that life should not be limited to boxing. If you stop seeing other things, you fail as a boxer. You should train very hard, but when you leave the gym, you should switch to other things. Otherwise, you get burned out inside."
A consistent puncher with an unusual style – he holds his left hand low – Karmazin made his United States debut against Anthony Fields (14-1 going in) on Jan. 29, 2000, and recorded a second-round TKO.
"Prior to the Fields fight, I met a lot of Russians who thought I was going to lose," Karmazin said. "They said Fields was very good and would knock me out. I did not think so. I was so calm before the fight that one might have thought I was preparing to play chess. Fields landed one good shot and I started seeing stars, but it only made me angry."
The lengthy winning streak ended when he suffered his only defeat on a controversial 12-round decision to Javier Castillejo in a bout for the WBC interim 154-pound crown on July 27, 2002, in Madrid, Spain. In a close affair, the local favorite triumphed by the scores 115-113 twice and 116-111.
Karmazin fought to a no-decision against former title contender Jason Papillion on May 15, 2004. The bout ended when Papillion was cut by an accidental headbutt in the fourth round.
In his next outing, Karmazin outpointed Holmes 116-112, 115-113 and 114 apiece to earn the shot at Ouma. Karmazin's best round came in the 11th when he hurt Holmes with a short, straight right. Holmes managed to hang on and survive the round without going down.
Karmazin is looking forward to defending his IBF title against Spinks.
"I like challenges and fighting in his backyard is a challenge," Karmazin said. "I only want the opportunity to fight the best. I am ready for anybody. I made a promise to myself before the Ouma fight that if I lost, I would retire. I feel I have the weapons to defeat anybody, but Spinks is first in line. I will not look past him. I cannot wait for July 8.''
SHOWTIME CHAMPIONSHIP BOXING's Steve Albert and Al Bernstein will call the action from ringside with Jim Gray serving as roving reporter. The executive producer of the SHOWTIME telecast will be David Dinkins Jr. with Bob Dunphy directing.
On Saturday, July 1, a night normally reserved for the SHOWTIME CHAMPIONSHIP BOXING series, a special edition of "ShoBox: The New Generation" will air at 9 p.m. ET/PT (delayed on the west coast). The sons of four former world champions, Tommy Hearns, Buddy McGirt, Aaron Pryor, Jorge Paez and the cousin of Tim Witherspoon will be featured.
SHOWTIME celebrates 20 years of hard-hitting, explosive boxing in 2006. In March 1986, SHOWTIME CHAMPIONSHIP BOXINGA was born when "Marvelous" Marvin Hagler defeated John "The Beast" Mugabi in a spectacular and unforgettable 11th-round knockout in Las Vegas. Since that time, the network has aired some of the most historic and significant events in the sport including both Holyfield-Tyson bouts.
Always at the forefront of boxing, SHOWTIME has set itself apart by telecasting "great fights, no rights" on the first Saturday of every month. SHOWTIME is the first network to regularly deliver live boxing in High Definition. In addition, SHOWTIME continues to be a pioneer in sports television with a number of interactive features across multiple platforms making SHOWTIME CHAMPIONSHIP BOXING telecasts the most enjoyable, immersive viewing experience for the boxing audience.
For information on SHOWTIME CHAMPIONSHIP BOXING and "ShoBox: The New Generation" telecasts, including complete fighter bios and records, related stories and more, go the SHOWTIME website at http://www.sho.com/boxing.