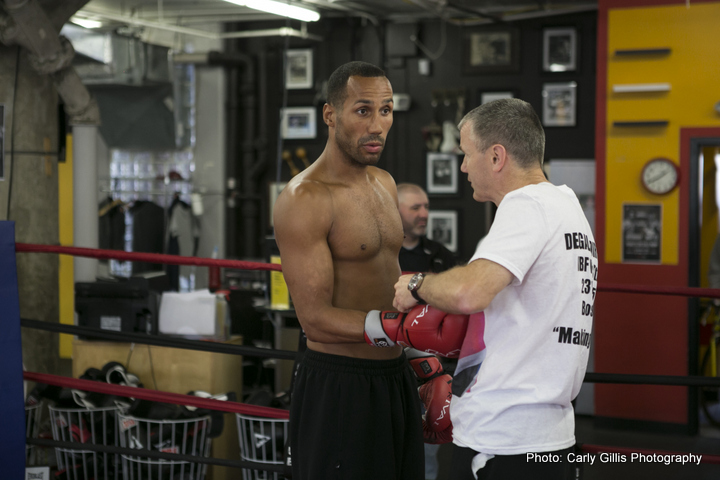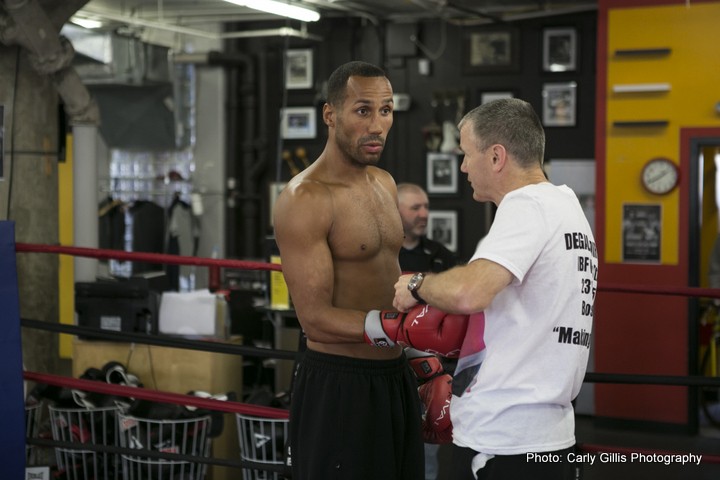 Nigel Benn- Michael Watson- Chris Eubank: three names that perhaps do not signify pound for pound pedigree but a trifocal of British pugilists that waged successive wars against each other across the early nineties. Frankly, any boxing purism would have been out of place in a hellish round robin of barbaric contests between the trio predicated upon genuine animosity and bloodlust that were more reminiscent of trench warfare than of any sporting endeavour. For the pleasured served up, tolls were taken, with Michael Watson suffering a cruel brain injury in his bout with Chris Eubank that would permanently alter his life. Speak to the irrepressible Watson today though and not a modicum of self-pity or regret will be detected in his attitude.
"I love boxing…it's in my DNA," Watson still defiantly utters in interviews, fitting, seeing that the feuds with his two fearless counterparts reignited that same love for fistic combat across the British Isles and re-defined the expectations of a 'domestic rivalry'.
Could conditions arise that would permit such a glut of British grudge matches once more? Well, forecast it with caution but a constellation of pugilistic stars are coming into alignment just around the same scarred landscape of yesteryear's warzone. That's right, a new generation of British Bulldogs are primed and geared to shed blood for Super Middleweight honours over the not too distant future.
Two fighters at the heart of the British Super Middleweight renaissance are already in the process of leaving indelible footprints across the sport's shores. 2008 Olympic champion James DeGale and his sworn enemy George Groves have already traded hooks at the outset of their careers with Hammersmith's Groves edging a razor sharp points decision back in 2011. Although the fight lacked the gung-ho aggression that underpinned the fabled British Super Middleweight contests of times bygone, the needle that surfaced during the build up struck an all too familiar chord.
The condescension behind Degale's chosen moniker of "the ugly ginger kid" for Groves was an uncanny window to the past. All Degale needed was a pair of unsightly jodhpurs tallied with an aristocratic lilt and onlookers would have mistaken the scene for Chris Eubank's pre fight belittlement of "the intolerable wild man" Nigel Benn. Further overlaps materialised post fight as the debated decision in favour of Groves foreshadows a second instalment of hostilities just as Eubank and Benn were forced to pursue back in 1993.
But hearsay swirling around rematches, renaissance and British tyranny in the 12 stone division will go unrealised if this era's Union Jack flagbearers do not exercise the limits of their potential in upcoming bouts. Both Groves and DeGale stand on the precipice of World title honours with 'Saint George' mandated to face WBC kingpin Badou Jack imminently, whilst his compatriot descends on Boston this weekend braced to withstand fast-fisted Andre Dirrell in a skirmish for the IBF strap. Neither contest could be portrayed as smooth engagements for the Londoners but seize their respective crowns and conjecture would become reality: the British reclamation of Super Middleweight division would be underway.
Whilst it is indisputable that Groves and Degale constitute the focal point of Britain's gathering siege on the contemporary Super Middleweight scene, it would be misguided to believe that there is no depth beyond these frontrunners. 25 year old Callum Smith, the latest pugilist to be honed, packaged and released from Liverpool's famed Smith boxing dynasty, is charted for a title eliminator against the durable Frenchman Christopher Rebrasse in June. With a venomous right hand and ample ring guile to boot, Callum overshadows his three boxing brothers (Super Middleweight Paul, Light Middleweight Liam and Super Featherweight Stephen) in regards to raw ability. Nevertheless, at present Callum's future can only be discussed in the hedged language that accompanies all unseasoned prospects of the fight trade; however, overcome Rebrasse and young Smith is granted a fasttrack to a World Championship title tilt.
A title, I should point out, that will need to be wrested from the grasp of either Badou Jack or a certain George Groves subsequent to their face-off. Subtract the one-dimensional Jack and any obstructive political wrangling from the equation and suddenly, the proposed intersecting web of British in-fighting at Super Middleweight doesn't seem so preposterous after all.
Equally, it is not just those currently stationed at the 160 pound weight limit that herald a future brimming with British bust up's for down at Middleweight lies a brash upstart with a familial name and iconic style that is a resonant link to the past.
"Euuuubank! Euuuubank!" Haunting though it is, the elongated chant rises up from the recesses of British boxing venues once more, yet, this is no second coming.
If the Chris Eubank of the Nineties was a strutting, conceited Trojan of a prizefighter serving as the cornerstone of the original domestic heyday at Super Middleweight, then his namesake son, Chris Eubank Jr, possesses all the same hallmarks to potentially thrust himself onto the world scene two decades later. Although still in the embryonic stages of his career, the spiteful uppercuts, the inhuman threshold for suffering and the penchant for showmanship are clearly all genetic. On the other hand, devoid of his father's knockout power and wasteful with his ostentatious punches, Junior still has some way to go to quash the naysayers who christen him a mere hype job – a threadbare caricature of his Hall of Fame patriarch.
However, be it rose-tinted nostalgia or a consequence of his crowd-pleasing performances, Eubank Jr has managed to cast off the pantomime villain guise that Senior assumed so keenly in his famed clashes with Benn and Watson. By the same token, the public's affection has been helped by Junior's braggadocio being humbled somewhat by a solitary loss at the hands of another protagonist of the new generation – the hands of the sharpshooting British, Romani traveller Billy Joe Saunders.
Saunders, the current European and British Middleweight ruler, is ranked number 2 by the World Boxing Organisation sanctioning body after besting Eubank Jr back in November. In what was regarded as one of the most fervid encounters in recent domestic history, Saunders used his superior boxing craft honed over an acclaimed Olympic Amateur career to outmanoeuvre and outwit Eubank throughout the opening six stanzas. This only served to catalyse a rabid onslaught by the desperate Junior which left both men reeling drunkenly through the championship rounds and culminated in the slenderest of decision victories for Saunders. Like Groves and Degale before them, the conclusion had the air of a beginning – the commencement of a shared narrative to be resolved with finality over a series of staged conflicts.
With Saunders held in such esteem by the WBO and Eubank Jr the current interim titlist for the World Boxing Association it is far from inconceivable that these two precocious talents will be vying for world honours with regularity over the next decade. When you ponder the reality that both pugilists possess body profiles that could accommodate a transition to Super Middleweight, the collective psyche of British fight fans becomes abuzz with foreseeable confrontations.
To take stock, that is Groves, Degale, Smith, Eubank Jr and Saunders all hungry, all located within a 16 pound catchment area and all encroaching on the primes of their respective careers. Well, this is quite the delectable cast we are assembling, right?
Of course, no examination of British protagonists in the middle divisions would be complete without a nod to the man who has bore the nation's ambitions most resolutely over the last half decade. Carl Froch filled the void when pound for pound Welsh maestro Joe Calzaghe abdicated his Super Middleweight throne, striding headfirst into momentous brawls with all of the division's major figureheads. But, discarding sentimentality, time elapses and the torch passes. For the British man on the street it is an enticing notion, Froch gnarled and obstinate, determined to repel the cast of young domestic pretenders as he did George Groves last summer; but, it is little more than an idealised notion.
Froch, the Nottinghamshire pugilist we anointed 'The Cobra', is done barring a mooted swansong against the malevolent puncher, Gennady Golovkin. And so, it is in the palms of the promising armoury of emergent British firepower that we entrust our wishes for all out civil war at Super Middleweight.
Is it incredibly partisan, to the point of mild delusion, to foresee the crop of upcoming Brits annexing the Super-Middleweight division? Ultimately, reality does have dawn and for all the nationalistic vehemence that is stoked by a comparison of the boxing merits of local starlets like Smith and Saunders, one most always cede that an Andre Ward is too skilled and that a Golovkin is too violent for our homespun combatants. But, this is not to detract from the proposition at hand.
Despite the glorification of the Benn, Watson, Eubank saga, presiding over all within that timeframe were the unparalleled Roy Jones Jr and the defensive virtuoso James Toney. Both Jones and Toney held dominion in the 12 stone division, yet the anticipated Anglo-American encounters never materialised. Nevertheless, Stateside rightly felt mighty confident that the Brits would have been vanquished had any such combination of match-ups been signed and delivered.
Once more, does this detract from the intrigue, the zeal, the spectacle that the Benn-Watson-Eubank epics served up? Not one iota. Why? Because the gratification that fight fans associate with those mythical Super Middleweight contests lies once more in that abstract concept of the 'domestic rivalry'.
In the UK, the term 'domestic rivalry' carries a lot of substance. It means city against city rising in pockets of tribalism across the country; heated exchanges on BBC breakfast shows; two incompatibly proud personalities; endorsing your favourite to that stranger on the tube; a subplot of simmering antipathy and so much more. Thankfully for fight fans, the culture surrounding a big British fight has become ritualised, not a consequence of hype, but a legacy of the transfixing brutality and limitless courage expended years before by gladiators like Michael Watson.
It is this historic spirit that captivates the populous in the lead up to domestic prizefights.
The gold-medalled braggart in Degale, the streetwise master of mind games in Groves, the mild mannered Liverpudlian in Smith, the son stepping out his father's shadow in Eubank Jr and the student of the fistic art in Saunders; the narrative angles and characterisations are all primed for the publicity wagon. Yet it will be the next six months that will reveal if a generation of great pedigree can resurrect the heroism of their predecessors and usher in another age of British blitzkrieg at Super-Middleweight.
By Michael McEwan