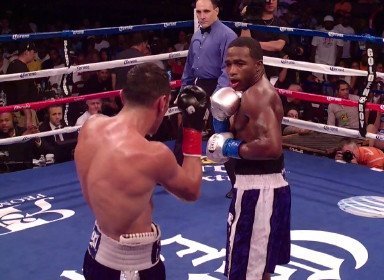 By Rob Smith the November 17th bout between WBC lightweight champion Antonio DeMarco and Adrien Broner is still set for Boardwalk Hallt in Atlantic City, New Jersey in spite of the damage to the area from the huge hurricane Sandy this past week. Golden Boy Promotions still want the fight to be staged there. The area is pretty wrecked from the hurricane and it's questionable how many people will show up for the fight.
HBO will be televising the fight, which will also have heavyweight Seth Mitchell facing Johnathon Banks in addition to the Broner vs. DeMarco fight. The Boardwalk Hall reportedly wasn't damaged so that shouldn't be a problem. The only question is how many boxing fans from around the area will want to see the fight given the damage that has taken place from the storm.
Broner, 23, is hoping to put on a good performance in trying to grab the World Boxing Council 135 lb title from the more experienced DeMarco. This is the first fight for Broner at 135 and he's taking on a really tough opponent in 26-year-old DeMarco. This is like going to the head of the class and it's definitely a risky thing for Broner to be doing. He's had trouble in the past against tough pressure fighters like Daniel Ponce De Leon, and you've got to rate DeMarco ahead of him. Demarco can be a lot of problems for anyone.