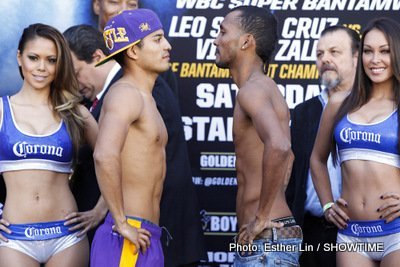 By Corey Quincy – This Saturday live on Showtime's World Championship Boxing series we will see Anselmo " Chemito " Moreno ( 33-1-1 ) face off against Mexican brawler and WBC World Champion Abner Mares ( 24-0-1 ) in a key match up for total Bantamweight supremacy. And I believe it could turn out to be very interesting.
The fight is making many regular boxing viewers highly enthusiastic as it features a strong contrast of that Boxer against brawler style that often leads to highly entertaining fights.
Mares is the WBC World Bantamweight champion and is well known for retaining his title by out-brawling his opponents in fan-friendly battles. His shots are often " telegraphed " and his style is pretty basic but his youthful stamina and relentlessness rarely gives even his top opponents times to act on his flaws. Moreno will have to disregard these difficult patterns and not allow Mares to trap him and set his shots off like he manages to do often with other opponents.