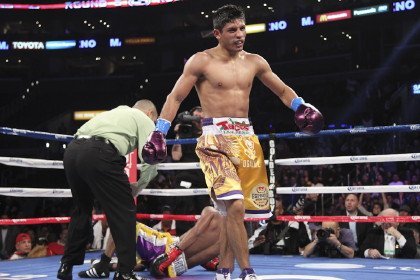 Espn.com writer Dan Rafael is reporting that a Championship doubleheader featuring Abner Mares vs. Jhonny Gonzalez and Victor Terrazas vs. Leo Santa Cruz is very close to being official. The fights would take place on August 24th and be broadcasted by Showtime Sports.
Since Golden Boy Promotions recently won the purse bid for the Terrazas vs. Santa Cruz fight, which will open up the broadcast, the only thing left is finalizing the fight between all action fighter Abner Mares and former champion Jhonny Gonzalez.
From the sounds of it the fight is just a matter of days away from being done. On Tuesday night Golden Boy C.E.O Richard Schafer told ESPN.com "There are no particular outstanding issues with Mares and Gonzalez. Both fighters want to fight and I'm just trying to finalize everything."
Schafer added "I expect it to be done in the next few days. I just need to sit down with Stephen (Espinoza) and get it all finalized, but Showtime loves the card."
What looks to be a solid card for Showtime and Golden Boy, the setting for these fights will fit perfect with this event being staged at the StubHub Center (Just change from Home Depot Center). Schafer wants to keep the momentum going at the Southern California venue, which broke an attendance record for its most recent event drawing 8,629, when Marcos Maidana and Josesito Lopez along with the co-feature fight Lara vs. Angulo, delivered SoCal fans two great battles that surly will give them a chance for repeat customers and another possible sellout.
Although neither fight's will be on the Mayweather vs. Canelo Showtime PPV undercard as previously discussed, this gives both Abner Mares and Leo Santa Cruz a great opportunity to add to their resumes and raise the profile in L.A. It will also add fuel to the fire that continues to spread in the boxing forums and by scribes alike, for a possible Mexican warrior showdown between these two action fighters.
Both fighters recently moved up in weight classes and currently stand just 4 pounds away from each other. Leo is still on a quest to establish some signature wins, while Abner Mares has proved himself with a solid string of fights at 2 different weight classes and is deserving of big name fights at this point in his career. But with the Top Rank vs. Golden Boy no fly-zone, one can only assume that will see a Mares vs. Santa Cruz war sooner than later.