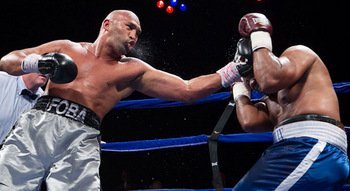 by Pavel Yakovlev – photo by Joey Hill – Saturday night, Fres Oquendo reminded the world that he is more than just a skilled technician: he can also bang. Oquendo made his point by stopping Robert Hawkins in seven rounds, dominating the action with crackling right hands and a hurtful body attack. The early finish surprised many, as Hawkins is known for his durability. Oquendo's speed, punching precision, and power, however, overwhelmed Hawkins and rendered a knockout unavoidable.
After battering Hawkins with jabs and well-placed body punches in the first two rounds, Oquendo shifted his attack to the head. Hawkins was knocked down twice in the third, and absorbed punishment for several more rounds before retiring at the end of the seventh. Repeatedly, the sturdy and thickset Hawkins was rocked by Oquendo's grenade-like rights.
"I put my combinations together, and I put a lot of pressure on him," said Oquendo. "In the third, I hit him with a left uppercut and a right, and he went down. After that, I floored him with a left to the body. My speed and power were too much for him. He was hanging in there only because he has so much heart, but my punishment made him quit."
Particularly satisfying to Oquendo is that the victory came by knockout. "I stopped a guy that Tua couldn't stop," he said. "I showed everyone that not only am I a jabber and a mover, but that I have a body attack, and that I can punch."
Oquendo is now 35-7, including 23 wins by knockout. Presently ranked 14th worldwide by the WBA, He is now seeking an elimination bout against a top contender. A native of Puerto Rico who grew up in Chicago, Oquendo holds the WBA Fedlatin title.

Hawkins has been stopped only four times in his 18 year pro career, which has spanned 43 fights. His reputation as a boxer who is difficult to knockout is well earned. Previously, Hawkins had lost decisions against hard punchers such as David Tua, Sam Peter, Oleg Maskaev, Bermane Stiverne, and Denis Boytsov. A native of Philadelphia, Hawkins's record is 23-20, with seven knockouts.
Currently riding a three fight winning streak, Oquendo is now hunting bigger game. "After this, I plan to stay active and get a title shot," he explained. "I'd like to fight Bryant Jennings, too. We talked to his people, but they would only agree to fight me in their hometown, where I'd get robbed. I'm not going through that again, getting robbed in my opponent's backyard. Those days are over."
Tom Tsatas, Oquendo's manager, now hopes to obtain a title shot for Oquendo. Of the Klitschko brothers' upcoming defenses against Mariusz Wach and Manuel Charr, Tsatas was outspoken. "Vlad is a gentleman and a great champion, but he is now going to fight an inexperienced cupcake with a padded record," said Tsatas. "Next up for Vitali is a bum who struggled with the same guy we beat tonight and who actually lost to Zack Page. Fres has fought as many rounds as Vlad and more than Vitali, and he's done it against top opposition and world champions. Fres deserves a shot at the Klitschkos."
The Oquendo-Hawkins bout was staged at the Horseshoe Casino in Hammond, Indiana. The card was promoted by Hitz Boxing. Oquendo weighed 220 lbs against 245 lbs for Hawkins.