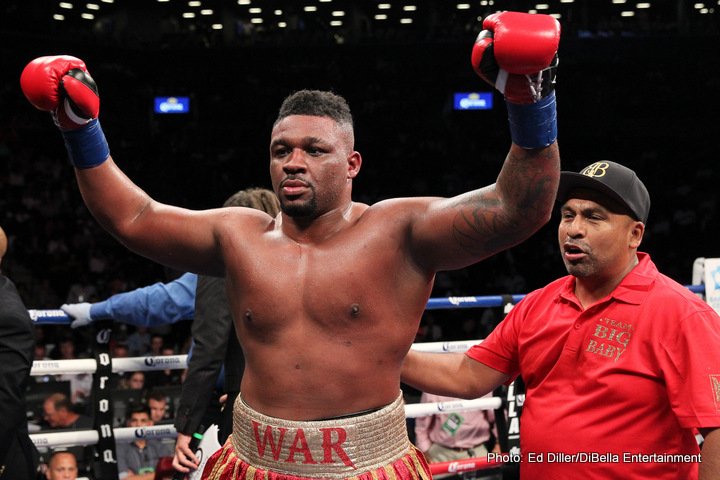 As fans are aware, Manuel Charr has just tested positive for PEDS, two anabolic steroids being found to be in his system. Now, with the WBA set to strip Charr of his "regular" version of their heavyweight title, Oquendo will have to face the next available WBA contender for the vacant belt. And, according to Eddie Hearn who works with Jarrell Miller, AKA "Big Baby," it will likely be the unbeaten New Yorker who fights Oquendo, in December.
"He [Miller] is the mandatory, he was the mandatory for Charr. I guess the WBA will go away, do their research, and then they will order Oquendo against Miller," Hearn told IFLTV at today's Anthony Joshua-Alexander Povetkin weigh-in. "We'll try and make the fight for December. He's got to beat [Tomasz] Adamek first, but then we'll go from there."
In all honesty, and with all due respect, there seems to be no way the ageing former light-heavyweight and cruiserweight champ will upset Miller on October 6, so we could indeed get Miller Vs. Oquendo before the end of the year. In truth this is in no way a fight to get overly excited about. Here too, Miller would enter the ring as a whopping favourite to win.
Miller, 21-0-1(18) would have youth on his side against Oquendo, at age 30 to Oquendo's 45, Miller has been far, far, far more active than has the Puerto Rican (who has boxed just once in the past four years; a decision loss to Ruslan Chagaev in July of 2014 being Oquendo's most recent fight) and Miller carries more power than Oquendo, 37-8(24).
Oquendo does have a lot of experience, and he is said to have kept training as he has waited – and waited – for his legally obtained shot at the WBA belt. But still, Miller would be expected by most to have himself a relatively straightforward time of things should he actually face "Fast Fres."
The version of the WBA belt Miller would likely get his hands on if and when an Oquendo fight is set for him would mean little apart from as a token bargaining chip at the negotiating table. Miller wants the big fights, against Anthony Joshua and Deontay Wilder, and in this regard his holding a version of a world title would not hurt him.
Miller should halt Adamek pretty quickly, and then he should also be able to stop Oquendo should he fight him in December. In the grand scheme of things, this will not mean too much either, and fans will still be wondering just how good the charismatic, fast-spoken Miller is, but "Big Baby" would no doubt look back on a pretty successful 2018 if this is how things shape up for him. Miller will also look ahead to a much bigger 2019.