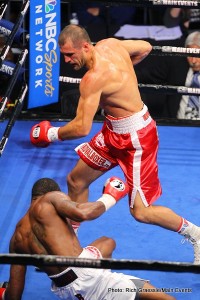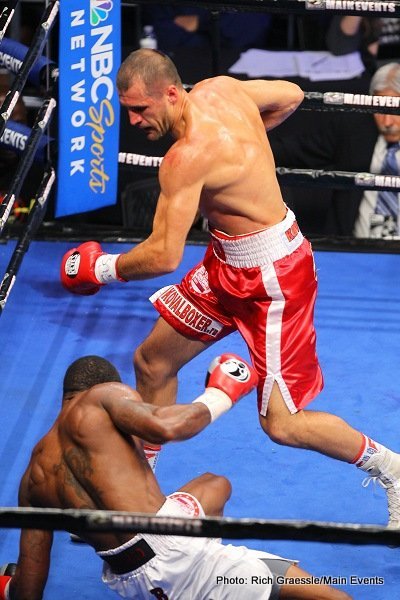 Russian knockout artist Sergey Kovalev (21-0-1, 19 KO's) obliterated Cornelius White (21-2, 16 KO's) by a quick 3rd round TKO on Saturday night at the Sands Casino Resort, Bethlehem, Pennsylvania, USA. Kovalev really went after White, battering him in the first two rounds with big power shots, and then knocking him to the canvas three times in the 3rd round.
Kovalev knocked White down with a left hand for the first knockdown of the 3rd. White got back up and was hit with some hard combinations from Kovalev and then knocked down a second time in the round.
White was really hurt after getting from this knockdown, but the referee allowed the action to continue. Kovalev then steamed forward and landed a brief flurry that ended with a nice left hook that knocked White down for the third and final time in the round. The referee then halted the fight.
Kovalev mentioned after the fight that he'd like to face IBF light heavyweight champion Bernard Hopkins next if possible. He's hoping Hopkins will want to fight him.
***
Bryant Jennings (17-0, 9 KO's) did a good job of defeating a tough Andrey Fedosov (24-3, 19 KO's) by a 6th round stoppage. The Russian Fedosov's left eye was too swollen for him to come out for the 7th round. The fight was very competitive up to the point where it was stopped, though.
Fedosov definitely gave Jennings a lot of problems in the first two rounds, but then he seemed to tire and lose his energy after getting hurt by a left-fight combination in the 3rd round. Fedosov came back in the 4th to control the action, but Jennings pulled away in the 5th and 6th rounds to batter him with shots.
Jennings was clearly bothered by Fedsov's body shots and he showed little ability to fight on the inside. Although Jennings won the fight, he definitely a blueprint to other fighters in how to beat him. Jennings doesn't have a lot of power and once you're past his jab, which isn't that great, he'd virtually defenseless on the onside because his arms are too long for him to fight in close.