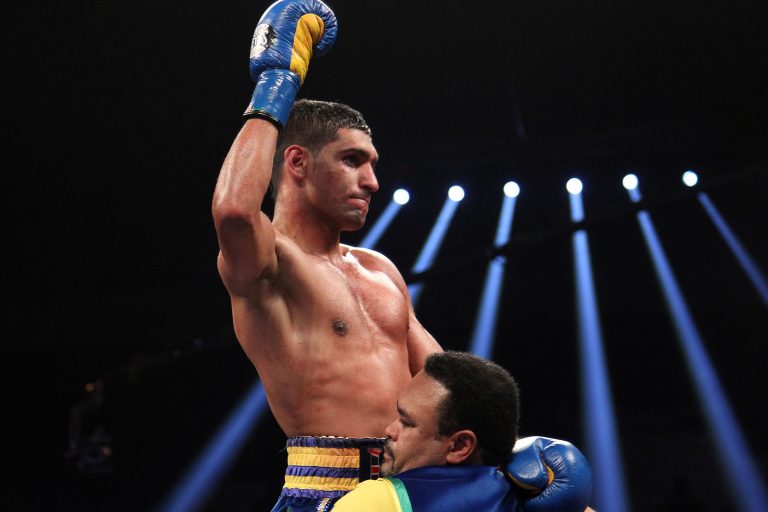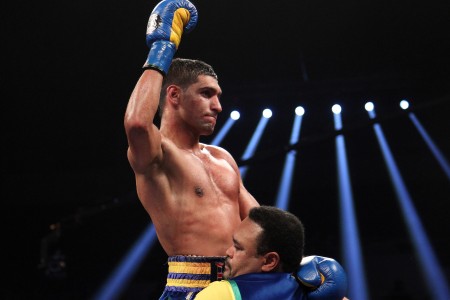 By Steve Mabbot,Photos: Tom Casino/SHOWTIME – Amir Khan (27-3, 19 KO's) picked up the WBC Silver light welterweight strap tonight with a nice 10th round stoppage win over Carlos Molina (17-1, 7 KO's) on Showtime television. After the fight an excited Khan said "I'm ready to fight Danny Garcia anytime, anyplace."
It was Garcia that knocked Khan out last July in the 4th round. Khan hasn't enjoyed the sting of the loss, as he said tonight "He [Garcia] got lucky. He caught me with a good shot."
Khan doesn't look ready to be fighting Garcia right now, because Molina was able to hit him frequently in the early rounds with left hooks and right hands. If Molina was three inches taller and had the power of Garcia, I have no doubts that Khan would have been knocked out again because Khan was leaving himself open a lot when throwing his flurries.
Khan did box more in the fight, but he was still throwing a lot of flurries in each round that would give someone like Garcia plenty of opportunities to knock him out again if Khan were to fight like that in a rematch with him.
Khan did box a lot more in the second half of the fight, but that seemed mostly because Molina was too beaten down by that point and was no longer really making much of an effort to make a fight of it. I suspect that Khan would have thrown a lot more flurries if Molina had the height, reach and power to make a fight of it.
I think Khan is still almost entirely the same fighter that fought with Freddie Roach. There's some changes in his game but enough to really say he's different enough to not get knocked out by Garcia again or beaten by Lamont Peterson again as well.
We saw a lot of the same tricks from Khan that we saw in his previous fights with him shoving, holding and hitting and pulling down on the head of his opponents. He didn't use these tricks as much as he has in the past, but he was definitely using them. He also was sticking his arm way out in front of him to keep the shorter Molina from getting close. The referee is supposed to warn a fighter when he's doing that because you can't fight with your guard way out in front of you like someone from the 1900s.
The win wasn't all that unexpected because this was supposed to be an easy fight for Khan so that he'd stop his losing streak after he was beaten by two top tier fighters. Golden Boy Promotions made sure that Khan wouldn't lose this one because they picked out a guy that's not ranked by any of the sanctioning bodies, and who fights in a division below Khan at lightweight. Besides that, Molina's was four inches shorter than Khan and without any punching power, but that's the way it was supposed to be.