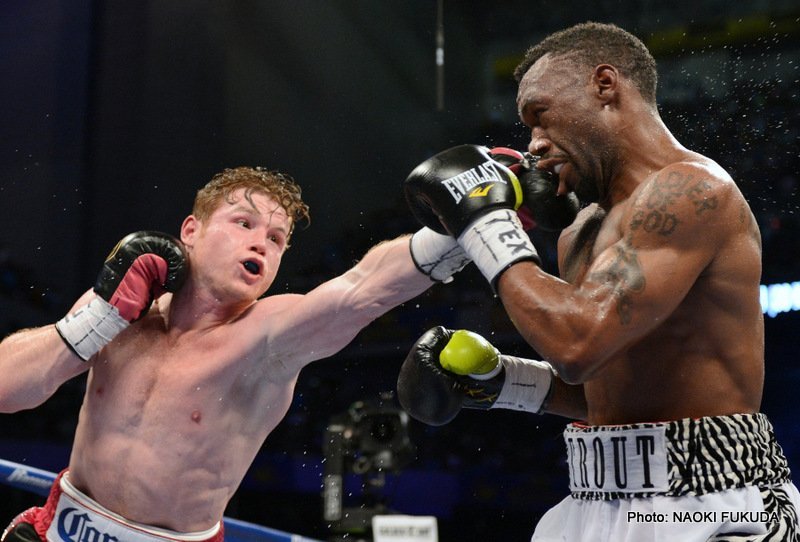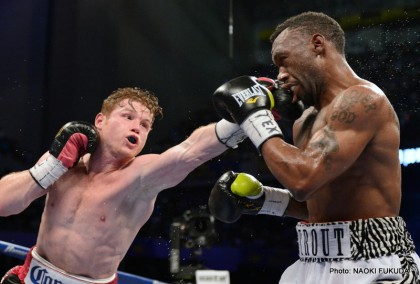 I must say I'm really disappointed in WBC junior middleweight champion Saul "Canelo" Alvarez's performance tonight in his controversial 12 round unanimous decision over WBA junior middleweight champion Austin Trout (26-1, 14 KO's) at the Alamodome in San Antonio, Texas.
I had expected a lot better from Canelo than what I saw tonight. His stamina was horrible, his defense good, but his work rate was very poor. Canelo fought in a very lazy manner with him reminding me a lot of former IBF middleweight champion Arthur Abraham the way that he failed to be busy and would get rounds given to him based on a tiny handful of landed power shots.
Trout out-landed Canelo in every round tonight and was jabbing him to the head. The pro-Canelo crowd cheered him for every miss and made no noise when Trout was landing his shots. Trout was the much busier fighter and seemed like a clear case for him getting the decision.
The judging for the fight comical with them scoring the fight: 115-112, 116-111 and 118-109. I'm still not sure what fight the last judge was watching because it wasn't the fight that occurred tonight. I almost feel embarrassed for him because he was so out of touch with what happened tonight that it wasn't even funny.
Canelo's poor stamina problems reared it's ugly head tonight, and I don't think it was because of the open scoring. Canelo just looked plain tired in many of the rounds and he was turning red when he had to throw a lot of shots. Canelo came into the fight with a reputation for having poor stamina but tonight's fight totally confirmed it loud and clear.
I like the way that Trout stood in the pocket and got the better of Canelo in this fight with the exception of the 7th where Trout was knocked down by a right hand. Trout got back up and finished the round in such a strong manner that I scored it a 10-9 round. From the 8th round on the fight completely belonged to Trout and I couldn't give Canelo a round from that point because he wasn't throwing enough punches.