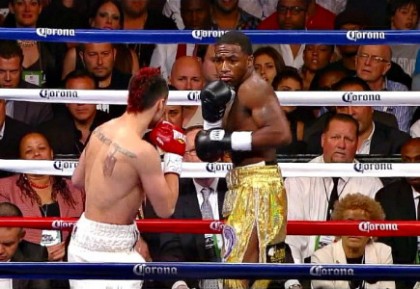 Adrien Broner (27-0, 22 KO's) defeated WBA welterweight champion Paulie Malignaggi (32-5, 7 KO's) by a 12 round split decision at the on Saturday night to win his WBA title at the Barclays Center, in Brooklyn, New York, USA. The judges had it 115-113, 117-111 for Broner, and 115-113 for Malignaggi.
You can make an argument that the fight should have been scored a draw, as Broner did little in the first 5 rounds of the fight other than covering up in the turtle shell defense.
Broner failed to set himself apart from Malignaggi in terms of talent in this fight because he just didn't work hard enough. He was fighting flat-footed and he didn't handle Malignaggi's move or his constant jabs and combinations very well. When Malignaggi would punch, Broner would stop throwing and just try cover up or lean back to pick up punches with the shoulder role. It worked some of the time, but Malignaggi threw so many punches that he was able to get the better of Broner in many rounds. Like I said, I had Malignaggi winning 6 of the rounds.
The referee let Broner get away with a number of fouls in the fight. Broner hit on the break, punched Malignaggi while he had his back turned to Malignaggi, and he also appeared to knee him at one point. Any one of those things could have been called a foul.
http://youtu.be/Wm561G8BVwY
***
Heavyweight Seth Mitchell (26-1-1, 19 KO's) was able to defeat Johnathon Banks (29-2-1, 19 KO's) by a dull 12 round majority decision to capture the WBC International heavyweight title. The final judges scores were 115-112, 117-109, 114-114.
Mitchell knocked Banks down with a right hand rabbit punch in the 2nd round. In the 3rd, Banks staggered Mitchell and had him out on his feet. However, Banks stopped punching for the most part and did very little in the remaining rounds outside of a few hard shots in the 8th that staggered Mitchell again.
There was very little action in the fight, as both guys looked like they were afraid to throw punches. It was understandable for Mitchell because each time he was hit hard in this fight he was staggered, but Banks had no excuse.
The crowd was booing off and on for most of the fight, but it failed to motivate either fighter to do much other than jab, hold and throw occasional wild shots.
Mitchell took control over the fight from the 5th round by throwing jabs and mostly smothering Banks on the ropes.
http://www.youtube.com/watch?v=0SeM9Sz44wo
All in all, both of these heavyweights looked horrible and you have to wonder whether Golden Boy Promotions is regretting that they made this the co feature bout. Mitchell looks like he's going nowhere. He may get a title shot in the future because of his highly inflated ranking but he's going to get destroyed by either of the Klitschkos. It would be interesting to see how Deontay Wilder would do against Mitchell. I have a feeling that Wilder would knock him out with a single punch in the 1st round because Mitchell's chin is really suspect.
In a wild fight without a lot defense, Sakio Bika (32-5-2, 21 KO's) was able to pull out a 12 round majority decision victory over the tough as nails Marco Antonio Periban (20-1, 13 KO's) to capture the vacant WBC super middleweight title. Judges scored it 114-114, 116-112 and 115-113.
Periban showed good power, but he faded in the last 8 rounds of the fight after getting off to a good start in the first three rounds. Bika deserved the win because he was the one forcing the fight on Periban and landing the better shots in the last half of the fight.
***
Julian Williams UD 8 Joachim Alcine
Juan Dominguez KO 1 Brad Patraw
Marcus Browne RTD 2 Ricardo Campillo
Robert Easter KO 3 Antoine Knight
Jamel Herring UD 4 Calvin Smith
Frank Galarza TKO 4 Romon Barber
Rau'shee Warren RTD 2 Jiovanne Fuentes