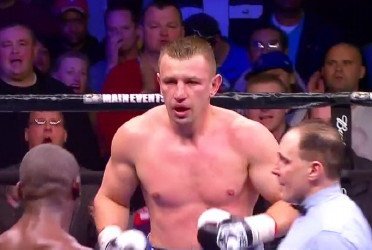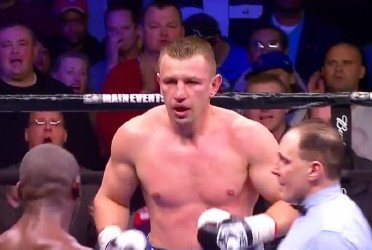 By Michael Collins: Tomasz Adamek (48-2, 29 KO's) fought well enough to lose by four rounds tonight against Steve Cunningham (25-5, 12 KO's) in their IBF heavyweight eliminator for the #2 spot, but instead of losing the fight, Adamek was given a HIGHLY controversial 12 round split decision at the Sands Casino Resort, in Bethlehem, Pennsylvania.
Cunningham controlled the action in every round, hitting Adamek with hard right hands, and tying him up before Adamek could land his shots. It was perfect punch and clinch from Cunningham. He did a good job of eluding Adamek's pressure by moving around the ring to keep from getting hit.
Adamek kept trying but he looked like the extra weight that he's packed on lately really slowed him down in big way. Adamek used to be a lot better before he bulked up with useless muscle and fat. He needs to get a clue and lose that weight, because he's no more of a puncher now than he was when he was fighting at 214 as a heavyweight. Adamek simply didn't carry his power up with him from the crusierweight division like Cunningham did, not that Cunningham is a big puncher at this weight either.
I had Cunningham easily winning the fight by four rounds, but if I wanted to ignore everything that Cunningham was doing in the fight, I could arrive at the scores that two of the judges did in giving Adamek the fight. The final judges scores for the fight were as follows: 115-113 for Cunningham, 116-112, 115-113 for Adamek.
I can't see Adamek doing well against Kubrat Pulev in their IBF heavyweight eliminator bout, but then again if Adamek can get scoring like tonight, he'll beat Pulev and the Klitschkos.
***
Other boxing action on the card:
Unbeaten heavyweight prospect Vyacheslav Glazkov (14-0, 10 KO's) stayed unbeaten with a fourth round stoppage win over an under-performing Tor Hamer (19-2, 12 KO's). Hamer just looked totally demotivated in this fight, and ended up not coming out for the 5th round. He's fought a lot better in other fights, but tonight he didn't have his 'A' game against the slightly bigger but much slower Glazkov. It was a winnable fight for Hamer if he had been fighting with the kind of i tensity that he usually has, but tonight it just wasn't there for him.