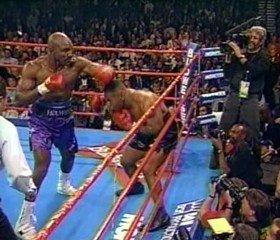 By James Slater – Over the weekend, a number of boxing web sites ran with the story of WBC heavyweight king Vitali Klitschko basically ruled out a fight living legend Evander Holyfield (I read the story on Examiner.com).
Fans will not in any way have been shocked by this statement by Klitschko, as he and his younger brother are class acts, neither one wanting to either hurt or humiliate the once-great Holyfield, nor get arrested for murder. Speaking very much for his brother as well no doubt, Klitschko has made it clear: there is no big fight left out there for the 49-year-old former four-time ruler.
Holyfield has said himself that he will not take a meaningless non-title fight "just for the sake of fighting," and we must now hold him to his word. With a Klitschko fight now as dead in the water for him as can be, Evander surely has nowhere to turn but towards the exit door.
In truth, the future Hall of Famer who last fought in May of last year (a win: a 10th-round TKO over fellow veteran Brian Nielsen) should have called it quits a number of years ago, say after his close points loss to the huge Nikolay Valuev (this December 2008 fight being "The Real Deal's" last good showing).
But, unable to walk away while there was at least a little hope of a shot at a Klitschko being there for him, Evander has stuck around. Now, surely, he will call a press conference and announce how he is content with all he achieved, as an amateur, as a cruiserweight (the best ever) and as a heavyweight. With more belts in his collection that most fighters could ever dream of winning, Holyfield, 44-10-2(29) can certainly walk way with his head held extremely high.
Maybe his career will have gone out not with a bang but with a whimper if he walks away now, but Holyfield has his health, his dignity and he has his respect. We all know how a fight between he and one of the Klitschkos would have turned out had it happened in 2010, 2011 or here in 2012: badly, very badly for the Atlanta immortal. We also know that had the peak Evander, say the one from around 1992 though 1997, met either brother, we'd have had a sensational, extremely hard-fought battle on our hands.
Fans may have forgotten due to his sticking around whilst having diminished skills, but in his prime, Holyfield was something truly special. Arguably America's last great heavyweight, "The Warrior" lit up two weight divisions is a seriously magical way.
Facing a who's who of the cruiserweight and heavyweight divisions during his best days, Evander damn near beat them all. Simply put, he has nothing more to prove other than he is still that smart guy who showed real class when being unfairly DQ'd at the 1984 Olympics. To do this, Evander simply has to announce his retirement.