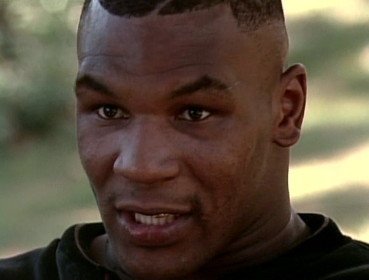 Three full decades ago today, "Iron" Mike Tyson, at his absolute peak, scored a crushing, somewhat disturbing to watch KO over former champ and all-time great Larry Holmes. The fight, staged in Atlantic City, New Jersey, was dubbed "Heavyweight History," and though the match-up was much maligned in certain quarters, it did prove to be a passing of the torch – a most graphically violent one.
Don King wanted the fight, so too did Jimmy Jacobs; as Tyson's then manager made clear to one of the fight's sceptics, Larry Merchant. As for Tyson, he'd fight absolutely anyone at this soaring stage of his career, while Holmes agreed to go ahead with the fight due to the irresistible $3 million payday King lured him in with.
Holmes, aged 38 and inactive for almost two years, since his back-to-back losses to Michael Spinks, was overweight, he was slow and he even admitted, years later in his quite superb autobiography 'Against The Odds,' how he was scared during his walk to the ring. With an ill Muhammad Ali on hand to provide a reminder of the dangers any ageing fighter takes by carrying on for too long, Holmes tried his best to shake off the rust and keep the rampaging Tyson off him.
Holmes was effective in shutting down Tyson's attacks for three-rounds, but in the fourth "Kid Dynamite" broke though. Holmes, who has begun the round dancing on his toes, Ali style, was cracked by a brutal right hand to the head and down he went. Holmes got up but he was put down almost as quickly just seconds later from another right hand. Holmes, "showing every bit of savvy that this man has," as commentator Barry Tompkins declared was what it would take for Holmes to be able to survive, almost made it to the end of the round – tantalisingly so.
Holmes, on the ropes but trying to fire back, actually got his hand caught inside the ropes, his last punch thwarted. Tyson sent the old champ down, hard, flat on his back. It was over, with just five-seconds left in the round Holmes came oh, so close to getting through.
Tyson, showing class, said post-fight how he "wouldn't have had a chance" had he met the prime version of Holmes. And perhaps Tyson had just scored the finest win of his career; certainly one that ranks in his top-5. Holmes, who quite unexpectedly came back to fight again three years after his loss to Tyson, fighting on until 2002, had never previously been knocked out, nor would he ever again be knocked out. Tyson may have been facing an ageing and rusty Holmes, but he still gets huge credit for being the only man capable of cracking one of the most legendarily tough chins in the long history of heavyweight boxing.
At the time, fans and experts worried about the damage Tyson had inflicted on Holmes; would there be permanent damage?
"Holmes could walk funny for the rest of his life," screamed one UK tabloid headline in a not at all pleasant headline. Thankfully this did not prove to be the case; Holmes instead retaining all of his faculties to the present day.
As for 21 year old Tyson, 1988 proved to be his finest year without a doubt, his icing of the aforementioned Spinks in June of that year earning him even more plaudits. Quite unexpectedly, it was pretty much all downhill for the youngest ever heavyweight champ from there on in.
Did we witness Tyson's finest ring appearance on this day 30 years ago?