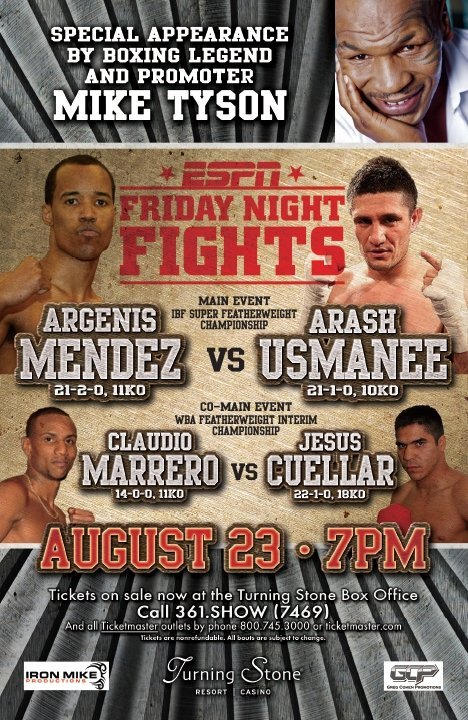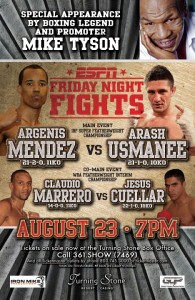 DEERFIELD, Fla. (August 7, 2013) – International Boxing Federation (IBF) junior lightweight champion Argenis "La Tormenta" Mendez (21-2, 11 KOs) has been training in England for his first world title defense on August 23, airing live on ESPN Friday Night Fights, against challenger Arash Usmanee (20-1, 10 KOs), from Turning Stone Resort Casino in Verona, New York.
Mendez vs. Usmanee represents the main event on the intitial event promoted by Iron Mike Productions, "Tyson Is Back!", a scheduled 12-round war between the 2004 Dominican Republic Olympian (Mendez) and Afghanistan-native (Usmanee) who lives in Montreal.
Acquinity Sports, under CEO Garry Jonas, partnered with Hall of Famer Mike Tyson to form Iron Mike Productions, which is presenting "Tyson Is Back!" in association with Greg Cohen Promotions.
Mendez, rated No. 2 in the world by The Ring Magazine, fights for the first time since he captured his IBF belt this past March, dismantling defending champion Juan Carlos Salgado (26-1-1) in a rematch that ended with a sensational knockout in the fourth round.
IBF No. 13-rated Usmanee is a five-time Canadian National amateur champion who is a former North American Boxing Association (NABA) super featherweight and World Boxing Council (WBC) Continental Americas lightweight champion.
Mendez lives in Miami but trains in England with his head trainer, Lee Beard. Mendez checked in last week from training camp, to report, "We're in the final stage of training camp. I had a strenuous workout last Saturday in the mountains. Working out there is so tough. I need to go past my regular training limits to defend my title. Only weeks remain for me to get ready to fight for my country, Dominican Republic."
"We are almost ready for August 23rd. My speed will be a big problem for Usmanee. I'm the best Dominican fighter and as world champion I must be 100-percent ready for this and all my fights. I'm the best super featherweight on this planet."
"I know how to get the best out of people and Mendez came out like a caged beast in his last fight to win the world title," Iron Mike Productions CEO Garry Jonas said. "Argenis is the best fighter in the world at 130 pounds, hands down. He leads an incredible team we have here for years to come."
"We have no doubt in our company that Argenis Mendez is the best super featherweight out there at this time," Iron Mike Productions COO Henry Rivalta added. "We are witnessing an athlete who has all the elements to become an elite boxer and future pound-for- pound fighter. Fans at Turning Stone, or those watching on ESPN, will see an exceptional fighter in Argenis Mendez."
The 12-round co-feature on "Tyson Is Back" matches undefeated Claudio "The Matrix" Marrero (14-0, 11 KOs), rated No. 2 by the WBA, against WBA No. 4 Jesus Cueller (22-1, 18 KOs) in the 12-round co-feature for the Interim World Boxing Association (WBA) featherweight championship.
Providing chief support are a pair of 10-round fights featuring Cuban knockout artist Alexei "The Hurricane" Collado (16-0, 15 KOs) and welterweight Ed "The Lion" Paredes (33-3-1, 22 KOs). Collado, now fighting out of Miami, takes on Mexican featherweight Hugo "Guerrero" Partida (19-4-2, 15 KOs), while Paredes faces another tough Mexican, Noe "Platanito" Bolanos (24-8-1, 16 KOs). Collado is rated No. 14 by the WBA and No. 15 by the IBF. Paredes is one of only two welterweights in the world who is currently ranked among the top 15 in all four major sanctioning bodies: World Boxing Council (WBC) & WBA #3, World Boxing Organization (WBO) No. 11, and IBF No. 13.
Also fighting on the undercard in six-round bouts are undefeated Bahamian light heavyweight Ryan "Big Youth" McKenzie (13-0, 11 KOs), now residing in Canastota, New York against an opponent to be determined, and unbeaten Virginian middleweight Antoine Douglas (8-0, 6 KOs) squares-off against Russell "Spiderman" Jordan (15-10, 10 KOs), of Rochester (NY).
Former Toledo-Ohio-based amateur star, Albert "Prince" Bell (1-0, 1 KO), is back in action against New York City super featherweight Angel Siguenza (0-1) in a four-round match. The 20-year-old Bell captured gold medals as an amateur at the 2011 National PAL Championships and 2012 National Golden Gloves Tournament.
All fights and fighters are subject to change.
Mendez, Marrero, Collado, Paredes and Bell were promoted by Acquinity Sports and are now fighting under the Iron Mike Productions banner.
Tickets priced at $150, $95, $55 and $45 are on and available to purchase at the Turning Stone box office, by calling (315) 361-7469, or visit www.Ticketmaster.com.
Doors open at the Turning Stone Resort Casino Event Center at 6:00 p.m. ET, Friday, August 23. The first undercard bout starts at 7:00 p.m. ET. The live ESPN2 telecast begins at 9:00 p.m. ET.
Iron Mike Productions, previously Acquinity Sports, is a boxing promotion company co-founded and led by Acquinity Interactive CEO Garry Jonas. It is a partnership with Hall of Famer Mike Tyson committed to changing traditional boxing promotion by advocating for its fighters' successes inside the ring and out, throughout their professional careers and into retirement.
For additional information go online at www.IronMikeProductions.com or www.TurningStone.com.