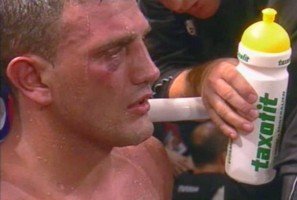 By Jeff Sorby: It looks like IBF/IBO/WBA/WBO heavyweight champion Wladimir Klitschko (59-3, 50 KO's) has decided to defend his title against the unbeaten sleepy-eyed Francesco Pianeta (28-0-1, 15 KO's) on May 4th at the SAP-Arena in Mannheim, Germany.
This is an optional title defense for the 36-year-old Wladimir, so it was a given that he was going to face a weak opponent, but it seems like Wladimir's last three title defenses have been optional because the opponents have been so weak. Pianeta, #9 WBO, #12 WBA, is technically undefeated, but his resume is incredibly poor and without one quality opponent among his 28 victories.
American Bryant Jennings was in the running for the fight, but instead team Klitschko decided on the arguably much easier mark with the 6'5" German based Pianeta. It's a safer fight for Wladimir because Pianeta can't punch to save his life, and he doesn't throw combinations the way that Jennings does.
You have to think of the Pianeta fight as a clear step down from Wladimir's last easy title defense against Poland's Mariusz Wach, as the southpaw Pianeta doesn't have the power to pull off an upset against Wladimir. At least with Wach, there was a small chance he could possibly beat Wladimir, but you can't say that with the light hitting slapper Pianeta.
Pianeta's best wins, if you want to call them that, have come against Oliver McCall, Frans Botha, Robert Hawkins and Zack Page. Pianeta fought Alberto Sosnowski to a 12 round draw four years ago in a fight that many boxing fans felt Sosnowski should have won. There's really not much to get excited about with Pianeta. He's basically a bottom 20 contender without power, speed or the mobility to compete with Wladimir.
I can't see Pianeta making it to the 6th unless Wladimir paces himself like he did in his last fight in order to avoid running out of gas.
You have to wonder what's happened with Wladimir. He stopped facing quality heavyweights after his win over David Haye in 2011, and he's been pretty much taking it easy ever since. With all the heavyweights in the division for Wladimir to fight, why is he facing guys like Jean Marc Mormeck, Tony Thompson, Wach and now Pianeta? It's disappointing to say the least because he should be facing guys like Kubrat Pulev and Tyson Fury. He should be picking them out for optional title defenses so that he can entertain boxing fans and bring excitement to the heavyweight division.