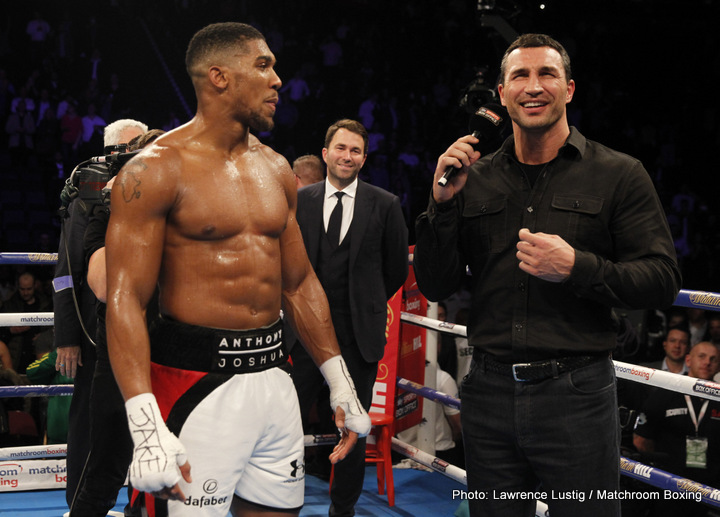 Anthony Joshua and Wladimir Klitschko came face to face again yesterday, at a New York pre-fight presser too further promote their huge, 90,000 sell-out clash at Wembley. Showing mutual respect once again, the two spoke of the enormity of the April 29 fight. As reported by Gareth A Davies of The Telegraph, some members of the US media are saying Joshua has all the ingredients to become "The second coming of Muhammad Ali."
High praise indeed, but first the 18-0 IBF champ has to pass his biggest career test against ex-champ Klitschko; a man who has so much more experience than he does. Klitschko said the fight has come at the perfect time, that in three years Joshua will be even better than he is now and too good to beat.
"There's no mind games," Klitschko said. "I think it's the perfect time for both of us. In three years he's going to be too good. And I'm going to be too old, maybe. But this is the time and we just got it at the right time. It's definitely a signature fight for boxing."
Wladimir must be relieved to no be embroiled in another Tyson Fury presser; where literally anything can happen. There really is no comparison between the polite, well-spoken Joshua and the unpredictable and controversial Fury. Joshua hurled no insults Wladimir's way, merely saying his mind is on facing "one of the great heavyweights."
The sky really will be the limit for Joshua if he defeats Klitschko, and there could be massive fights for him, against the likes of Deontay Wilder and maybe even Fury if and when he returns.
"We think Anthony Joshua is a star now, but a potentially huge star in the future," Showtime's Stephen Espinoza told The Telegraph. "This is the biggest fight for the US TV market since Lennox Lewis-Mike Tyson and Lewis against Vitali Klitschko."
And if Joshua can win in April, he will arguably be viewed by most as the best big man on the planet. However, Klitschko, smiling and confident, just might have that pre-Fury self-belief back. This fight really is too tough to call.