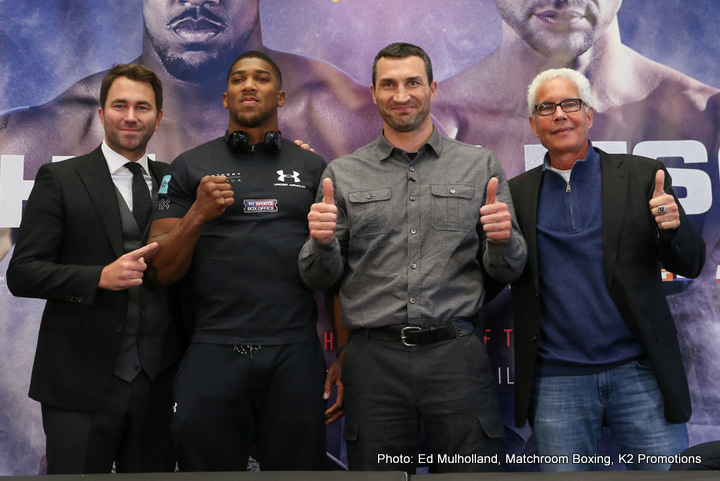 On Tuesday, January 31, IBF Heavyweight World Champion ANTHONY JOSHUA, (18-0, 18 KO's) and long reigning Former Unified Heavyweight World Champion WLADIMIR KLITSCHKO, (64-4-0, 53 KO's) hit New York City for media appearances and to hold a press conference to discuss their April 29 massive international boxing clash set for London's Wembley Stadium where a sold-out crowd of 90,000 will bear witness.
The press conference was held at Madison Square Garden, known as The Mecca of Boxing, where Klitschko was been victorious four times in his illustrious career.
ANTHONY JOSHUA
"This is all about the mind games now, but as we know I'm a man who likes to perform. The obsession has always been there for me and not just in boxing. It starts with self, boxing is a representation of who I am. I'm determined to become the best. That's my obsession."
"I'm a man who likes to perform and entertain and that's away been there. I've always want to take on the best."
"The questions are correct, is it too soon, have my opponents prepared me for this" God would never put me in a position I couldn't handle, fighting Wladimir Klitschko in front of 90,000 people. But the objective still remains the same."
WLADIMIR KLITSCHKO
"I first fought here in 2000 on the undercard of Lennox Lewis vs. Michael Grant, Anthony was 10, it's crazy to think about time and how fast it runs. When I fought Samuel Peter, his promoter called me dead-man walking, but that man kept walking for a very long time."
"I understand and know why this press conference is here in New York City. I know a lot of fans will be watching on TV and in the arena. I've fought in front of huge crowds but 90,000 is my biggest arena."
"I'm fighting a man that I was, is and will be a fan of since I watched Anthony Joshua win his Olympic Gold Medal in 2012. He was my sparring partner in 2014 when I trained for Kubrat Pulev."
"I believe this man has a lot of skills, maybe yes, maybe not he will be the biggest star in boxing. I know there are plans to fight Wilder after me, it's good to be young and ambitions, but I believe this fight has a lot of questions. Is it too early for him, too late for me?"
"All those questions will be answered on April 29, do I still got it or is it too late? I'm looking forward to his challenge, I have my goal to become three-time world champion and I'm obsessed with it."
EDDIE HEARN, Matchroom Boxing
"A pleasure to be involved the biggest boxing event in British boxing history. It would be so easy for Anthony Joshua to continue selling out the biggest arenas in the UK while fighting less that world class competition and do what every other fighter has done, keep knocking out the easy targets, it's not what Anthony Joshua is all about."
"In his 19th fight, Anthony Joshua is stepping up to fight a true legend in Wladimir Klitschko and isn't that what boxing's all about? What's sports is all about? Create nights and moments that people will never forget, 90,000 people in the biggest stadium in the UK."
"Anthony Joshua has set a frightening pace but I believe on April 29 it will be the crowning of the new worldwide sensation n boxing."
BERND BOENTE, KMG Management Group
"It's great to be back here at the Garden with the success of Wladimir and Vitali in the past and now we have a bigger event in a bigger arena with Anthony Joshua. On April 29 at Wembley Stadium with 90,000 people, a true promoter's dream fight."
"We have the young, undefeated champion Anthony Joshua against the longtime ruler of the heavyweight division, Wladimir Klitschko. This will be Wladimir's 29th world title fight which is a record for the heavyweight division."
"We are looking forward to a fantastic fight with great TV partners, Sky in the UK, RTL in Germany and we will sort out the US TV partner shortly."
ADAM SMITH, Sky Sports (Moderator)
"Wladimir's back as he challenges the new generation, Anthony Joshua, the IBF Champion of the World. They lock horns in a battle for the ages in front of a record 90,000 people at our national stadium, Wembley in London on April 29. A multi unification and a fantastic fight. The buildup is going to be immense."
JOSHUA vs. KLITSCHKO is presented by Matchroom Boxing, K2 Promotions and KMG Management Group.
Joshua Vs Klitschko Set For 90,000 Wembley Record 
The biggest boxing crowd Wembley Stadium has ever seen – a record 90,000 capacity – will watch the heavyweight clash between Anthony Joshua MBE and Wladimir Klitschko live on Sky Sports Box Office, the Mayor of London announced today. Sadiq Khan stepped in to ensure the fight for Joshua's IBF title and the vacant WBA Super and IBO Heavyweight crowns on April 29 will be seen by a post-war record crowd of 90,000.
Reaffirming his commitment to stage the biggest sporting events in the capital, Sadiq answered the call of boxing fans by boosting capacity for the fight by 10,000, after boxing promoter Eddie Hearn secured permission for 80,000.
The new batch of tickets will go on sale at 10am on Wednesday February 1 from www.stubhub.co.uk priced at £40 upper tier and £60 and £80 in the lower tier. Limited coach packages also remain on sale via See Tickets at http://www.seetickets.com
The London showdown, which will be broadcast around the world, will break the post-war British record for attendance at a boxing match for the rematch between Carl Froch and George Groves at Wembley in 2014. It equals the British record of 90,000 when Len Harvey fought Jock McAvoy at White City in London in 1939.
The Mayor brought together officials from Network Rail, Transport for London and Wembley Stadium to explore ways to increase capacity for the fight by committing more overground trains and London Underground services to get fans safely to and from the venue.
Network Rail agreed to temporarily postpone planned engineering works on the day, while the Mayor instructed TfL to increase capacity on the Jubilee and Metropolitan lines to help transport boxing fans home from Wembley. Chiltern Railways has also prepared an enhanced and later train service to help with egress.
The Mayor of London, Sadiq Khan, said: "I can't wait to see the fight of the year here in London and it's fantastic that a post-war record crowd will get to watch it at a world-class venue like Wembley.
"I'm delighted Transport for London and Network Rail have pulled out all the stops to make this happen so we can move 90,000 people around the capital quickly and safely. Like me, they have recognised the importance to the capital of staging this epic showdown of the best two fighters in the heavyweight division and I look forward to our great city staging more great fights in the future."
Eddie Hearn, Managing Director of Matchroom Sport, said: "I'm delighted that the capacity for Joshua vs Klitschko has been increased to 90,000 making it the biggest live gate of all time at the new Wembley stadium. I want to thank Wembley, TfL and Brent Council and particularly the Mayor of London, Sadiq Khan, who has fought our corner to ensure a capacity crowd will get the opportunity to watch this event live in the capital.
"At the boxing writers' dinner last year, Sadiq urged me to bring the biggest fights possible to the city and I'm delighted to have the biggest fight in British boxing history at Wembley Stadium on April 29."
Bernd Boente, Managing Director of Klitschko Management Group said: "This world championship at the sold out Wembley stadium will be one of the biggest event worldwide this year."
Mark Wild, Managing Director for London Underground, said: "Helping people travel around London safely so that they can see the best of what the capital has to offer is one of our top priorities. By working closely with Wembley Stadium and Network Rail we'll now be able to run more Tube and Overground services to make sure that those going to the boxing will be able to get home safely and more easily."
Martin Frobisher, manager director for Network Rail's London North Western route, said: "Our primary focus is helping train customers travel where they want when they want with the greatest of ease.
"That's why shifting our railway upgrade at North Wembley from April to August was the obvious move.
"We hope fight fans have a great night on Saturday 29 April, including smooth journeys to and from Wembley Stadium."
Julie Harrington, FA Group Operations Director, said: "Wembley Stadium is a world-class venue and we are delighted to stage this highly anticipated heavyweight world title fight. We look forward to utilising the stadium's full capacity and welcoming 90,000 people to watch one of the sporting events of the year."
Cllr Muhammed Butt, Leader of Brent Council, said: "Wembley is a world class venue that has hosted many historic sporting and entertainment events over the years and this record attendance for a boxing match will be yet another chapter in its long and glorious history.
"It just goes to show that when it comes to competing with other stadiums in cities around the world to stage the biggest bouts, Wembley Stadium in Brent can deliver the knock-out blow to its rivals, helping to ensure that London remains the number one choice for event organisers and fans alike.
"We have been home to the national stadium for nearly a century and this record-breaking boxing match builds on our international reputation for hosting such cultural and sporting events."
Joshua Vs Klitschko Smashes 80,000 Wembley Record
The World Heavyweight unification blockbuster between Anthony Joshua MBE and Wladimir Klitschko has broken box office records with over 80,000 tickets sold for the April 29 super fight at Wembley Stadium Connected by EE, live on Sky Sports Box Office.
The second batch of tickets for the blockbuster fight sold inside one hour when they released at lunchtime on Monday and the total tickets now sold has exceed the record set by Carl Froch's World Super Middleweight title rematch against George Groves in 2014.
Promoter Eddie Hearn said: "The demand for tickets for Joshua vs Klitschko is phenomenal – this is unquestionably the biggest fight in British boxing history and we would have sold out Wembley twice over.
"We have put a request in to Brent Council, the Mayor's office and TFL to increase the capacity by a further 5,000 tickets. We are confident of a positive answer and we will release further news shortly. Roll on April 29!"
Joshua MBE will face former World ruler Wladimir Klitschko for his IBF World Heavyweight title and the vacant IBO Championship as well as the WBA Super Championship on April 29, 2017 at Wembley Stadium Connected by EE, live on Sky Sports Box Office.
A limited number of coach and ticket packages remain on sale via See Tickets at http://www.seetickets.com