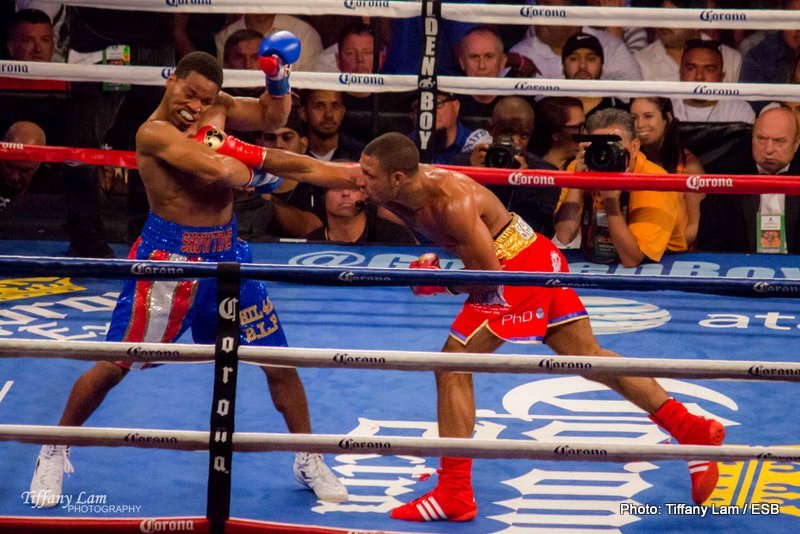 Eddie Hearn, the promoter for IBF welterweight champion Kell Brook (33-0, 22 KOs), feels that Brook is going to have a long and successful career after his upset win over Shawn Porter (24-1-1, 15 KOs) last Saturday night at the StubHub Center in Carson, California.
Brook used a combination of holding and jabbing to win a decision in a fight that was a lot closer than some of the scores that were handed down. However, Hearn believes that the win for Brook is going to lead to a long and successful run as the IBF champion, and that might not be so.
Brook did show some talent last Saturday night, but he really didn't look that great like someone that is good enough to beat the likes of Keith Thurman, Floyd Mayweather Jr, Manny Pacquiao and Amir Khan. I personally see all four of those fighters beating Brook without any problems.
If you take away the frequent clinching that Brook used last Saturday, he might have ended up losing the fight if he was forced to fight on the inside rather than hold. Without the holding, Brook would have taken many more blows on the inside than he did, and he might have ended up getting stopped like Paulie Malignaggi was when he got overwhelmed on the inside by Porter.
Brook's best bet to have a long successful future like Hearn envisions is to wait out Pacquiao and Mayweather and then go after one of their belts when they retire. But the problem with that is Hearn will no doubt want to put Brook in with the likes of Khan, and I think Brook will lose to Khan every time.
So even if Brook wins a title, he might not ever hold it for any length of time if Hearn is focused on trying to continually match him up against Khan in mega-fights in the UK. As for Keith Thurman, I suspect Hearn will have Brook avoid that fight for the remainder of his career.
Hearn already said that Thurman is a tough match-up for Brook. You can read that as code to possibly mean that he has doubts whether Brook can beat Thurman. I see Hearn using Thurman's lack of huge popularity as an excuse not to ever match Brook against him. But Hearn won't avoid putting Brook in with Khan again and again, and that's going to likely keep Brook from ever being able to hold onto a world title for any length of time.