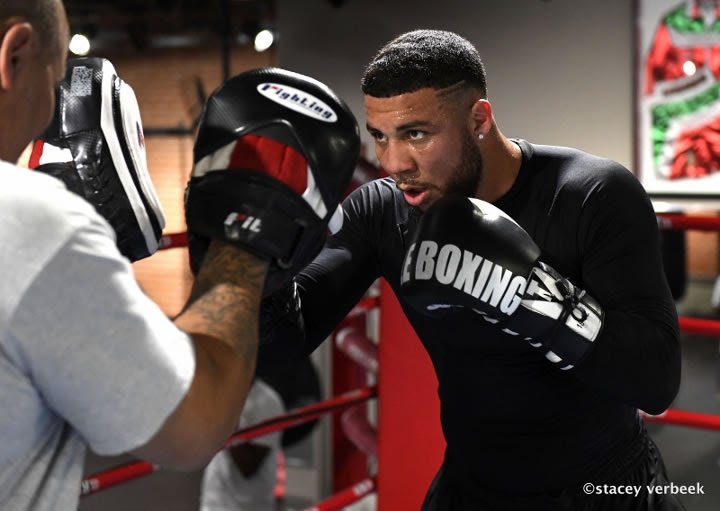 By Paul "Paparazzi" Jones – In a division with well-known fighters and perennial pound-for-pound entrants, including Andre Ward and Sergey Kovalev, up-and-coming WBA Interim Light Heavyweight ChampDmitry Bivol (9-0, 7 KOs) is intent on building his own legacy on American soil.
Bivol, 26, will be featured on his first major televised card when he steps into the ring as the favorite against Samuel "The Main Event" Clarkson (19-3, 12 KOs) on Friday at the MGM National Harbor in Oxon Hill, Maryland.
Bivol vs. Clarkson headlines SHOWTIME's SHOBOX: The New Generationtripleheader, which also showcases a pair of surging prospects from Baltimore –welterweight Malik Hawkins (10-0, 7 KOs) and super bantamweight Glenn Dezurn (8-0, 6 KOs).
However, all eyes will be on Bivol, who hails from Kyrgyzstan but fights out of Russia, as boxing fans and pundits take stock of this young fighter.
On paper, Bivol gets high marks in areas that fans pay attention to in a potential star. Solid amateur pedigree? Check. The Kyrgyzstan native holds 285 wins in 300 amateur fights (95%).
Knockout power? Check. Bivol has KO'd 78% of his opponents.
Early championship experience? Check. Bivol holds and has defended his WBA Interim title, including wins over experienced and (previously) unbeaten fighters like Robert Berridge (29-6-1, 21 KOs) and Felix Valera (14-1, 12 KOs), respectively.
Nevertheless,Bivol remains a virtual unknown at light heavyweight and it's unclear whether he's ready for primetime.
Of course, beating 26-year-old Samuel Clarkson would be a major milestone for Bivol because the outspoken Texan isn't just all hat and no cattle. Quite the contrary.
Clarkson has been on a tear, reeling off nine-straight wins since being shutout by Jesse Hart while campaigning as a super middleweight back in 2014. The Texas native is also no stranger to the bright lights having fought on ESPN's Friday Night Fights and SHOBOX in the past.
Equally important, Clarkson has pulled out all of the stops for his fight against Bivol, including moving his training camp from Texas to Gleason's Gym in Brooklyn, New York.
And while oddsmakers may favor Bivol, in Clarkson's mind there's no underdog on Friday.
"I feel like there shouldn't be an underdog or anybody that's picked to win,"said Clarkson in a Real Talk Boxing Interview. "There's no such thing as an A-side/B-side. You don't know what can happen in a fight; any punch can change a fight."
"If I come in and execute everything that I worked on in the gym and in sparring," Clarkson added,"and I'm in the shape that I know I can be in, I'll be victorious."
For fight fans, if Bivol and Clarkson can deliver on their potential and promises, then the "underdog" label won't mean much on Friday night. ■
Contact "Paparazzi" Jones:
prjones1@hotmail.com| Twitter @boxingepicenter
More from "Paparazzi" Jones:
In Pictures: Official Weigh-In Results – Lomachenko (129.6) vs. Sosa (130.4, 130.2)
The Debate Continues… Should Roy Jones, Jr. Fight On Despite Latest TKO Victory Over Bobby Gunn?OPEN MIC: A Candid Conversation with Lamont "Havoc" Peterson — García, Mayweather, Pacquiao, More!