By Paul "Paparazzi" Jones | Photo © Paul "Paparazzi" Jones
OXON HILL, MARYLAND–All systems are go for Saturday's World Super Featherweight Championship bout between reigning WBO champ, Vasyl "Hi-Tech" Lomachenko(7-1, 5 KOs) andJason"El Canito" Sosa(20-1-4, 15 KOs)despite Sosa failing to make weight on two separate attemptsat Friday's weigh-ins at the MGM National Harbor in Oxon Hill, Maryland.Lomachenko vs. Sosa is the MGM National Harbor's inaugural fight card, which promises to be an entertaining international event.
Official weights: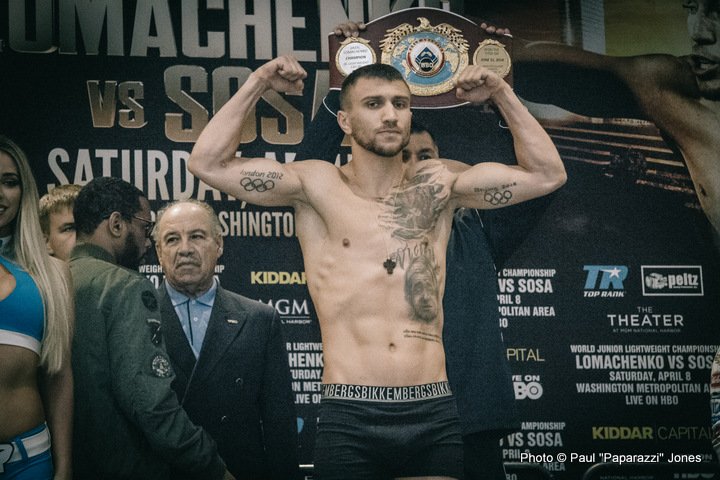 Lomachenko— 129.6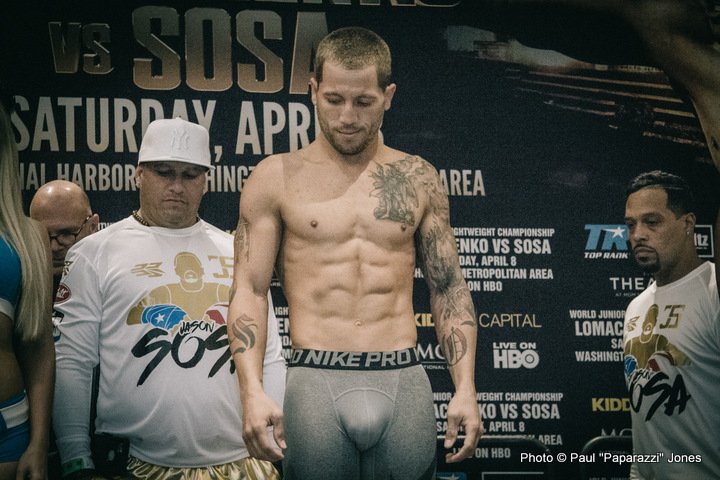 Sosa — 130.4 (first attempt), 130.2 (second attempt)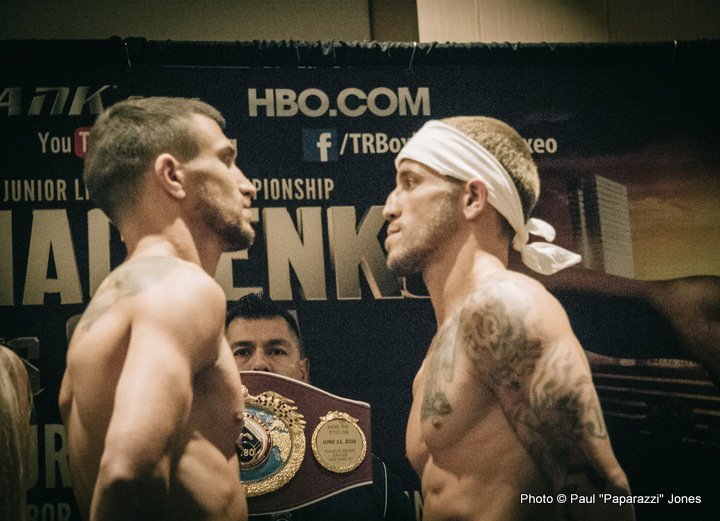 Lomachenko vs.Sosa (Main Event):  Lomachenko and Sosa face-off in advance of their fight on Saturday Night. Lomachenko is riding a 6-fight win streak, while Sosa aims to win his third in a row.
Other selected weigh-in results: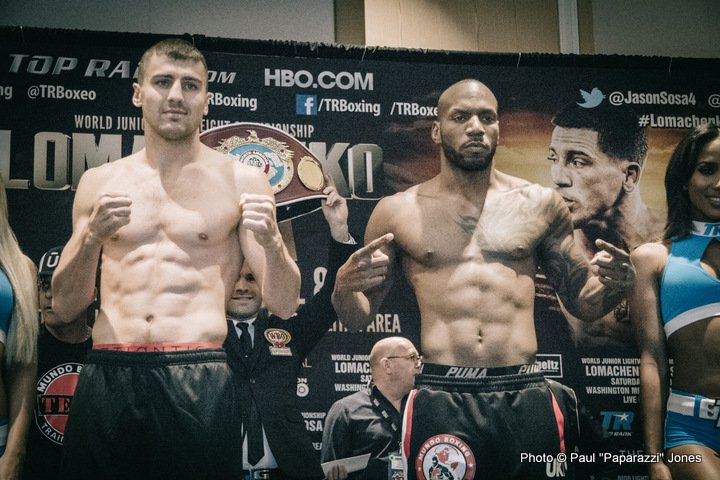 Oleksandr "The Nail" Gvozdyk (12-0, 10 KOs) — 174.2 vs.Yuniesky "The Monster" Gonzalez (18-2, 14 KOs)— 174.8: Twenty-nine-year old Ukrainian standout, Gvozdyk looks to extend his winning streak to a baker's dozen against the hard-nosed Cuban, Gonzalez in a Light Heavyweight slugfest that could be Saturday's fight of the night.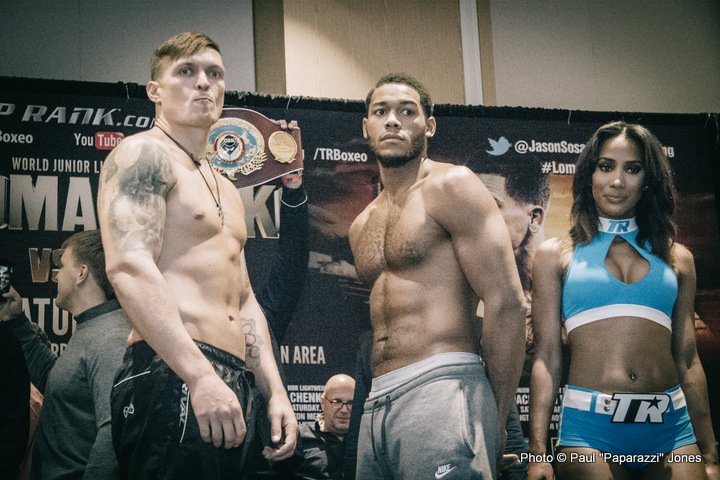 Aleksandr Usyk (11-0, 10 KOs) — 199.4vs.Mike Hunter(12-0, 8 KOs) — 198.0: Someone's '0' has to go in this battle of Cruiserweight unbeatens. Usyk, theUkrainian knockout artist andreigning WBO Cruiserweight Champ, looks to defend his title in spectacular fashion against 28-year-old American hopeful,Hunter.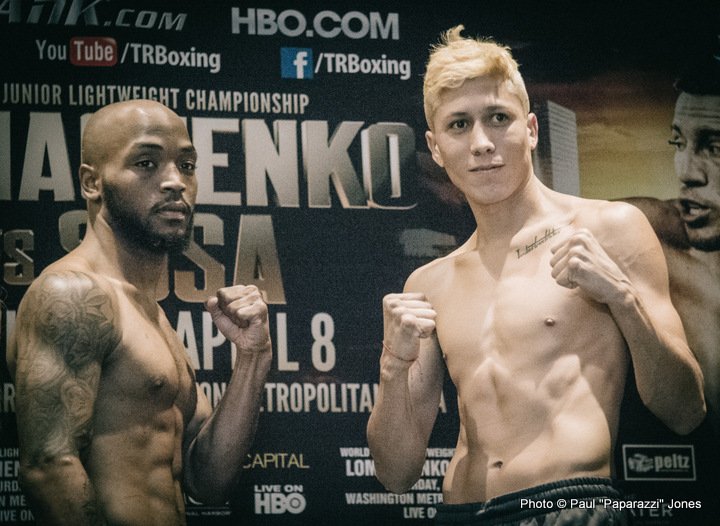 Mike "Yes Indeed" Reed (21-0, 11 KOs) — 144.2 vs.Reyes Sanchez  (26-9-2, 15 KOs)— 141.4: Twenty-four-year-old junior welterweight Mike Reed and Reyes Sanchez, 31, pose for pictures ahead of their 10-round bout on Saturday night. A win over the taller and durable Mexican veteran could help Reed in transitioning from prospect to contender status in the junior welterweight division.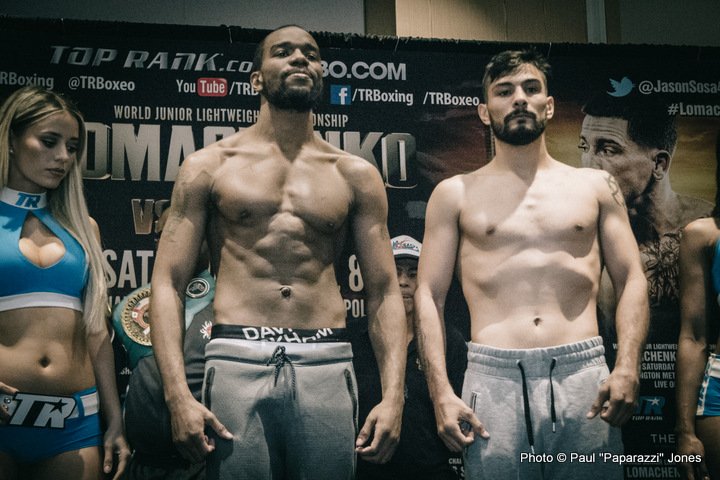 Jesse "Hard Work" Hart (21-0, 17 KOs) — 168.0vs. Alan "Amenaza" Campa(16-2, 11 KOs) — 165.6:  Philadelphia native Jesse Hart, 27,andAlan Campaat Friday's weigh-in.  Hart, a heavy-handed Super Middleweight, is looking to earn career KOnumber 18 when he locks horns with Campaon Saturday night.
Be sure to take part in our Twitter polls and let us know who you believe will win Lomachenko vs. Sosa and who you would like to see the winner fight next.■
 
LOMACHENKOVS. SOSA
 
Tale of the Tape
 
Vasyl

Lomachenko

Jason

Sosa

Birth Place:
Bilhorod-Dnistrovskyi,

Ukraine

Camden,

New

Jersey

Age:
29
29
Height:
5'6"
5'5"
Reach:
65½"
67"
Stance:
Southpaw
Orthodox
Record

(KOs):

7-1

(5)

20-1-4

(15)

*Odds:
-2500
+1000
Where:
MGM National Harbor

Oxon Hill, Maryland

Up For Grabs:
WBO World Junior Lightweight Championship
When:
Saturday,
April 8, 2017
TV:
HBO │ 10:00 PM ET/PT
*Per VegasOddsToday – April 5, 2017
https://www.youtube.com/watch?v=smotOqtU0Pk
Author Contact:
prjones1@hotmail.com | Twitter @boxingepicenter
More from "Paparazzi" Jones:
Boxing Bros. | ESB Best of 2016! Frampton, Thurman, Álvarez, More!
The Debate Continues… Should Roy Jones, Jr. Fight On Despite Latest TKO Victory Over Bobby Gunn?