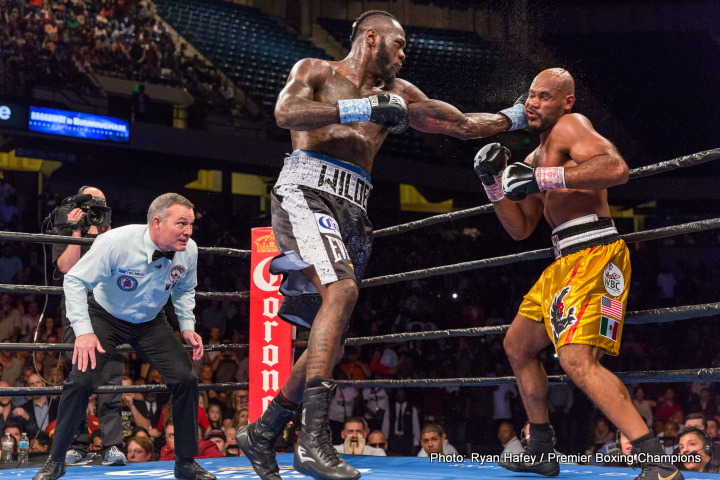 Things may well change, and perceptions will definitely change, if Anthony Joshua can beat ex-champ Wladimir Klitschko on the 29th of this month; but right now, rival heavyweight ruler Deontay Wilder has plenty of people on his side when he says he is "on a whole other level" to the reigning IBF champ.
Wilder, in speaking with FightHype, made this claim and he says he has more experience and has faced more styles of fighters than has AJ. Just who is the better fighter of the two right now?
Both are of course unbeaten and, to a large degree, untested. Wilder is 38-0, his best win coming over Bermane Stiverne (WU12). Joshua is 18-0, his best win coming over Dillian Whyte (KO7). Both men enjoyed a fine amateur career; Joshua winning an Olympic gold, "The Bronze Bomber" picking up, well, a bronze medal.
But Wilder, full of self belief, says that although Joshua gives him the most exciting fight out there, he is not in his league.
"I definitely feel like I'm on a whole 'nother level than Joshua," Wilder told FightHype. "I've been in this game for a while now. I'm very experienced. I think I've seen every style to see, you know, the major styles I need to see. I think I've seen it, I've learned it, and that's what allows me to adjust I the ring and do my thing. I definitely know that I'm in another league when you compare the two of us."
Wilder adds how, out of the other rival heavyweight champs, Joseph Parker being the WBO ruler, a fight between he and AJ would be "the most exciting."
Certainly, down the road, this fight seems destined to happen. Is Wilder the better fighter? Is he really so much more experienced? In terms of superior number of fights he has over Joshua, then yes, he is, but aside from that big win over Stiverne, does Wilder hold a better quality of opposition victory?
Again, things will shift in a big way if Joshua topples Klitschko – with a stoppage win being a huge achievement – but right now, yes, the edge does go to Wilder. But only just.