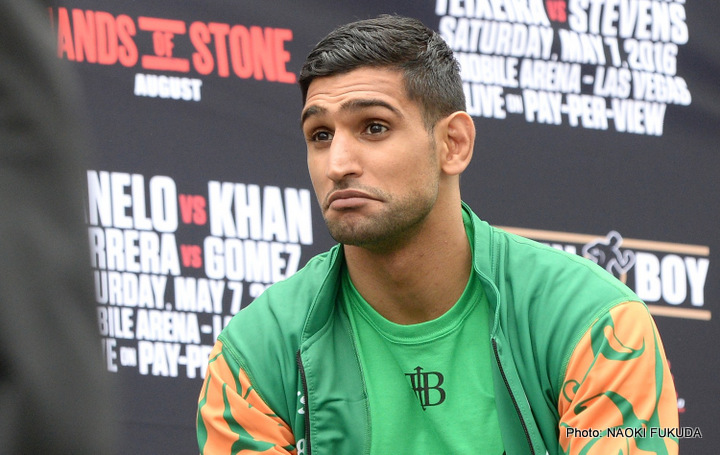 Former 140 pound champ Amir Khan is back in action on Saturday night, in the second fight of his comeback, against Samuel Vargas. Promoter Eddie Hearn has said two things: this is the fight "where we find out what Khan has left," and that after the fight, "Khan has to decide, do I want Kell Brook?"
Hearn, in speaking with Sky Sports, said there is a possibility Khan could face superstar and all-time great Manny Pacquiao this December, but that Brook "could steal the Pacquiao fight" from Khan. It all depends on how "expensive" Pacquiao is, and whether or not Hearn can make a deal with the icon from The Philippines. At age 40 (in December) it's not clear how much Pacquiao has left himself, and Khan is confident his speed would be too much for his former spar-mate. But Brook could beat Khan to it, and bag the big one himself, especially if Khan asks for too much cash to fight Pacquiao.
Which Brit, which former champ, gives Pacquiao the better fight this year?
Brook was last seen fighting up at "a far more comfortable" 154, and he would need to work extremely hard to make welterweight for a showdown with Pac-Man. Hearn, though, says that with a sixteen-week camp (an extremely long training camp for any fighter) he would be okay. Brook told Hearn he only wants big, big fights from here on in – and of course, the big domestic fight Hearn really wants to make, still, is Brook Vs. Khan, and maybe this will happen either late this year or early next, depending on what happens with the Pacquiao situation.
Khan can afford no slip-ups against the motivated Vargas on Saturday, and if he does come through okay he will be pushing and hoping for that shot at Pacquiao. Brook arguably has more to prove than Khan, at welterweight anyway – the former IBF champ not scoring a notable win at 147 since way back in March of 2016. At least Khan, if he beats Vargas, can say he has been active and that he has earned (sort of) a big fight.
Of the two British big names, Khan is the more interesting and exciting proposition for Pacquiao.