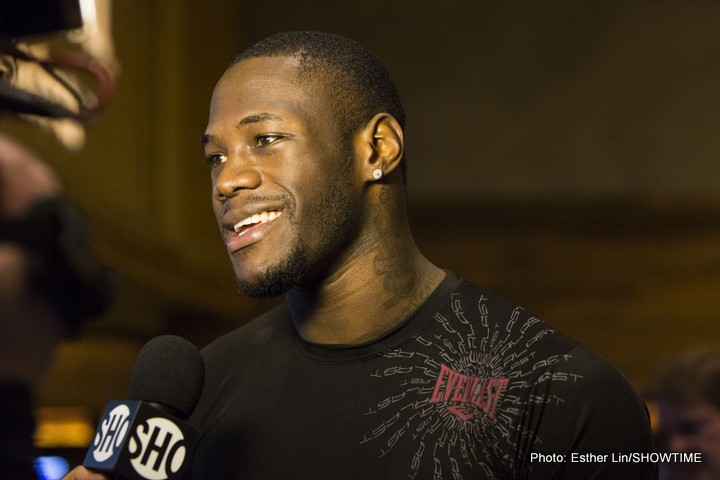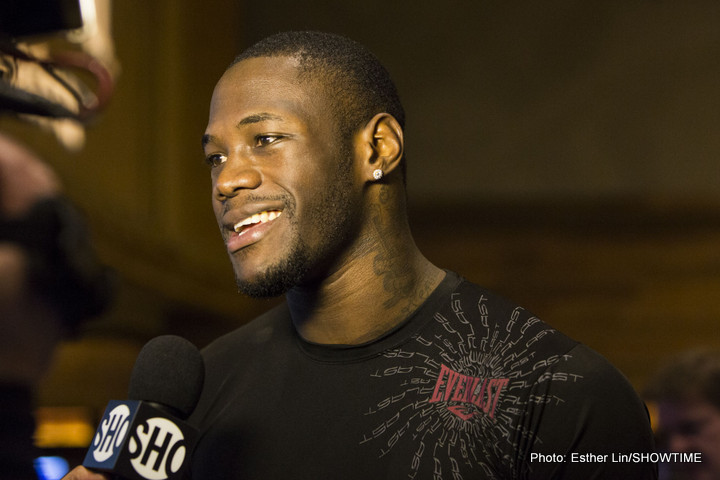 Today is a day where there is life in the heavyweight scene and we have more than a handful of great fighters currently active. Many of the top guys around have already recorded a loss on their records though. This is mainly thanks to the Klitschko brothers who in the past had a habit of smashing undefeated heavyweights to bits once they stepped up. Today we can see guys like Povetkin, Pulev, Tarver, Solis, Cunningham, Mansour, Hammer, Stiverne, Perez, Szpilka, Chisora and Arreola all being rated as amongst the best heavyweights between them, despite having a lot of losses between them. But if we removed them from the equation that would be the best heavyweights out there, purely including the undefeated fighters only?
1. Deontay Wilder 33-0-0 (32KO)
Before the Stiverne fight I would find it very hard to put someone like Wilder anywhere high on this list. He was 32-0-0 with 32 stoppages and 0 notable opponents. We had not seen him go past the fourth round and truly I did not believe he had what it would take to hang with the big boys. However he proved me wrong in his last outing when he won a version of the world heavyweight title when he beat Bermane Stiverne in a one sided fight. Stiverne was tried and tested, boasting two wins over tough Chris Areola. Stiverne was a legitimate threat in the heavyweight scene and I had picked him to take this one, but I was happy to be proved wrong. At this point Wilder is on top of the world and likely we be favoured to beat anyone not named Klitschko.
2. Tyson Fury 23-0-0 (17KO)
Another big man in the division, Fury has been banking away win after win until he is now in a position to make his first attempt at a title. He dominated the domestic level heavyweight scene to take the British and Commonwealth straps before moving up to some decent world level operators such as Kevin Johnson and Steve Cunningham. In his last outing he outclassed countryman Dereck Chisora to take the British, European and WBO international titles and marked his seventh stoppage in his last eight outings. His next fight is against a decent fighter in Christian Hammer, which he is expected to win, and then its clashes with Klitschko and Wilder type opponents.
3. Vyacheslav Glazkov 19-0-1 (12KO)
Now that the heavyweight scene is starting to develop some real characters such as the two men listed above, sometimes guys like Glazkov can fall under the radar until they beat someone who nobody expected them to and this can certainly be the case with Glazkov. He has big wins over Tor Hamer and Tomasz Adamek, as well as being the first man to put a blemish on Malik Scott's record when he forced a draw with him in 2013. His next fight is against Steve Cunningham that is a terrific matchup and should be fun to watch. At 6'3 these are two heavyweights who are slightly shorter than a lot of the current crop of talent, but this fight should produce a fantastic contender for a title in the near future.
4. Bryant Jennings 19-0-0 (10KO)
The next challenger for Klitschkos list of alphabet titles and general lineal control over the weight class. Bryant Jennings has long arms and has used them to bank away some great wins. In his last two he defeated two previously undefeated fighters in Artur Szpilka and Mike Perez. These two wins alone certainly warrant a shot at Klitscko, but he had several good performances before that as well. Can he beat Klitschko? Maybe, he has the same chance as anyone, even if it is only a punchers chance. Nevertheless, even if he gets a loss he could come back to become a contender once again as Alexander Povetkin has.
5. Andy Ruiz Jr 24-0-0 (17KO)
No doubt about it, this is a chubby guy, but he can fight. He has shown this by beating and stopping men who are in better shape than himself and seems to have done it with ease. He has not fought so far in 2015 but had three fights last year in decent company with two early stoppages and a points win. I am looking for him to step up this year and take on the best fighters around to take him from the 15-20 range where he is currently, into the top ten.
The remainder of the top ten would be 6. Lucas Browne (22-0-0 19KO) 7. Erkan Teper (13-0-0 9KO) 8. Anthony Joshua (10-0-0 10KO) 9. Joseph Parker (12-0-0 10KO) 10. Luis Ortiz (21-0-0 18KO)