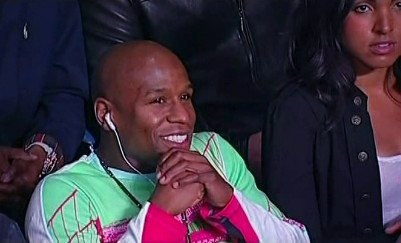 What I have come to learn from boxing fans over the years is that they are fickle, and hard to please. I certainly remember the days when I would tell myself, after Mayweather does this people will respect him, or, after Mayweather beats so and so people will respect him. What I have learnt now is that those who belittle Mayweather's accomplishments today, are the people who will continue to do so until he retires. Some people simply refuse to accept that this man is by far the greatest boxer of this generation and anyone who refuses to put him inside the top 15 boxers pound for pound of all time is simply blind.
I hear the same arguments day in and day out and I cannot discuss then man for five minutes before the detractors find their way into the conversation and spout there nonsense to anybody who will hear it. What I have realised in the time since the announcement is that these people didn't expect Mayweather to ever agree to this fight, and what's more, they did not want Mayweather to agree to this fight. Why? Because when Mayweather beats Manny Pacquiao by a wide unanimous decision on May 2nd, they will have one less talking point in their big anti-Floyd campaign.
So what's next? They begin to make their excuses now. When I look around for Mayweather/Pacquiao predictions I get one of two answers. Option A – Mayweather will win this one on points, he is simply too good. Or B. Pacquiao will KO him easily BUT… Yes there is always a but attached to the end of the second answer. The Pacquiao contingent will follow their prediction up with an excuse, which is usually one of the following.
Mayweather waited until Pacquiao was old and vulnerable. Very interesting considering that Mayweather is older than Pacquiao. Mayweather dictated the terms and so has an advantage. Really? A larger purse will surely help him win the fight right? Drug testing. Who needs it?! Mayweather has an easier version of Pacquiao after his brutal KO loss. This is another good one I hear from the same mouths that said Pac was back after a knockdown fest against Algieri recently.
The point here is not about Pacquiao fans, it's about Mayweather HATERS. These people who have claimed time and time again that Floyd fears the Pacman and would do anything to avoid him have fallen particularly quiet since this fight was announced and I am sure are practicing their excuses for when the inevitable happens. Floyd will win this fight, and when he does he will yet again show the world why he is the greatest fighter of the last two decades and a legitimate claimant to the title 'TBE'. Those who refuse to accept him for what he is will simply find new reasons to try and negate his accomplishments, these people will never change.