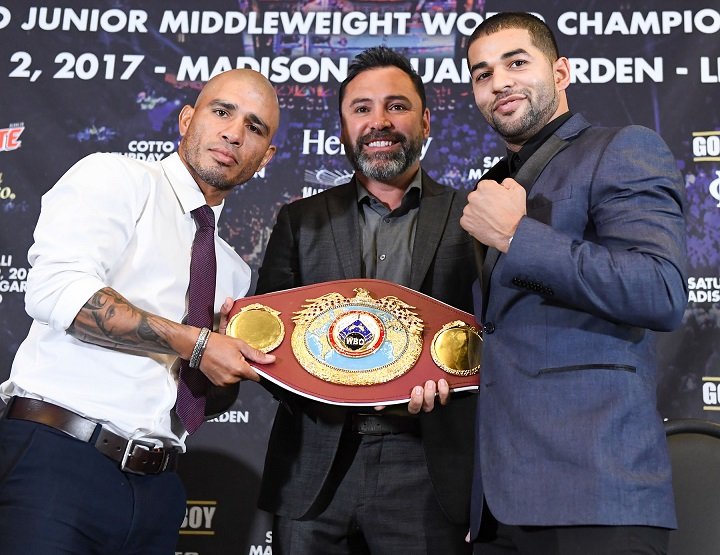 Though Miguel Cotto's "final fight," (in quotes because, let's face it, these days fighters are often changing their minds; especially regarding retirement), set for December 2, against Sadam Ali is a solid one, a number of fans are not too excited about the fight. (Photo Credit: Matt Easley – Hogan Photos/Golden Boy Promotions)
Cotto, who said he would "go out with a bang," spoke of facing either Gennady Golovkin or Canelo Alvarez in his swansong, or failing this, David Lemieux. Instead, the Puerto Rican legend faces the once-beaten Ali, 25-1(14) in New York. What does look likely – and begging Ali's pardon – is how Cotto, 41-5(33) will go out a winner if this is indeed his very last ring appearance.
And after all he's achieved after all the tough and great fighters he has been in with, Cotto deserves to go out facing whoever he wants to face. As to where Cotto, the only four-weight world champion to have come out of the island of Puerto Rico, deserves to be ranked all time – promoter Oscar De La Hoya is sure to cause some debate with his own remarks on the issue.
Speaking with FightHub, De La Hoya said that in his sincere opinion Cotto should be ranked in the Top 20 greatest fighters of all time:
"You know, he's got to be considered one of the best," De La Hoya stated. "I mean, he is the only four-division world champion from Puerto Rico, which tells you a lot because Puerto Rico has had many great world champions like Wilfredo Gomez, and the list goes on – like Felix Trinidad. So the fact that Miguel Cotto is the only four-division champion from Puerto Rico just – it tells you a lot.
"He's obviously a sure ballot into The Hall of Fame. He's a fighter who takes on all-comers, 'til the very end. He has had a stellar career, he's been on HBO 24 times, and so I believe Miguel Cotto – I can rank Miguel Cotto, sincerely, in the top 20 of all time."
There are a whole lot of great, great fighters who, in the agreed expert opinion of the historians, simply have to be placed in the top 20 of all time: Sugar Ray Robinson, Muhammad Ali, Joe Louis, Henry Armstrong, Roberto Duran, Sugar Ray Leonard, Julio Cesar Chavez, Marvin Hagler, Carlos Monzon, Harry Greb, Archie Moore, Floyd Mayweather, Manny Pacquiao, George Foreman, Rocky Marciano, Pernell Whitaker, Jack Johnson, Ezzard Charles, Benny Leonard and either Bernard Hopkins or Roy Jones Jnr.
That does not leave room for Cotto, unfortunately. Unless enough people feel strongly enough that Cotto should replace one of the above greats? What do you guys think?