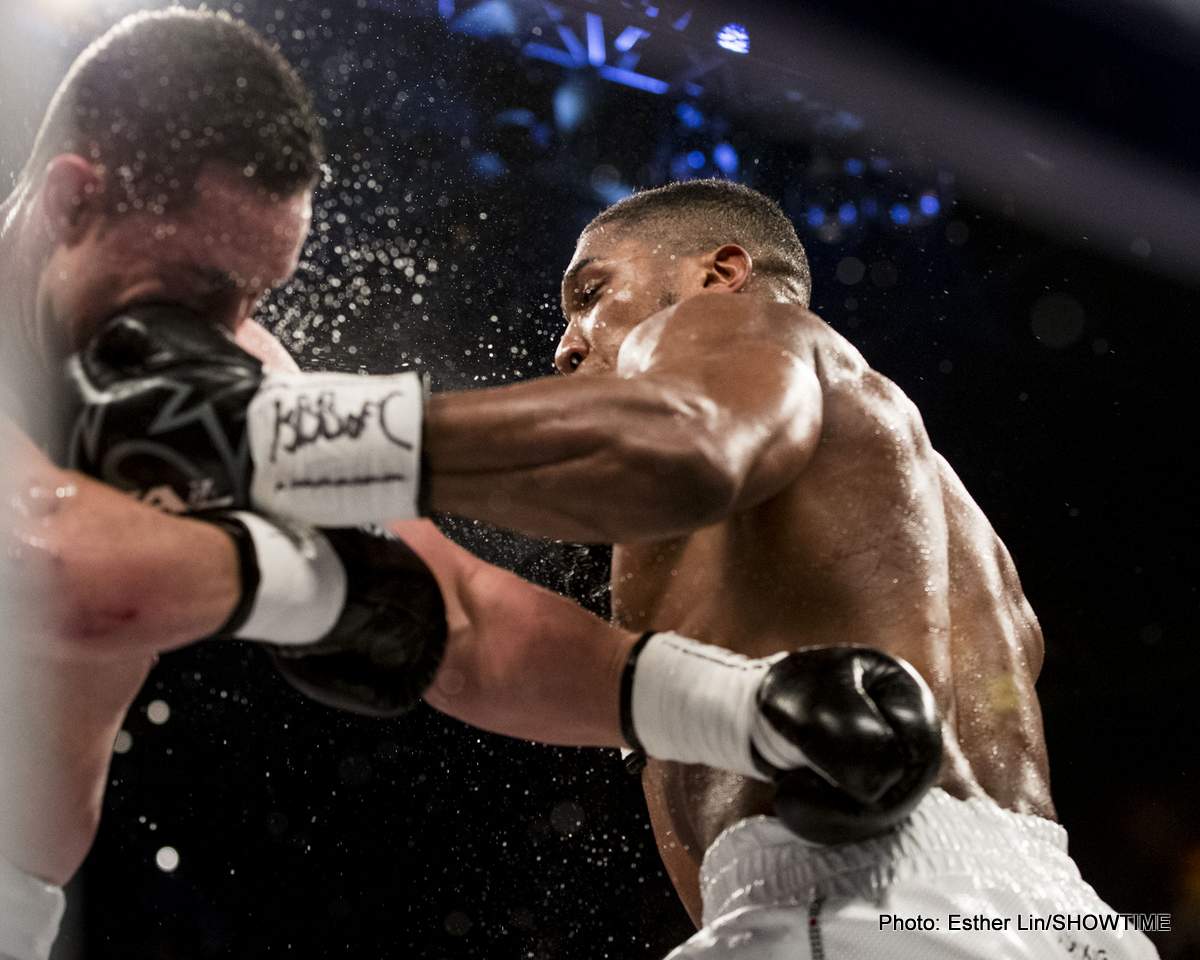 Former and still unbeaten lineal heavyweight ruler Tyson Fury tuned in to watch last night's Anthony Joshua-Joseph Parker fight, and it will come as no shock how the self-styled "Gypsy King" was not. in. the. slightest. bit. impressed – by either fighter. Fury, still keeping us waiting on his comeback date, venue and opponent, laid into Joshua in his customary brutal fashion, calling the now three-belt champ "a wooden-top who is not fit to be my sparring partner."
Fury released a short video of himself watching last night's fight on TV and his comments on social media read as follows:
"Just watching these two and I tell you they're a pair of wooden-tops," Fury said. "They're not even good enough to be my sparring partners, the pair of them. They're a pair of bums. No panache, no flair, no show. Waste of money. There's only one Tyson Fury for a reason. This is Mac year 2018, they're a pack of bums. Parker is what Parker is – he's a young lad trying. AJ's a wooden-top – he ain't no superstar, I am the man. I could beat AJ in my comeback – treble up the jab, swing the right hand up, downstairs, upstairs, ain't good enough to be my sparring partner. That was a s**t fight, a s**t performance by both fighters."
https://www.youtube.com/watch?v=fc2Yruu8Q6M
Ouch. Fury is not alone in his less than glowing review of last night's fight and winning performance by the now 21-0(20) Joshua, but there are those who will no doubt feel Fury is being far too critical of AJ; who is, after all, still a champion fighter in progress. Would Fury outclass Joshua in the manner he claims should he fight him this year, or next year? Fans want to find out, and it's now up to Fury to stop talking and get back in the ring where he belongs.
Fury, though, feels Deontay Wilder may beat him to it and KO Joshua, thus "taking my £50 million."
"Listen AJ, please don't fight Wilder because he'll knock you spark out and take my £50 million," Fury said last night. "Let me break you."
There are three potentially enormous heavyweight showdowns fans both want to see and deserve to see over the coming months: Joshua-Wilder, Joshua-Fury and Fury-Wilder.
But will we even get to see one of these fascinating match-ups take place?