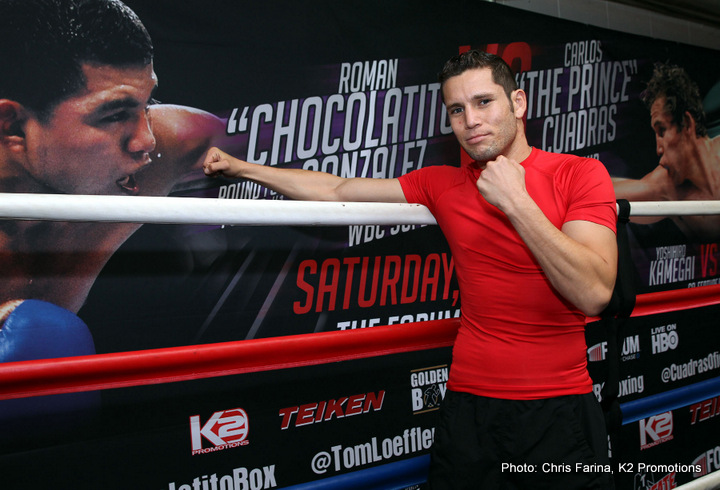 All four HBO World Championship fighters for this Saturday's September 10 event at The Fabulous Forum worked out today for a huge crowd of Los Angeles media at the Wild Card West Boxing Gym in Santa Monica, CA.
On Saturday, Consensus #1 Pound-for-Pound Fighter in the World and WBC Flyweight World Champion Roman "Chocolatito" Gonzalez, (45-0-0, 38KO's) will challenge undefeated WBC Super Flyweight World Champion Carlos "Principe" Cuadras (35-0-1, 27KO's) in the highly anticipated main event telecast live on HBO World Championship Boxing beginning at 10:00 p.m. ET/PT.
Photos/Chris Farina, K2 Promotions
Also in attendance at the media workout were co-featured HBO World Championship Boxing fighters Yoshihiro Kamegai, (26-3-2, 23KO's) and Jesus "Renuente" Soto Karass, (28-10-4, 18 KO's) who will battle in a 10-round junior middleweight rematch of their epic 2016 "Fight of the Year" candidate clash which took place on April 15 in Downtown Los Angeles.
Additionally, joining the media workouts was undefeated top lightweight prospect Ryan "Blue Chip" Martin, (15-0-0, 9KO's) who will be featured on the exciting undercard.
Tickets for this outstanding evening of professional boxing priced at $300, $200, $100, $50 and $25 are now on sale through Ticketmaster (Ticketmaster.com, 1-800-745-3000) and the Forum Box Office.
Roman "Chocolatito" Gonzalez
"We're prepared to go 15-20 rounds if we needed to, our training camp in Big Bear was the best of my career.
"It's a great motivation for me to plow a path for other fighters at this weight class to also have success."
"I feel very good at this weight, yesterday I weighed 116 and I'm just waiting for Friday to weigh-in on the mark."
"This is the strongest I've felt in my career."
"I have a great deal of respect for Carlos Cuadras and am only thinking about him. He has great skills and that is why he is a champion, I'm sure he is in the best condition of his career."
"I will have a strong fan base as well with a lot of Nicaraguans coming to the fight."
"It's very important to me to gain the fourth divisional title. Alexis Arguello trained and mentored me and I saw him as a father figure."
"Although I'm a champion, I see myself as a challenger in this fight."
Carlos "El Principe" Cuadras
"It's a great venue where many Mexican legends have fought."
"Yes, I believe the Mexican fans will come and see me, I'm one of their own."
"Saturday night is my night, I will be victorious, the belt is coming back home with me."
Yoshihiro Kamegai
"I don't think I lost the first fight but it was an away game for me and I don't think I did
enough to win an away game."
"He's a very good fighter and I'm glad he wanted to do a rematch."
"I need to have more power behind my punches and that's something we've worked
on in training."
"It's hard to say if he was the best I've faced but he was a great style matchup."
Jesus "Renuente" Soto Karass
"I did a lot more roadwork, but mountainous roadwork for better conditioning."
"I don't want to sound bad, the only thing I can about is Kamegai, then we can speak about future fights."
"I'm a badass and in the end I know what I capable of. There are a lot of up and coming fighters
but I won't be a steppingstone for them."
Ryan "Blue Chip" Martin
"The first time at the Forum was one of the best atmosphere's to fight in and it feel's like home to come back here."
"I've seen some tapes of my opponent, we have a great game plan coming in, I will go in there
and do my job, he has to worry about me."
"Can't wait to watch the main event, looking forward to seeing Chocolatito fight, he's a very special talent."
"The WBC is a great organization and I'm honored to fight for one of their titles on Saturday night and look forward to bigger and better things ahead."
Gonzalez vs. Cuadras is presented by K2 Promotions in association with Teiken Promotions. Kamegai vs. Soto-Karass 2 is presented by K2 Promotions and Golden Boy Promotions in association with Teiken Promotions.
SOCIAL MEDIA: For more information, visit www.K2Promos.com, www.GoldenBoyPromotions.com www.FabulousForum.com and www.HBO.com/boxing.