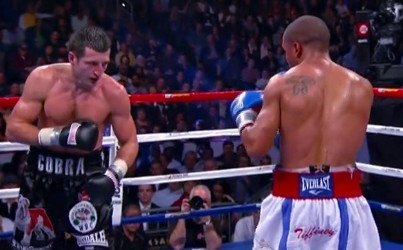 By Michael Collins: IBF super middleweight champion Carl Froch (29-2, 21 KO's) and his promoter Eddie Hearn of Matchroom Sport have reportedly turned down a huge £1million offer from Frank Warren for Froch to step up and fight WBO light heavyweight champion Nathan Cleverly (24-0, 11 KO's) in a catchweight fight. Instead of taking that big payday for his fighter Froch and thrilled British boxing fans, Hearn has instead matched Froch up against American Yusaf Mack (31-4-2, 17 KO's) in a fight that will take place on November 17th at the Capital FM Arena, Nottingham, Nottinghamshire, UK.
Hearn told thesun.co.uk "His camp could offer £10m, the fight isn't going to happen. It would be impossible for Carl Froch to move up to 175."
That's interesting because according to Warren he was open to having Cleverly fight Froch at a catchweight to make the fight happen. Froch wasn't necessarily being asked to move up 7 pounds in weight to take on the 25-year-old unbeaten Cleverly at the full weight for light heavywweight at 175.
Warren said this to Sky Sports News "We could have done it at a catchweight. They declined."
That's a lot of money for Froch and Hearn to be walking away from. It's not just the money, though. It's the attention that the fight would have received that hurts the most. Froch and Hearn could have really gotten a lot of press if they agreed to take on Cleverly, because it's a fight that boxing fans in Britain and around the world would be interested to see.
I don't know of anyone right of hand that wants to see Froch fight the 32-year-old Mack. That just seems like an ugly mismatch to me. Of course, one could understand Froch and his promoter Hearn saying no to a fight against Cleverly due to it being a risky bout. Froch has a rematch coming up in early 2013 against Lucian Bute and they also hope to fight Mikkel Kessler in a rematch as well.
Is Froch and his promoter worried about a fight against Cleverly? I don't know, but it seems very odd that they would say no to all that money just because the fight wouldn't take place at 168. If Warren is saying that a catchweight could have been used for the fight then In don't understand how Froch and Hearn couldn't agree to fighting Cleverly at say 171 or 172. It's only a few pounds in weight so what's the problem?