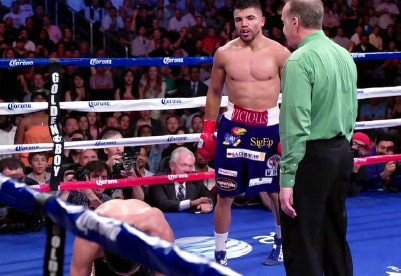 Former WBC welterweight champion Victor Ortiz (29-4-2, 22 KO's) is expecting big things if he can get past 32-year-old former WBA World welterweight champion Luis Collazo (34-5, 17 KO's) next month in their scheduled 10 round fight on January 30th at the Barclays Center, in Brooklyn, New York, USA.
Ortiz is hoping that a victory over Collazo will get him a big fight against Danny Garcia, the WBA/WBC light welterweight champion. That fight, if it takes place, would be held in the 147 lb. division.
When asked if he wants to fight Danny Garcia immediately after the Collazo fight, Ortiz said "Absolutely, why not? I've known Danny for many years. He's a great fighter, but this is my time. 147 to 154, get out of my way."
For Ortiz, that be a big jump going from a fighter like Collazo to a quality guy like Garcia after just one fight. It's not that Ortiz hasn't been in with guys with a lot of talent, because he's fought Andre Berto, Marcos Maidana and Floyd Mayweather Jr. in the past. But Ortiz has been out of action for a long time with his year and a half layoff, and a fight against Collazo probably isn't the kind of preparation that you'd like to see from Ortiz to get him ready for a quality fighter like Danny Garcia. It's almost as if Ortiz is setting himself up for failure again if he goes from a victory over Collazo to a fight against Garcia.
Ortiz was beaten by Josesito Lopez last year in June in a 9th round stoppage. Ortiz probably would have won the fight, but he suffered a broken jaw and had to quit fighting after the 9th. He was ahead on the scorecards at the time that he quit on his stool.
At 26, Ortiz is still young enough to be a major player at 147 or 154 if he can pick up a couple of quick wins over Collazo and Danny Garcia. A victory over Garcia would likely get Ortiz a good payday fight against one of the world champions at 147 or 154. It would definitely get his name back on the map, but it's difficult to picture Ortiz beating Garcia right now given how he fought in his losses to Maidana, Mayweather and Lopez. It's definitely possible that Ortiz could beat a guy like Danny Garcia, because he would have the size, reach, speed and power advantage over Garcia. But Ortiz would need to focus the entire fight for that to happen.
The Ortiz-Collazo fight will be televised on Fox Sports 1 rather than Showtime. That's obviously a big drop off from what the 26-year-old Ortiz is used to. Many of his fights were previously televised by the major cable networks, such as Showtime. Ortiz could have had the fight televised on Showtime if he pushed for it, but it works out well for him to have his fight with Collazo scheduled on January 30th, because this is Super Bowl week for the NFL, and a lot of sports fans will be watching television during the weekend. It'll be interesting to see if these same fans will be interested in a boxing match between Ortiz and Collazo.
Also on the Ortiz-Collazo card will be a light middleweight match-up between Eddie Gomez and Daquan Arnett scheduled for 10 rounds. That's the only other fight that is scheduled to be televised on the card.