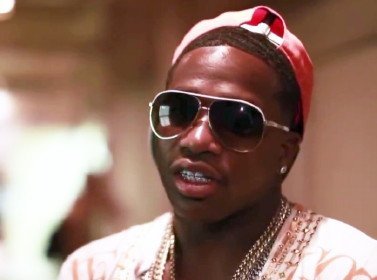 Floyd Mayweather Jr. wants to rebuild little Mayweather [Adrien Broner] by keeping him away from Marcos Maidana, by moving him down to 140, and having him fight on his next pay-per-view card on May 3rd. Mayweather thinks Broner can be brought back to his former status as one of boxing's youngest up and coming stars, but he feels that he needs to be in the right weight class. If Broner can win a world title at 140 against someone like IBF light welterweight champion Lamont Peterson, Broner would be a 4 division world champion.
In a way, Mayweather feels that Broner's loss to Maidana has made Broner and even bigger star than he was before the fight, because Broner showed so much heart in the fight.
"To be honest, the loss made him [Broner] more famous," Mayweather said to Fight Hype. "The loss brought him more notoriety. So like I said, fame can be a gift and a curse. Now it's a gift. It brought him more notoriety…everybody been talking about nothing but Adrien Broner."
Mayweather could do well to take over the match-making for Broner and give him the right career advice about his opponents and what weight class he should be fighting at. Mayweather wants Broner to fight his next bout at 140 on his May 3rd fight card, and then see how he looks in that fight. If Broner responds with a good performance then Mayweather will no doubt tell Broner to stay at that weight.
If Broner fails to shine like he did in the Maidana fight then Mayweather will obviously give him the advice to go back down to 135. That would be a disappointment for Broner and his fans, but not an indication that it's over for Broner. It just means he'll need more time at 135 to grow as a fighter before he's ready to move back up in weight to 147.
It took Mayweather 10 years in the lighter weights before he moved up to welterweight, and so it makes sense for Broner to stay at 135-140 for a little while longer before moving up to 147.