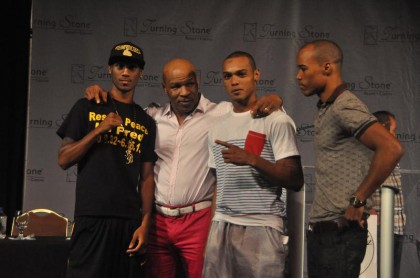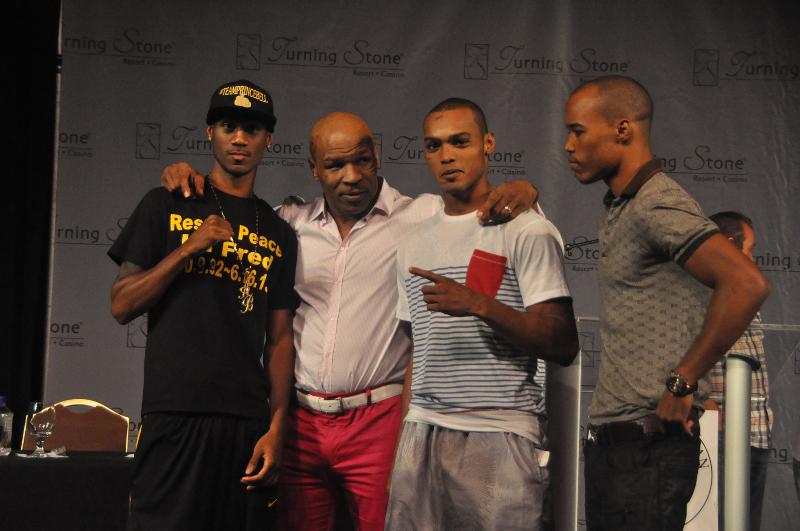 VERONA, N.Y. (August 21, 2013) – The final press conference forIron Mike Productions' inaugural event this Friday evening – "Tyson Is Back!" – was held today at Turning Stone Resort Casino in Verona, New York.
Acquinity Sports, under CEO Garry Jonas, recently partnered with Hall of Famer Mike Tyson to form Iron Mike Productions, which is presenting "Tyson Is Back!" in association with Greg Cohen Promotions.
"Tyson Is Back!" features a World Championship doubleheader on ESPN Friday Night Fights, headlined by International Boxing Federation (IBF) super featherweight champion Argenis "La Tormenta" Mendez (21-2, 11 KOs) making his first world title defense, in the 12-round main event against IBF No. 13-rated Arash Usmanee (20-1, 10 KOs). Unbeaten Claudio "The Matrix" Marrero (14-0, 11 KOs), rated No. 2 by the WBA, meets WBA No. 4 Jesus Cueller (22-1, 18 KOs) in the 12-round co-feature for the Interim World Boxing Association (WBA) featherweight championship.
Providing chief support are a pair of 10-round fights featuring Cuban knockout artist Alexei "The Mexican-Cuban" Collado (16-0, 15 KOs) against Mexican featherweight Hugo "Guerrero" Partida (19-4-2, 15 KOs), while welterweight Ed "The Lion" Paredes (33-3-1, 22 KOs) faces another tough Mexican fighter, Noe "Platanito" Bolanos (24-8-1, 16 KOs).
Also fighting on the undercard is unbeaten Virginian middleweight Antoine Douglas (8-0, 6 KOs) squares-off against Russell "Spiderman" Jordan (15-10, 10 KOs), of Rochester (NY), in a six-round bout.
Former Toledo-Ohio-based amateur star, Albert "Prince" Bell (1-0, 1 KO), is back in action former World Boxing Organization (WBO) bantamweight champion Mauricio "Cry Baby" Martinez (36-14-1, 24 KOs) in a four-round match. The 20-year-old Bell captured gold medals as an amateur at the 2011 National PAL Championships and 2012 National Golden Gloves Tournament.
http://www.youtube.com/watch?v=ZG3nfdEOQ70&feature=youtu.be
All fights and fighters are subject to change.
PRESS CONFERENCE QUOTES
Mike Tyson: "It is my privilege and an honor to be at Turning Stone for my first show. I'm privileged to have the champion, Argenis Mendez, who is going against Arash Usmanee. We also have 'The Matrix,' Claudio Marrero fighting Jesus Andres Cuellar. I'm really excited about this show."
"I have such an affinity for this place (upstate N.Y.). I won the state championship in Syracuse. A lot of my childhood friends will be at the fights."
"I think fans should vote for who they want to fight. Should the winner of this fight (Mendez vs. Usmanee) fight (Yuriorkis) Gamboa?"
"I never want to be back in the ring. I understand what these guys are going through. We want to be known for being worthy but most fighters are shy."
"In most fights you know who is going to win before the fight. It's not going to be that way with us. We want the best fighting the best."
"I'm going to watch them (IMP fighters), as a fan, and be so happy I'm not in there."
All pictures by Rey Sanchez / Iron Mike Productions
Argenis Mendez: "In my opinion, he (Usmanee) did win that fight (controversial loss by 12-round decision to Rances Barthelemy in their IBF title eliminator to determine Mendez' mandatory challenger), and that's one of the main reasons I chose him to defend my world title.
"I understand how to train properly for a fight, what it entails, and I expect a great fight from him and me. I want to thank Iron Mike Productions – Garry Jonas, Henry Rivalta and Mike Tyson – and my trainer, Lee Beard, for such an intense camp. I also want to thank Garry Jonas and my manager, Jose Nunez, for being there through the good times and bad times. Jose has been a stableperson in my career.
"When I became champ, I didn't lose my hungry. I'm aware of hunger. I'm sure Arash is hungry but I'm even hungrier than I was before. Friday night, you (Usmanee) will have to go through the storm, Argenis Mendez."
Arash Usmanee: "I've worked so hard for so many years, it feels surreal to be here. I'm not going to let this opportunity pass. I want to thank my team – promoter (Greg Cohen), manager (Paul Keefe) and trainer (Eddie Mustafa Muhammad) – my sponsors and Mendez for giving me this opportunity. I had a good camp, I'm sure did too. We'll have a good war and then, hopefully, we can do it again."
Claudio Marrero: "I'm in excellent condition. I want to thank my fans for their support. I'm glad he (Cuellar) he had a great camp. At the end of the day, it doesn't matter if he trained with Rambo and The Rock. On Friday night it's going to be me and hi; no managers or trainer fighting. He's going to fight 'Matrix' Friday night."
Jesus Andres Cuellar: "I want to thank Mike Tyson for me being on his show. I also want to thank my manager, Sebastian Contursi. I had a great camp. I'm ready to win and take the title back to Argentina. I also want to thank my team and sponsors. Withoutyou uys this wouldn't be possible."
Ed Paredes: "I'm honored to be fighting on Iron Mike's first show. I grew-up watching Mike fight. He was a big puncher. I have power, too, and can punch with both hands. I'm looking for an explosion. Don't blink! I'm putting on a great show and knockout."
Alexei Collado: "I want to thank my promoters for giving me an opportunity to fight on his first show. I'm waiting for my opponent (Hugo Partida). He must be scared because he's not here. I will be an angry man in the ring. I love fighting."
Albert Bell: "I'm her eto put my work in. I let my hands do my talking."
Mendez, Marrero, Collado, Paredes and Bell were promoted by Acquinity Sports and are now fighting under the Iron Mike Productions banner.
Tickets priced at $150, $95, $55 and $45 are on sale and available to purchase at the Turning Stone box office, by calling (315) 361-7469, or visit www.Ticketmaster.com
Doors open at the Turning Stone Resort Casino Event Center at 6:00 p.m. ET, Friday, August 23. The first undercard bout starts at 7:00 p.m. ET. The live ESPN2 telecast begins at 9:00 p.m. ET.
Iron Mike Productions, previously Acquinity Sports, is a boxing promotion company co-founded and led by Acquinity Interactive CEO Garry Jonas. It is a partnership with Hall of Famer Mike Tyson committed to changing traditional boxing promotion by advocating for its fighters' successes inside the ring and out, throughout their professional careers and into retirement.