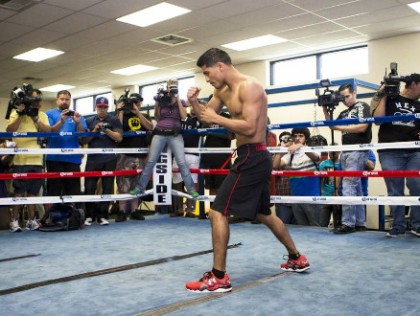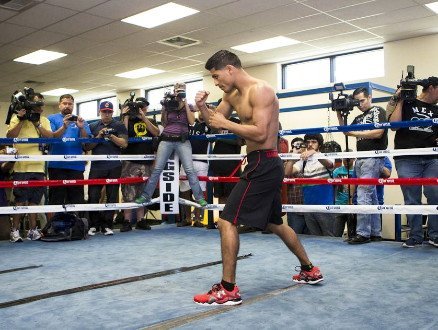 (Photo credit: Golden Boy Promotions) CARSON, CALIF. (Aug. 21, 2013) – Six of the fighters who'll compete this Saturday, Aug. 24, on SHOWTIME CHAMPIONSHIP BOXING live on SHOWTIME® (10 p.m. ET/7 p.m. PT, Immediately following the series premiere of ALL ACCESS: Mayweather vs. Canelo) and SHOWTIME EXTREME (8 p.m. ET/PT) worked out for the media Tuesday at a jam-packed Fabela Chavez Boxing Center in Carson, Calif.
In Saturday'smainevent on SHOWTIME, undefeated three-time and three-division World Champion Abner Mares (26-0-1, 14 KO's), of Downey, Calif., by way of Guadalajara, Jalisco, Mexico, will defend his WBC Featherweight World Championship against former Two-Division World Champion Jhonny Gonzalez (54-8, 46 KO's), of Mexico City.
Unbeaten former IBF Bantamweight World Champion Leo "Terremoto" Santa Cruz (24-0-1, 14 KO's), of Los Angeles, by way of Huetamo, Michoacan, Mexico, will challenge WBC Super Bantamweight World Champion Victor "Vikingo" Terrazas (37-2-1, 21 KO's), of Guadalajara, in the opener of a world championship doubleheader.
Scheduled for SHOWTIME EXTREME: Antonio Orozco (17-0, 13 KO's), San Diego, Calif., vs. Ivan Hernandez (23-9, 22 KO's), Miami, Fla., 10 rounds, junior welterweights; Joseph "Jo Jo" Diaz Jr. (6-0, 4 KO's), South El Monte, Calif., vs. Noel Mendoza (6-2-1, 1 KO), Phoenix, Ariz., 6 rounds, featherweights; and Dominic Breazeale (5-0, 5 KO's), Los Angeles, vs. Lenroy Thomas (16-2, 8 KO's), St. Catherine, Jamaica, 8 rounds, heavyweights.
Two of boxing's most exciting and popular practitioners, Mares and Santa Cruz have become SHOWTIME mainstays in recent years. This will be the eighth consecutive appearance on SHOWTIME for Mares (including last May 4 when he dethroned Daniel Ponce De Leon via a ninth-round technical knockout to capture the WBC 126-pound crown on SHOWTIME PPV) dating back to his SHOWTIME debut on May 22, 2010. Five of Santa Cruz's six fights since June 2, 2012, have been on SHOWTIME. The other came on The CBS Television Network.
Tickets for an event with a distinct Southern California flavor are priced at $150, $75, $50 and $25, plus applicable taxes, fees and services charges, and are available now at AXS.com, by phone at 888-9-AXS-TIX (888-929-7849) and at StubHub Center Box Office (Monday through Friday from 10 a.m. PT to 6 p.m. PT). VIP Suites are available by calling 877-604-8777. For more information on group discounts or VIP packages, please call 877-234-8425. Doors open at 2 p.m. PT and the first live fight is at 2:20 p.m.
What the boxers said Tuesday:
ABNER MARES, WBC Featherweight World Champion
"My preparation is done and I'm ready to perform and put on a great show. I've got a hard fight ahead of me. Jhonny Gonzalez is a tremendous fighter, tough, and very skilled. But I'm here to fight.
"Jhonny may well be thinking that this is his last shot in a big fight, so I know he'll be bringing his 'A' game, which is why I know I need to bring my 'A-plus' game on Saturday. I always train like a contender anyway. When I'm getting ready for a fight, I don't think of myself as a champion. I don't want to lose my edge, my hunger. There's no way I will ever become complacent.
"You can't really compare Jhonny to my last opponent (Daniel 'Ponce' de Leon). Jhonny is more of a thinker than Ponce, who just came to brawl. I know I have to fight him in a very smart way.
"I'm very happy and proud to be fighting the main event. This card features a bunch of us Los Angeles guys, and is really an old-school card, like ones they used to put on at the Forum. The undercard is filled with a lot of up-and-comers. Any of those fights could serve as the televised co-main event.
"I know they're talking about me fighting Santa Cruz. It would be a spectacular fight between two Southern California fighters. If you know me you know I'll fight anybody. But I have a tough fight in front of me.
"I'm feeling really strong at this weight class, but who knows? Maybe someday I'll make a decision to move up a weight class to 130 pounds and win a fourth world title in my fourth weight class. But that's down the road. For now, all my focus is on Jhonny Gonzalez and putting on a great fight for the fans.
"Saturday is going to be a very exciting night of fights. You won't want to miss it."
JHONNY GONZALEZ, Former Two-Division World Champion
"I have fought at StubHub before so I am very comfortable being at that venue. A lot of fight fans will recognize me from the past fights that I have fought there.
"On Saturday night my fight with Mares is going to be a war. Mares built his career with hard-earned fights and he wants to defend his title. I am motivated to claim the title. At this point in my career I feel that this could be one of my last opportunities to take that title.
"I invite all fight fans to witness what will be a battle for the ages. Abner Mares is youthful and strong but I have experience and will come well prepared with my own arsenal of weapons."
LEO SANTA CRUZ, Former IBF Bantamweight World Champion
"'I'm very excited and happy for the opportunity to be fighting for a world title for a second time, and now I have to take advantage of it. I've been training 100 percent in the gym and I'm really motivated. This card has so many great fighters on it, and they are all going to do their best to put on a great show. I just want to do my part.
"I feel great. I think when I took that break it did my body a lot of good. I know I felt more rested. But working as hard as I do doesn't give you much time to rest. A week after my last fight I was right back in the gym. My Dad told me I had to be ready for whenever they called again.
"I think Terrazas is going to be toughest fighter I've fought in my career. He's a great champion. He likes to come forward and throw a lot of punches. He's a true Mexican warrior, very brave, but those are the kinds of fighters I like to fight.
"Some guys are like wildfires, they get crazy and throw a lot of wild punches. He's not like that. Terrazas also has great technique. But he doesn't run, and those types of guys are easier for me. I know he's going to give it his best and leave it all in the ring. I expect a very hard fight. Both of us have trained really hard to give a great fight, and the better fighter is going to win.
"It's an honor for me to be fighting on SHOWTIME as often as I have. It's been a great experience for me. I still can't believe I've accomplished this much in so short of time, and it's still like a dream for me.
"But thanks to my Dad, who's always pushing me in the gym, Al Haymon, Golden Boy Promotions and SHOWTIME, I'm where I'm at right now."
VICTOR TERRAZAS, WBC Super Bantamweight Champion
"This is going to be a very active (busy) fight. Going in we know that Leo Santa Cruz is the favorite in his hometown, but I'm champion of the world and I'm here to show you why I'm the champion. I'm really excited about fighting in his backyard, and I'm confident I'll be successful. I am ready.
"I do believe I'm getting overlooked in this fight, but that doesn't take away my desire or my will to win. Being overlooked also doesn't give me any more motivation, but that's only because I'm already motivated. There's a reason why I'm champion.
"Fighting in Los Angeles and SHOWTIME is a great opportunity for me to get more exposure and for more fans to know who I am. I absolutely know the importance of getting great exposure and know what a victory on Saturday will mean for me.
"More than anything the added exposure gives you more notoriety and opens more doors for you, not only in boxing but everything else. I am looking forward to this fight very much."
DOMINIC BREAZEALE, Unbeaten Heavyweight
"I think this is probably the biggest step-up in my career and the toughest opponent so far in my career. Lenroy Thomas has a ton of experience and ring generalship compared to me. He's a 6-foot-1 southpaw, and I haven't fought a lefty since the amateurs.
"But I am definitely prepared and way anxious to get in there. I can't wait to fight. The only way to build character as a boxer is to take it a step at a time and fight the best fighters you can. This is what I've been doing and on Saturday I'm taking the next step."
JOSEPH "JO JO" DIAZ JR., Undefeated Featherweight
"This is my seventh fight this year and I'm well-prepared and definitely ready to go. I had a really great training camp. I know my opponent is a pretty sound guy with good ability, but I'm ready to give everybody a great show.
"I'm very excited to be fighting on this undercard because it's all local fighters. It's really going to be a great night of boxing.
"I think this is a step-up fight for me, which is what I want. I always want to be stepping up and fighting good fighters just to prove to everybody that I'm improving. This will be a great fight. .If all goes well on Saturday – there's no injuries or cuts or anything — I'm looking to maybe fight again next month."