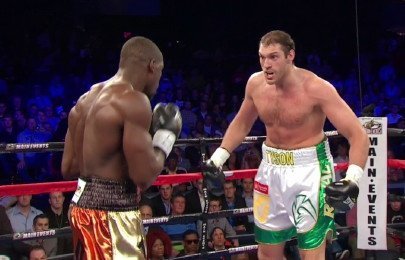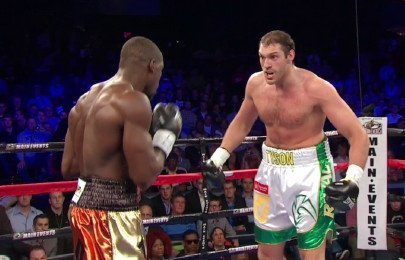 In somewhat of an odd move, heavyweight Tyson Fury (21-0, 15 KO's) will be using 37-year-old Steve Cunningham as one of his sparring partners to help him get ready for his September 28th fight against David Haye (26-2, 24 KO's) at the Manchester Arena.
Fury defeated Cunningham last April in New York in a 7th round stoppage. Cunningham wasn't too happy about the loss, because he felt that Fury had partially held him in place with a left hand while landing the knockout punch. There was no rematch to clear up the controversy, and now Fury has moved on to the Haye fight.
Cunningham will be joining Fury's sparring partners Dillian Whyte and Michael Sprott to try somehow to get the 6'9" fighter ready for what he's going to be dealing with on September 28th against Haye. Having seen all three of these fighters in the past in many of their fights, I think they're not going to help Fury beat Haye.
None of them are even close to having the same fighting style as Haye, and even if they did, it would only mean that Fury would be getting beaten up in his sparring sessions. There are too many levels between Fury and haye for a sparring partner to help him. What Fury needs isn't sparring partners; he needs some power, some defense and some skills.
Fury's just a tall slapper with poor defensive skills. That's not going to change just because Steve Cunningham has joined his training camp. I think September 28th is going to a bad day for Fury with him getting bludgeoned by Haye. Cunningham won't be able to save Fury from that fate unless they want to drag Cunningham into the ring and have Haye fight both Fury and Cunningham at the same time.
Fury needs to put on some muscle on his bony upper body, because he's far too weak to compete with Haye. Maybe if Fury does some push-ups or something, he might find a little bit of power, but I seriously doubt that as well. He is what he is, and Cunningham or whoever they drag in to be Fury's sparring partner isn't going to change that. It's just an exercise in futility if you ask me.