Tyson Fury is notoriously known for changing his mind again and again, and for making statements he pretty much retracts soon after making them. But, taking the former, unbeaten world heavyweight champ at his word once again, it seems the 28 year old has announced his retirement from boxing.
Fury often releases messages via social media, but his latest message, put up on instagram earlier today, is apparently a goodbye to boxing.
"Been very blessed in my life & career achieve the utmost in boxing, was a epic journey along the way. Thanks to all the fans that supported & believed in me along the way, Hope you enjoy it as much as I did . THE END," is Fury's written message, word for word as he wrote it.
So, does Fury, who has announced his retirement before, mean it this time? If so, he will be missed. Fury has his share of critics (an understatement!) but he proved with his November 2015 upset win over Wladimir Klitschko that he was/is a genuine force to be reckoned with. It seemed back then as though the self-styled "Gypsy King" might rule for quite some time, or at least feature in a number of big, big fights. Instead, nothing.
Fury ballooned in weight, began a battle with depression, lost his license to box and appeared to lose any motivation to want to fight. Earlier this year Fury announced how he had re-found his desire and that he was back in training. This training saw an approx 28 stone Fury attempt to shed the excess poundage he had piled on during his year-and-a-half of inactivity.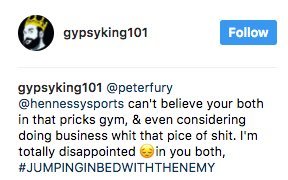 Just this month, his uncle and trainer Peter said on The Bunce Boxing Hour how the plan – should the hearing to obtain his license prove successful – would be for Tyson to return on the Sept 23 card headlined by Joseph Parker defending his WBO belt against Hughie Fury. Now, however, Tyson has, it seems, said goodbye to boxing.
Fury could well change his mind once again, and some time in the coming days or weeks he may announce how he is as determined as ever to regain the belts he never lost in the ring. But for now, THE END could mean just that.
If he does box no more, how will Fury be remembered? At 25-0(18) Fury exits the sport with a perfect record, but his greatness was never fully proven. Perhaps Fury is destined to go down as a classic 'What If' figure?