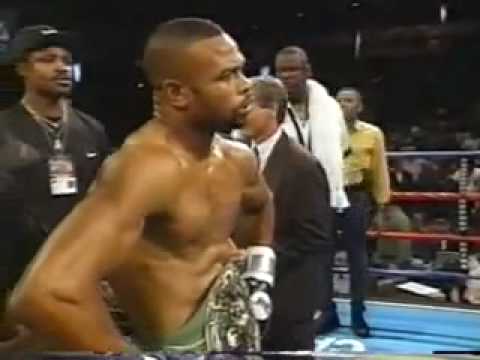 Twenty years ago today, all-time great Roy Jones Junior had a point to prove, and, boy, did an angered Jones prove it in ferocious fashion! The 28 year old star and pound-for-pound king had controversially lost both his light-heavyweight title and his unbeaten record in March of 1997, when big underdog (who wasn't a big underdog when facing this, the peak Jones!) Montell Griffin scored the most controversial win of the year.
Jones, who had been pushed hard by Griffin, finding himself having the toughest fight of his career to date, cracked Griffin as he was half up/half down after taking a knee whilst under pressure in the 9th-round. Jones belted his kneeling target with a right-left combo to the head; Griffin left face-first on the mat. Initially, Jones thought he had won the fight via KO, but he was instead, sensationally, disqualified.
Though appeals were filed by the Jones camp, Griffin – a very good, unbeaten fighter who had twice beaten the great James Toney via close decision – saw his win stand. Jones, who many fans felt would never lose, was now 34-1. 26 year old Griffin was now 27-0.
But retribution would be swift in coming, and how Jones was to prove his greatness in achieving it.
The rematch was made and Jones, mad as hell over losing, brought out his other self, his devil. Dubbed "Unfinished Business," the rematch was no match at all. Mere seconds in, a fired up, extremely motivated Jones scored a knockdown, catching Griffin with a left hook that sent him into the ropes. Now stalking his prey, Jones' left hand proved to be utterly destructive with just over 30-seconds left in the opening session. Jumping in with a blistering left hook, Jones knocked Griffin down for a second time. This time, his equilibrium completely blasted, Griffin fell in spectacular fashion, and then he fell again; all over the ring.
His legs totally gone, Griffin was simply wiped out on this occasion. It was a chilling, ruthless and hugely impressive display of punching power and speed. These two 175-pounders were now 1-1, but there was no need for a rubber-match, so superior had Jones proven himself to be this time.
Some people point to Jones' great win over heavyweight John Ruiz, others to Jones' wide decision win over Toney, but many other people say the Jones of 20 years ago today put on his career-finest performance. This version of Jones WAS unbeatable.